Sail ports across Alaska in style and comfort when you join us aboard Holland America's stylish ms Westerdam.
Itinerary

Day
Date
Port
Arrive
Depart
Sun
Jul 29
Seward (Anchorage), Alaska
08:00 PM
Mon
Jul 30
At Sea
Tue
Jul 31
Glacier Bay
08:30 AM
06:30 PM
Wed
Aug 1
Haines, Alaska
06:30 AM
09:00 PM
Thu
Aug 2
Juneau, Alaska
08:00 AM
06:00 PM
Fri
Aug 3
Ketchikan, Alaska
11:00 AM
07:00 PM
Sat
Aug 4
Scenic Cruising The Inside Passage
Sun
Aug 5
Vancouver, B.C., Canada
07:00 AM
Sunday, July 29 – Seward, Alaska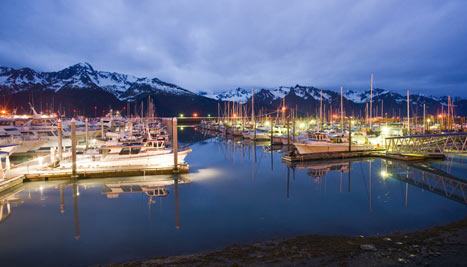 Seward is a port city in southern Alaska, set on an inlet on the Kenai Peninsula. It's a gateway to Kenai Fjords National Park, where glaciers flow from the Harding Icefield into coastal fjords. Surrounded by peaks, the fjords are a whale and porpoise habitat. The city's Alaska SeaLife Center has seals and puffins, and fishing boats fill Seward Harbor. To the west, a trail leads to the summit of Mount Marathon.
July 30 – Scenic Cruising Gulf of Alaska
Enjoy your day aboard ship by visiting the spa, hanging out by the pool, or dining in one of many restaurants featuring culinary delights from sushi to surf'n'turf.
July 31 – Glacier Bay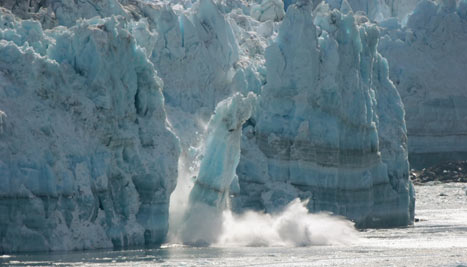 This Y-shaped bay is 65 miles long. A journey up its arms is a profound regression through the life cycle of a new land – from maturing Sitka-spruce forests replete with grizzlies and wolves to thin-skinned tundra, lichens, and mosses that gain purchase on land exposed at a glacier's maw, the first beginnings of organic soil. Glacier Bay stands at farthest possible remove from the tiresome clamor of the modern world. So, at least for a little while, trade in your cell phone's jangle for the pop, crackle, and thunderous boom of a building-size berg calving into the sea from a vast river of ice. You'll be adventuring far beyond the end of the road.

August 1 – Haines, Alaska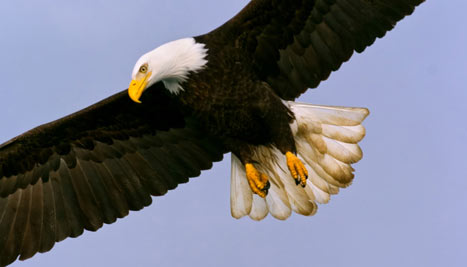 Tap into your inner explorer. Haines boasts fun for the entire family. Take part in spectacular hikes, rafting journeys on the Chilkat River, kayaking adventures on Chilkoot Lake, exhilarating jetboat rides, guided nature walks and many more activities. Rent a bicycle or ATV to ride through scenic mountain trails. Fishing is a popular sport, especially for aficionados of the wild Alaskan salmon. Be sure to stop by the shops in town for a variety of smoked salmon and other gifts, or grab a brew on Main Street at Haines Brewing Company.
August 2 – Juneau, Alaska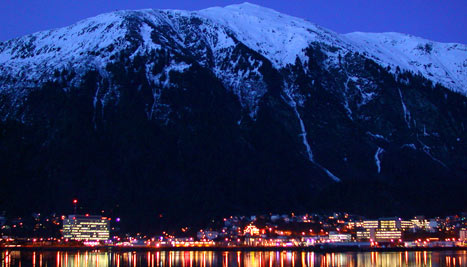 Cruise through Wrangell Narrows and Chatham Strait, past the scenic "ABC" Islands of Admiralty, Baranof, and Chichagof. Watch for bears along the coastline, bald eagles above, and marine life in the surrounding waters. Juneau, home of the famous Mendenhall Glacier and the third largest city in Alaska, touts a blend of gold rush history, nature, and native culture. Mendenhall Glacier is the most accessible glacier in Southeast Alaska. The glacier towers more than 100 feet above the surface of Mendenhall Lake. Tour the Glacier and learn about glacial activity at the visitor center.
August 3 – Ketchikan, Alaska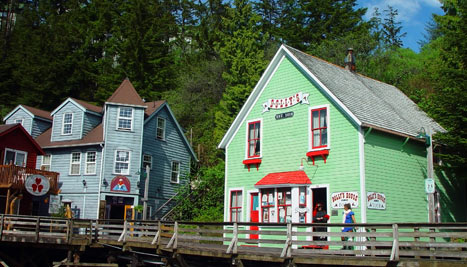 As Alaska's first city, Ketchikan claims to be the salmon capital of the world. Its harbor shelters a colorful fleet of fishing and pleasure boats. Watch for bald eagles swooping to snatch a fish for dinner. Ketchikan is also center of the ancient Tlingit culture and proudly displays its heritage. Tour to see Alaska's largest collection of original totems. Walk through the forest to an authentic Indian community house, with awesome carvings. Go flight seeing to scenic Misty Fjords National Monument with its sheer granite walls, glacier-carved fjords and sky-blue alpine lakes.
August 4 – Cruising Inside Passage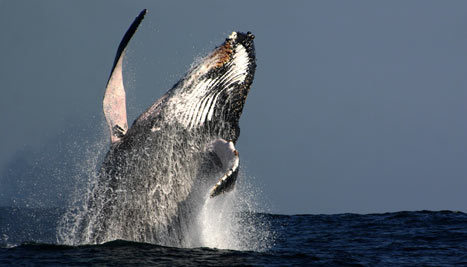 Keep your eyes peeled for a variety of wildlife as you cruise the breathtaking Inside Passage. Along these waters exists the perfect habitat for bald eagles, sea lions, porpoises, and whales. If you're lucky, you may even catch sight of a herd of moose!
August 5 – Vancouver, BC, Canada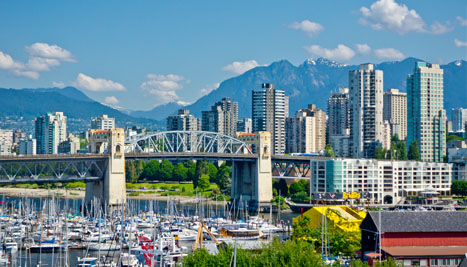 One of Canada's loveliest cities! Its breathtaking physical beauty makes it a place where often it's enough just to wander and watch the world go by. You'll inevitably spend a good deal of time in the downtown area and its Victorian-era equivalent, Gastown, a renovated "Old Towne Vancouver." Chinatown could easily absorb a morning and contains more than its share of interesting shops, restaurants, and bustling streets. For a taste of the city's sensual side hit Stanley Park, a huge area of semi-wild parkland and beaches that crowns the tip of the downtown peninsula.
The Ship: ms Westerdam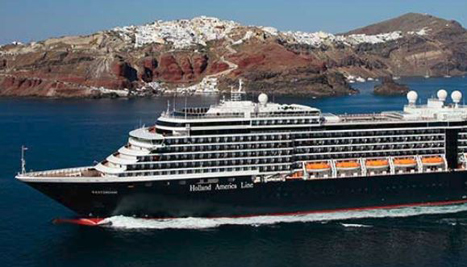 The ms Westerdam is the third in Holland America Line's series of Vista-class ships. Defining the future of cruising, the ms Westerdam offers guests more of everything they desire on a cruise ship: more staterooms with private verandahs, more dining choices from formal dinners to casual pool side dining, and the very best in cruise activities and cruise entertainment. As with all Vista-class ships, she embraces the latest industry and environmental technologies such as her use of a full-scale diesel-electric power plant for optimal energy efficiency and an Azipod propulsion system that maximizes maneuverability. The theme of the ms Westerdam's art collection is Dutch heritage in the New World. Artwork includes paintings of historic Dutch ships, such as Henry Hudson's Half Moon, as well as impressive sculptures and statues. Contemporary pieces include an original Andy Warhol portrait and signature sculptures by Sedona artist Susanna Holt.


Signature features of the ms Westerdam include:
• 85 percent of all staterooms have ocean views, 67 percent of all staterooms have verandahs
• The two-tier Vista Dining Room features impeccable service and an extensive wine list, and offers five-course menus, from continental cuisine to vegetarian and low-carb options
• The intimate reservations-only Pinnacle Grill offers an elegant, sophisticated dining experience and features premium hand-selected cuts of Sterling Silver beef, inspired seafood dishes, and many select wines rated "Excellent" by Wine Spectator
• The Lido Restaurant offers a relaxed ambiance for all three meals and features a variety of fresh, cooked-to-order specialties
• The Culinary Arts Center, presented by Food & Wine magazine, is the setting for gourmet cooking demonstrations and interactive classes
• The Greenhouse Spa & Salon features thermal suites, a hydrotherapy and thalassotherapy pool, heated ceramic lounges, and more
• The Vista Show Lounge features Las Vegas-style productions, talented vocalists, illusionists, comedians, and variety acts
• The Crow's Nest, where sweeping views make this observation lounge a top choice for relaxing during the day, in the evening transforms into a fashionable nightclub featuring top-notch DJs and live bands
• Club HAL, dedicated youth facilities and activities for kids ages 3 to 12
• The Loft, designed exclusively for teens to have fun, socialize, and hang out with people their own age
Penthouse Verandah Suite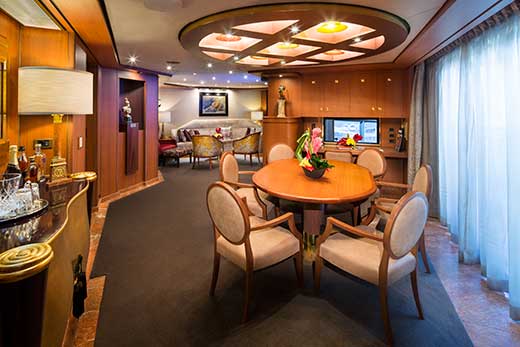 Bedroom with 1 king-size bed, oversize whirlpool bath and shower and additional shower stall, living room, dining room, dressing room, private verandah with whirlpool,pantry, 1 sofa bed for 2 persons, microwave,refrigerator, guest toilet, private stereo system,DVD player, floor-to-ceiling windows
Deluxe Verandah Suite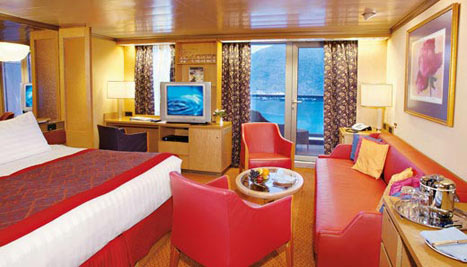 2 lower beds convertible to 1 king-size bed, bathroom with dual sink vanity, full-size whirlpool bath, shower and additional shower stall, large sitting area, dressing room, private verandah, 1 sofa bed for 2 persons, floor-to-ceiling windows.

Signature Suite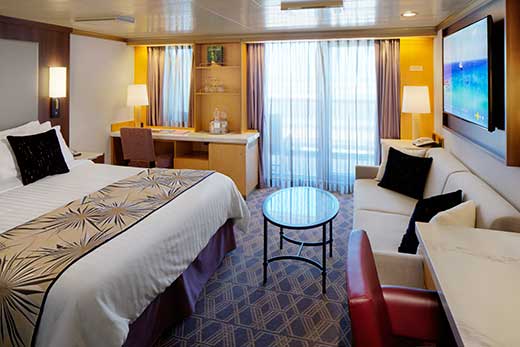 2 lower beds convertible to 1 queen-size bed, bathroom with dual sink vanity, full-size whirlpool bath, shower and additional shower stall, large sitting area, private verandah, 1 sofa bed for 1 person, floor-to-ceiling windows.

Verandah Stateroom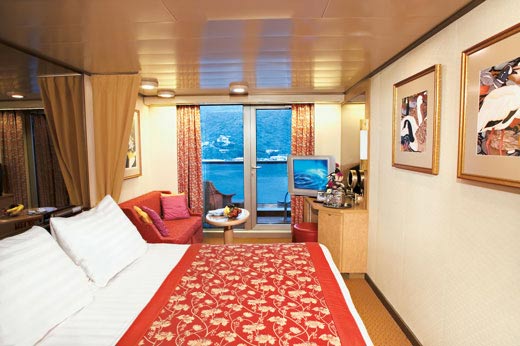 2 lower beds convertible to 1 queen-size bed, bathtub, shower, sitting area, private verandah, floor-to-ceiling windows.

Ocean View Stateroom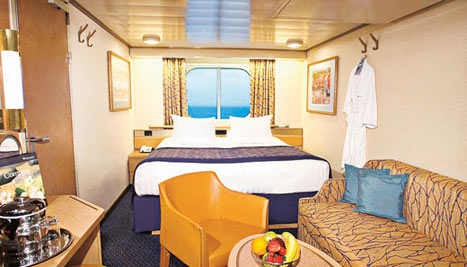 2 lower beds convertible to 1 queen-size bed, bathtub, shower.

Inside Stateroom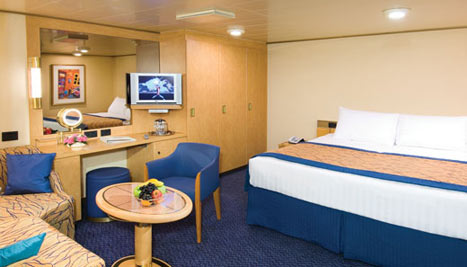 2 lower beds convertible to 1 queen-size bed, shower.
We have a block of cabins for seminar participants. Once this block is sold, cabins are on availability only and may be at a higher rate. Cruises sell out early.
Travel Arrangements
To receive these discounted cruise fares you must book your cruise through us. We have all of the information regarding the cruise and seminar and can make your cruise reservations.
Reservations
Reservations will be secured and cabins assigned upon receipt of passenger deposit in the amount of $700 per cabin. Final payment as instructed by our travel agent. Due to the number of details needed to complete a cruise cabin booking accurately, a cabin will not be booked for you until you have spoken with one of our cruise agents via phone or via direct email correspondence.
Discounted Fares
We have been able to negotiate a GREAT DISCOUNT for you on this luxurious cruise!! See reservation form for details. Various promotional fares may also be available. ALWAYS CALL BEFORE BOOKING ANYWHERE ELSE: (800) 222-6927
FOR YOUR AIRFARE NEEDS PLEASE CALL:
Universal Travel. Be sure to mention Northwest Seminars when booking.
Contact: Kellee Kilmer, (858) 456-7887
Email:kellee@universaltravel1.com Booking fee applies
TARGET AUDIENCE
This course is designed for physicians, physician assistants, nurse practitioners, registered nurses, and all other medical care providers who must maintain state-of-the-art knowledge of the specialty or are impacted by it.
PROGRAM PURPOSE
The practitioner of emergency medicine must possess evidence-based scientific background for competent clinical practice; maintain state-of-the-art knowledge of the specialty and all additional related disciplines; maintain an up-to-the-minute armamentarium of knowledge and skills for the selection and use of complex equipment, pharmacological agents, and procedures; manage self and colleagues to function toward common goals in providing consistent care in all settings in which emergency care is provided; serve as an expert in matters involving quality, safe and equitable health care delivery and support of other service providers, departments, institutions, and organizations dependent upon professional expertise. Presentations are designed to facilitate the acquisition of cognitive and technical skills as defined through evidenced based data translated to best practice standards by the pertinent governmental and professional organizations including the American College of Emergency Physicians, American College of Surgeons and the Emergency Nurses Association and abilities in one or more of the disciplines vital to the practicing professional.
OBJECTIVES
At the conclusion of this activity, the participant will be able to:

Apply the pertinent physical and behavioral sciences as they impact and are affected by the planning, delivery, and monitoring of services inherent in the professions
Explain the selection, dosing considerations with methods of administration, safe use, contraindications and precautions of drugs based on their chemical and pharmacologic properties
Outline comprehensive patient management plans for the special patient population discussed
Apply the principles of safety and asepsis in the performance of all aspects of patient care regardless of the clinical environment in which the practice resides
Incorporate the published tenets of pertinent, recognized external organizations, institutions, and professional groups defining medical, legal, philosophical, ethical, and health care management standards
Current Topics in Emergency Medicine7-Night Alaska Explorer Cruise via Glacier Bay July 29 – August 5, 2018

Sunday, July 29 - Seward, Alaska - Transfer From Anchorage

2000
Ship Sails (Subject to change)

Monday, July 30 - Cruising Gulf of Alaska

0630
Registration - Mandatory Sign In
0655
Welcome
NWS Staff
0700
Is There a LYTE at the End of the Tunnel? Electrolyte Emergencies
C.Pfennig-Bass
0800
Breakfast Break
0845
Two For One: Trauma During Pregnancy
C.Pfennig-Bass
0945
DKA and Hyperosmolar Syndrome: High-Yield Pearls and Pitfalls
C.Pfennig-Bass
1045
Chest Pain Evaluations in the ED: Ruling out ACS?
H.Severance
1145
Lunch Break
1245
Accidental Hypothermia
H.Severance
1345
Food-Borne Illness: "It's Only Diarrhea"
H.Severance
1445
Break
1500
Stuff Down There: A Primer in STIs
C.Pfennig-Bass
1600
Stress Me Out: Adrenal Emergencies
C.Pfennig-Bass
1700
Adjourn

Tuesday, July 31 - Glacier Bay

0600
Registration - Mandatory Sign In
0615
Acute Sickle Cell Presentations
H.Severance
0715
Chronic Wounds That Present Acutely
H.Severance
0815
Papules, Purpura, Petechiae, Oh My!
C.Pfennig-Bass
0915
Adjourn

Wednesday, August 1 - Haines, Alaska - Day Open

Thursday, August 2 - Juneau, Alaska - Day Open

Friday, August 3 - Ketchikan, Alaska - Afternoon Open

0600
Registration - Mandatory Sign In
0615
Living on the Edge: Austere, Remote, and Disaster Medicine
C.Pfennig-Bass
0715
Wait! There's a Baby in There: Imaging of the Pregnant Patient
C.Pfennig-Bass
0815
Breakfast Break
0900
Life-Threatening Soft-Tissue Infections Part I
H.Severance
1000
Life-Threatening Soft-Tissue Infections Part II
H.Severance
1100
Adjourn

Saturday, August 4 - Cruising Inside Passage

0600
Registration - Mandatory Sign In
0615
Pediatric Trauma Potpourri
C.Pfennig-Bass
0715
"Is There a Doctor on the Plane?"
C.Pfennig-Bass
0815
Breakfast Break
0900
Underwater (SCUBA) Diving Emergencies
H.Severance
1000
Acute Carbon Monoxide Poisoning
H.Severance
1100
Tales from the ER - Case Management: Pearls for Unique Presentations
H.Severance
1200
Adjourn

20 CME

20 CEC

Pharmacology Hours TBD†

Sunday, August 5 - Vancouver, BC, Canada - Disembark
FACULTY
Camiron Pfennig-Bass, MD, MHPE, FACEP, FAAEM
Department of Emergency Medicine, Greenville Health System
Emergency Medicine Residency Director
Clinical Associate Professor
University of South Carolina School of Medicine
Greenville, South Carolina
Harry W Severance, M.D., FACEP
Professor & Director for Research Development,
Department of Emergency Medicine, UT College of Medicine,
Professor, Department of Surgery, UT College of Medicine,
Medical Director,
Erlanger Institute for Clinical Research
University of Tennessee College of Medicine/Erlanger Health Systems
Attending Physician
Division of Hyperbaric Medicine
Department of Emergency Medicine, UT College of Medicine,
Chattanooga, Tennessee
ACCREDITATION
This activity has been planned and implemented in accordance with the accreditation requirements and policies of the Accreditation Council for Continuing Medical Education (ACCME) through the joint providership of The A. Webb Roberts Center for Continuing Medical Education of Baylor Scott & White Health and Northwest Seminars. The A. Webb Roberts Center for Continuing Medical Education of Baylor Scott & White Health is accredited by the ACCME to provide continuing medical education for physicians.
The A. Webb Roberts Center for Continuing Medical Education of Baylor Scott & White Health designates this live activity for a maximum of 20 AMA PRA Category 1 Credit(s)™. Physicians should claim only the credit commensurate with the extent of their participation in the activity.
American Board of Anesthesiology: CME credit will be sent directly to The American Board of Anesthesiology to fulfill the Part 2 requirement for the Maintenance of Certification in Anesthesiology Program (MOCA®).
Canadian Physicians: This activity is eligible for Section 1 credits in the Royal College's Maintenance of Certification (MOC) Program. Participants must log into MAINPORT to claim this activity.
Certified Registered Nurse Anesthetists: This program is designed to meet requirements for Class A CE credit. Once approved by AANA, this will be indicated.
Nurse Practitioners: The American Academy of Nurse Practitioners Certification Program (AANPCP) and the American Nurses Credentialing Center (ANCC) accept CME from organizations accredited by the ACCME.
Osteopathic Physicians: This program is eligible for Category 2 credit with the American Osteopathic Association (AOA).
Physician Assistants: The American Academy of Physician Assistants (AAPA) accepts certificates of participation for educational activities certified for AMA PRA Category 1 Credit™ from organizations accredited by ACCME or a recognized state medical society. Physician assistants may receive a maximum of 20 hours of Category I credit for completing this program.
Registered Nurses: NWS is an approved provider for the following state nursing boards: Arkansas State Board of Nursing (Provider Number 50-7480), California Board of Registered Nursing (Provider Number 4833), District of Columbia Board of Nursing (Provider Number 50-7480), Florida Board of Nursing (Provider Number 50-7480), Georgia Board of Nursing (Provider Number 50-7480), and the South Carolina Board of Nursing (Provider Number 50-7480). This program offers 20 contact hours.
†Pharmacology hours subject to change.
MEDICAL DIRECTOR
Mark Murphy, MD, MSN Education, Austin, Texas and Medical Director, Northwest Seminars, Pasco, Washington

SCHEDULE AND FACULTY CHANGES
Factors beyond our control sometimes necessitate changes in the schedule and faculty. If time permits, we will inform all registrants of any changes prior to the program. Changes on site due to local conditions will be announced in class.
COURSE CANCELLATION BY PROVIDER
We reserve the right to cancel a course for any reason. In such case, a minimum of 60 days notice will be given to those registered and 100% of tuition paid will be refunded. NWS and NWWT are not responsible for any non-refundable cruise fare, airfare, hotel, or other expenses you may incur. We highly recommend purchase of travel insurance.
COURSE CANCELLATION FEE
$100 between May 2, 2017 and June 1, 2017. No refund after June 1, 2017; however, 50% of tuition paid may be applied toward tuition for another NWS program within 12 months. Cancellation must be in writing.
CRUISE CANCELLATION
Penalties apply for cancellation of the cruise for any reason. We strongly recommend purchase of the cancellation insurance. Please be aware that premiums paid for insurance are non-refundable.
FAP (Frequent Attendee Points)
FAP lets you accumulate points based on dollars spent with NWS including net cruise, net hotel, and tuition booked through NWS (but not air). Once you have enough points to cover a full tuition they can be redeemed for tuition (no cash value). A great program to reward you for supporting NWS! FAP is an especially valuable bonus when you book your cruises through NWS. Not only do you receive the lowest fare, but you get a 1.5% of net cruise fare credit toward future tuition! Click here for more information.
Lecture notes will be provided via download in PDF format.
While we strive for accuracy at all times with our published information, we cannot be responsible for typographical and other errors.
Please note that children and non-registered guests are not allowed to attend the lectures.
For your airfare needs please call: Universal Travel. Be sure to mention NWS when booking. Contact: Kellee Kilmer, Phone: (858) 456-7887, Email: kellee@universaltravel1.com
REGISTER EARLY
We recommend that you register early to assure your spot. We reserve the right to close registrations to a course at any time without notice. We may not be able to accommodate onsite registrations.