This 7-night cruise features Sunday departure round-trip from Fort Lauderdale, Florida, giving you the opportunity to experience this amazing city in depth if you so choose. Enjoy ports of call in Labadee, Haiti; Falmouth, Jamaica; and Cozumel, Mexico, all while cruising aboard Royal Caribbean's beautiful Harmony of the Seas.
Itinerary

Day
Date
Port
Arrive
Depart
Sun
April 21
Fort Lauderdale, Florida - Embark
4:30 PM
Mon
April 22
At Sea
Tue
April 23
Labadee, Haiti
8:00 AM
5:00 PM
Wed
April 24
Falmouth, Jamaica
10:30 AM
7:00 PM
Thu
April 25
At Sea
Fri

April 26
Cozumel, Mexico
8:00 AM
7:00 PM
Sat

April 27
At Sea
Sun
April 28
Fort Lauderdale, Florida - Disembark
6:15 AM
Sunday, April 21 - Board ship in Fort Lauderdale, Florida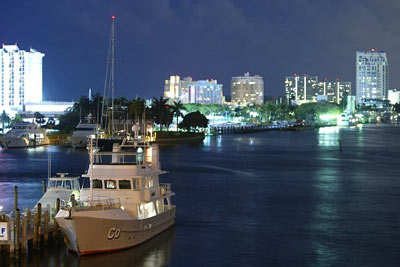 If you arrive early there are lots of fun things to do in this tropical city. Fort Lauderdale lies along the Atlantic Ocean at the mouth of the New River, 25 miles north of Miami. Its warm tropical weather attracts many people throughout the year. For sun-worshippers, the city has six miles of beaches.
Go fishing, take one of many sightseeing cruises of the harbor, ocean, or wetlands. Tour a museum, see a butterfly farm, or ride a roller coaster. Shop upscale boutiques or flea markets. Ft. Lauderdale is an entire destination in itself.
There are also many recreational waterways with extensive boating facilities, access to every conceivable watersport, a variety of fascinating museums and trendy restaurants, and an array of entertainment venues. Take a 30-minute airboat ride across the Everglades, one of the most breathtaking natural areas in America. Discover a variety of fish and birds that inhabit the area, and perhaps see the most famous Everglades inhabitant—the alligator. Fish is fresh and delicious in Florida. Grouper is probably the most popular choice and is served almost any way imaginable. A true Florida staple is a fresh grouper sandwich and fries eaten outside by the water.
Monday, April 22 - At Sea
Tuesday, April 23 - Labadee, Haiti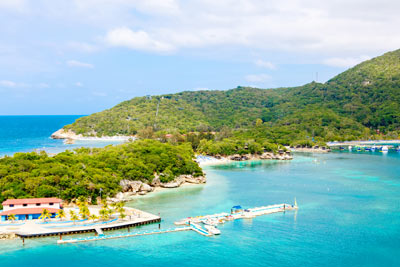 Our private beach resort features pristine beaches, coral reefs and lagoon-like bays surrounded by forested mountains. Relax and recharge or take advantage of an array of water sports and activities, including our famous "Dragon's Breath Flight Line" zip-line where you can see Labadee from 500 feet above water. Also, catch some of the best views of Labadee while coasting down a mountainside at 30 miles per hour on the "Dragon's Tail Coaster." If beachside napping is more your speed, unwind in a private bungalow overlooking Nellie's Beach. When you're ready to catch some rays, drift over gentle waves on a floating beach mat. At Labadee, paradise takes many forms.
Wednesday, April 24 – Falmouth, Jamaica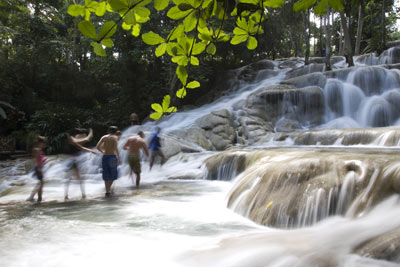 Step off the ship and step back in time. It may not appear so at first glance, but quaint Falmouth was an economic powerhouse and center for dramatic social change during the English Colonial Period. In today's Falmouth, visitors still enjoy 19th-century Georgian architecture as well as river bamboo raft rides, arts and crafts shopping, flavorful local fare and horse-and-buggy rides through town. Falmouth also serves as the gateway to the best Jamaica has to offer. Just east of Falmouth is Ocho Rios, best known for its spectacular Dunn's River Falls. Travel west to reach Montego Bay and the beautiful beaches of Negril, a two-hour drive from Falmouth. Thanks to its central location, Falmouth gives visitors the best tour experiences of the north coast of Jamaica.
Thursday, April 25 - At Sea
Friday, April 26 - Cozumel, Mexico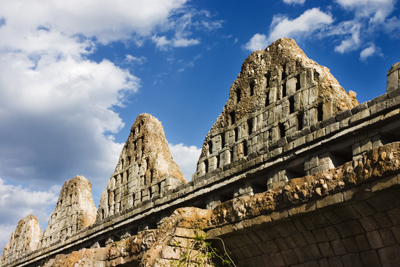 For beauty, beaches, and Mexican sunshine, there's nowhere like Cozumel. Brilliant emerald water, white sand beaches, spectacular scuba diving and fishing—plus bargain prices, ancient ruins, and friendly hosts—all in a relaxed, no hustle atmosphere. Cozumel is famous as a diver's resort, but its laid-back pace, barefoot charm, and magnificent beaches hold something for everyone.
Cozumel is rated as one of the top ten sportfishing "hotspots" in the world. Cozumel offers the best shopping in the Yucatan for craft items, leather, hammocks, clothing, and jewelry items. You will enjoy the hassle-free shops and boutiques. For the diver, or those wishing to take up this fascinating sport, Cozumel offers the ultimate in Caribbean diving. There is an unmatched assortment of spectacular reefs, tunnels, cliffs, coral of every description, and sea life beyond compare.
Saturday, April 27 - At Sea
Sunday, April 28 - Fort Lauderdale, Florida - Disembark
The Ship: Harmony of the Seas®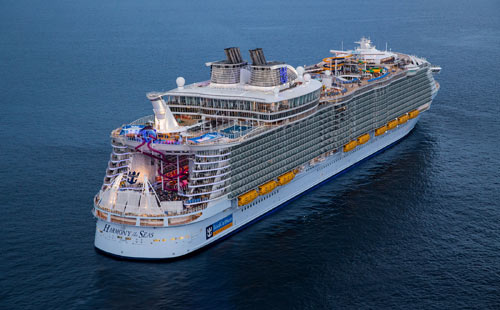 Introducing the Harmony of the Seas - the newest addition to Royal Caribbean's award-winning Oasis Class fleet. The world's biggest ship with the world's best features just got even better. There's no turning back once you take the plunge 10 stories into the mysteries of the deep on the tallest slide at sea, Ultimate Abyss, as well as the exhilarating multilevel Perfect Storm slides. As the kids explore Splashaway Bay, take a tree-lined stroll through Central Park, or find your own haven in any of the other seven iconic onboard neighborhoods. Sip a post-dinner cocktail crafted by a robot in our unique Bionic Bar, and share every moment with not just your family onboard, but friends back home with VOOM - the fastest Internet at sea. Discover the biggest, boldest family vacation ever on a ship unlike anything else on the ocean.
Signature features of Harmony of the Seas® include:
FlowRider®: Only Royal Caribbean gives you the chance to catch a wave right onboard. Grab a board and hang ten on our 40-foot-long surf simulator, or cheer on friends from stadium seating with prime wipeout views. Give it a go—it's included in the cost of your cruise, no reservation required.
The Ultimate Abyss: There's no turning back once you take the plunge. Plummet 10 stories into the mysteries of the deep on the tallest slide at sea. Are you brave enough - or will you become a permanent resident of the Ultimate Abyss?
The Perfect Storm: This tremendous trio of water slides is our Perfect Storm. Typhoon, Cyclone and Supercell are their names, and they're here to take you on a wet, wild ride.
Zip Line: Brace yourself for a spine-tingling rush as you race across the Boardwalk®, suspended nine decks in the air. It's a thrill you won't find on any other cruise line.
Rock Climbing: Rise to the occasion and take on our signature rock climbing wall. From beginners to speed climbers, everyone can enjoy an unparalleled view from 40 feet above deck. Included in your fare, no reservation required.
Ice Skating: Put your vacation on ice with a spin on the ice rink, an onboard feature exclusive to Royal Caribbean. We provide the skates, you show off the moves. Included in your fare, no reservation required.
Recreation & Relaxation:
• Full-service VitalitySM Spa
• State-of-the-art Fitness Center
• Sports Court and Tournaments
• Adults-only Solarium pool, a glass-canopied retreat
• Mini Golf
• Whirlpools
Kids & Families:
• Complimentary Adventure Ocean® youth program
• Royal Babies® and Royal Tots® program
• DreamWorks® Experience
• Splashaway Bay kids water park
Entertainment:
• Casino Royale®: Thousands of square feet of slots and tables
• Bionic Bar on the Royal Promenade, featuring robot bartenders serving up one-of-a-kind crafted cocktails while dancing to a fluid beat
• Comedy Club: An adults-only live comedic performances
• Music Hall: An edgy venue for live music performances
• AquaTheater Shows: Dancers, divers and acrobats pull off stunts against a backdrop of backlit fountains, big screens and the endless horizon of the sea.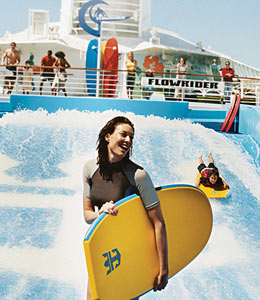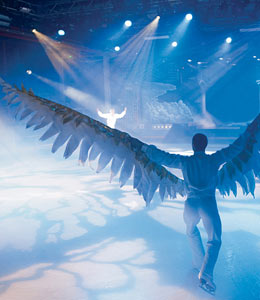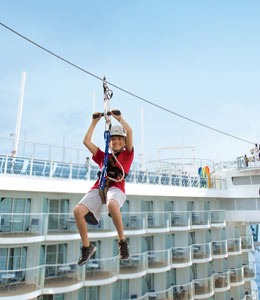 Balcony Staterooms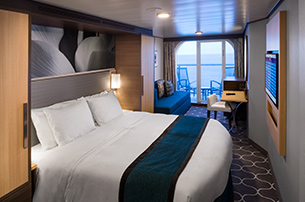 Imagine opening your balcony door to see a new and breathtaking part of the world each morning. A stateroom with a balcony is a great way to make your cruise adventure even more memorable and lets you truly take in all the wonder and excitement of your destination.
Oceanview Staterooms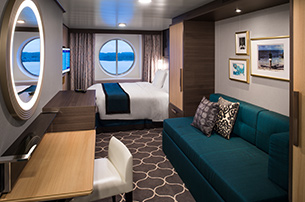 You'll never miss a moment of the breathtaking scenery on your cruise vacation with an Ocean View stateroom. Spend the day exploring the world, then come back onboard and take in the spectacular sights and amazing views from the comfort of your stateroom.
Interior Staterooms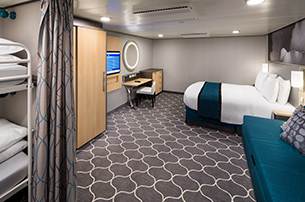 Relax in all the comfort of our spacious interior staterooms. Spend your days onboard by the pool or on our sports deck, then enjoy some quiet and private time. Our interior staterooms include a wide array of amenities for your whole family to enjoy.

We have a block of cabins for seminar participants. Once this block is sold, cabins are on availability only and may be at a higher rate. Cruises sell out early.
Travel Arrangements
To receive these discounted cruise fares you must book your cruise through us. We have all of the information regarding the cruise and seminar and can make your cruise reservations.
Reservations
Reservations will be secured and cabins assigned upon receipt of passenger deposit in the amount of $500 per cabin. Final payment as instructed by our travel agent. Due to the number of details needed to complete a cruise cabin booking accurately, a cabin will not be booked for you until you have spoken with one of our cruise agents via phone or via direct email correspondence.
Discounted Fares
We have been able to negotiate a GREAT DISCOUNT for you on this luxurious cruise!! See reservation form for details. Various promotional fares may also be available. ALWAYS CALL BEFORE BOOKING ANYWHERE ELSE: (800) 222-6927
FOR YOUR AIRFARE NEEDS PLEASE CALL:
Universal Travel. Be sure to mention Northwest Seminars when booking.
Contact: Kellee Gray, (858) 456-7962
Email:kellee@universaltravel1.com Booking fee applies
TARGET AUDIENCE
This course is designed for physicians, physician assistants, nurse practitioners, registered nurses, and all other medical care providers who must maintain state-of-the-art knowledge of the emergency medicine specialty or are impacted by it.
PROGRAM PURPOSE
The practitioner of emergency medicine must possess evidence-based scientific background for competent clinical practice; maintain state-of-the-art knowledge of the specialty and all additional related disciplines; maintain an up-to-the-minute armamentarium of knowledge and skills for the selection and use of complex equipment, pharmacological agents, and procedures; manage self and colleagues to function toward common goals in providing consistent care in all settings in which emergency care is provided; serve as an expert in matters involving quality, safe and equitable health care delivery and support of other service providers, departments, institutions, and organizations dependent upon professional expertise. Presentations are designed to facilitate the acquisition of cognitive and technical skills as defined through evidence-based data translated to best practice standards by the pertinent governmental and professional organizations including the American College of Emergency Physicians, American College of Surgeons and the Emergency Nurses Association and abilities in one or more of the disciplines vital to the practicing professional.
OBJECTIVES
At the conclusion of this activity, the participant will be able to:

Apply the pertinent physical and behavioral sciences as they impact and are affected by the planning, delivery, and monitoring of services inherent in the professions
Explain the selection, dosing considerations with methods of administration, safe use, contraindications and precautions of drugs based on their chemical and pharmacologic properties
Outline comprehensive patient management plans for the special patient population discussed
Apply the principles of safety and asepsis in the performance of all aspects of patient care regardless of the clinical environment in which the practice resides
Incorporate the published tenets of pertinent, recognized external organizations, institutions, and professional groups defining medical, legal, philosophical, ethical, and health care management standards
Emergency Medicine Update7-Night Western Caribbean Cruise April 21-28, 2019

Sunday, April 21 - Fort Lauderdale, Florida - Embark

1630
Ship Sails (subject to change)

Monday, April 22 - At Sea

0900
Registration - Mandatory Sign In
0915
Blast Injury
L.Jagminas
1015
Disaster Response Every Day: Incorporating Readiness
K.Williams
1115
Imaging Myth and Mythology
L.Jagminas
1215
Lunch Break
1330
EMS Communications and Data: How Can We Help You?
K.Williams
1430
Patient Safety for Everyone
A.Williams
1530
Bullet Proof Your Practice
L.Jagminas
1630
Medical Malpractice: How to Avoid It and What to Do When It Hits
A.Williams
1730
Adjourn

Tuesday, April 23 - Labadee, Haiti - Day Open

Wednesday, April 24 - Falmouth, Jamaica - Day Open

Thursday April 25, - At Sea

0900
Registration - Mandatory Sign In
0915
The Eyes Have It
L.Jagminas
1015
What's Happening in the Field? How Emerging EMS Trends Are Changing the ED
K.Williams
1115
More Than a Pain in the Back
L.Jagminas
1215
Lunch Break
1330
EMTALA Common Misconceptions and the Real News
A.Williams
1430
Bariatric Emergencies
L.Jagminas
1530
Cutting Edge Stroke Care: A New Era DAWNs
K.Williams
1630
Improve Your ED With Just Culture
A.Williams
1730
Adjourn

Friday, April 26 - Cozumel, Mexico - Day Open

Saturday, April 27 - At Sea

0900
Registration - Mandatory Sign In
0915
Lessons Your ED Can Learn From the USCG
K.Williams
1015
Toxic Seafood Ingestions
L.Jagminas
1115
Noninvasive Ventilation Strategies
L.Jagminas
1215
Lunch Break
1315
Airway Tips and Tricks
L.Jagminas
1415
Cardiac Arrest: What's New?
K.Williams
1515
Hand and Wrist Injuries
L.Jagminas
1615
Adjourn
1.4 Pharmacology Hours

Sunday, April 28 - Fort Lauderdale, Florida - Disembark

20 CME

20 Class A CEC

4.8 Pharmacology Hours†
FACULTY
Liudvikas Jagminas, MD, FACEP
Vice-Chair and Director of Innovations
Department of Emergency Medicine
Beth Israel Deaconess Medical Center
Affiliated Physician of Harvard Medical Faculty Physicians
Harvard Medical School
Boston, Massachusetts
Program Coordinator
Abigail R. Williams, RN, BSN, JD, MPH, MS, CPPS
Director of Patient Safety
ColumbiaDoctors
Columbia University
New York, New York
Kenneth A. Williams, MD, FACEP, FAEMS
Director, Division of EMS & EMS Fellowship
Medical Director, LifePACT Critical Care Transport
Professor of Emergency Medicine
Alpert School of Medicine at Brown University
Providence, Rhode Island

ACCREDITATION
This activity has been planned and implemented in accordance with the accreditation requirements and policies of the Accreditation Council for Continuing Medical Education (ACCME) through the joint providership of The A. Webb Roberts Center for Continuing Medical Education of Baylor Scott & White Health and Northwest Seminars. The A. Webb Roberts Center for Continuing Medical Education of Baylor Scott & White Health is accredited by the ACCME to provide continuing medical education for physicians.
The A. Webb Roberts Center for Continuing Medical Education of Baylor Scott & White Health designates this live activity for a maximum of 20 AMA PRA Category 1 Credit(s)™. Physicians should claim only the credit commensurate with the extent of their participation in the activity.
Approved by the American College of Emergency Physicians for a maximum of 20.00 hour(s) of ACEP Category I credit.
American Board of Anesthesiology: CME credit will be sent directly to The American Board of Anesthesiology to fulfill the Part 2 requirement for the Maintenance of Certification in Anesthesiology Program (MOCA®).
Canadian Physicians: This activity is eligible for Section 1 credits in the Royal College's Maintenance of Certification (MOC) Program. Participants must log into MAINPORT to claim this activity.
Certified Registered Nurse Anesthetists: This program has been prior approved by the AANA for 20 Class A CE; AANA Code #1036352; Expiration Date 4/27/2019.

Nurse Practitioners: The American Academy of Nurse Practitioners Certification Program (AANPCP) and the American Nurses Credentialing Center (ANCC) accept CME from organizations accredited by the ACCME.
Osteopathic Physicians: This program is eligible for Category 2 credit with the American Osteopathic Association (AOA).
Physician Assistants: The American Academy of Physician Assistants (AAPA) accepts certificates of participation for educational activities certified for AMA PRA Category 1 Credit™ from organizations accredited by ACCME or a recognized state medical society. Physician assistants may receive a maximum of 20 hours of Category I credit for completing this program.
Registered Nurses: NWS is an approved provider for the following state nursing boards: Arkansas State Board of Nursing (Provider Number 50-7480), California Board of Registered Nursing (Provider Number 4833), District of Columbia Board of Nursing (Provider Number 50-7480), Florida Board of Nursing (Provider Number 50-7480), Georgia Board of Nursing (Provider Number 50-7480), and the South Carolina Board of Nursing (Provider Number 50-7480). This program offers 20 contact hours.
†Pharmacology hours subject to change.
MEDICAL DIRECTOR
Mark Murphy, MD, MSN Education, Treasure Island, Florida and Medical Director, Northwest Seminars, Pasco, Washington

SCHEDULE AND FACULTY CHANGES
Factors beyond our control sometimes necessitate changes in the schedule and faculty. If time permits, we will inform all registrants of any changes prior to the program. Changes on site due to local conditions will be announced in class.
COURSE CANCELLATION BY PROVIDER
We reserve the right to cancel a course for any reason. In such case, a minimum of 60 days notice will be given to those registered and 100% of tuition paid will be refunded. NWS and NWWT are not responsible for any non-refundable cruise fare, airfare, hotel, or other expenses you may incur. We highly recommend purchase of travel insurance.
COURSE CANCELLATION FEE
$100 between February 21, 2019 and March 23, 2019. No refund after March 23, 2019; however, 50% of tuition paid may be applied toward tuition for another NWS program within 12 months. Cancellation must be in writing.
CRUISE CANCELLATION
Penalties apply for cancellation of the cruise for any reason. We strongly recommend purchase of the cancellation insurance. Please be aware that premiums paid for insurance are non-refundable.
FAP (Frequent Attendee Points)
FAP lets you accumulate points based on dollars spent with NWS including net cruise, net hotel, and tuition booked through NWS (but not air). Once you have enough points to cover a full tuition they can be redeemed for tuition (no cash value). A great program to reward you for supporting NWS! FAP is an especially valuable bonus when you book your cruises through NWS. Not only do you receive the lowest fare, but you get a 1.5% of net cruise fare credit toward future tuition! Click here for more information.
Lecture notes will be provided via download in PDF format.
While we strive for accuracy at all times with our published information, we cannot be responsible for typographical and other errors.
Please note that children and non-registered guests are not allowed to attend the lectures.
For your airfare needs please call: Universal Travel. Be sure to mention NWS when booking. Contact: Kellee Gray, Phone: (858) 456-7962, Email: kellee@universaltravel1.com
REGISTER EARLY
We recommend that you register early to assure your spot. We reserve the right to close registrations to a course at any time without notice. We may not be able to accommodate onsite registrations.