7-Night Alaskan Hubbard Glacier Cruise



Itinerary

Day
Date
Port of Call
Arrival*
Departure*
Activity
Sun
Jul 2, 2023
Vancouver, British Columbia, Canada
-
4:30 PM
Embark
Mon
Jul 3, 2023
Scenic Cruising Inside Passage
-
-
Tue
Jul 4, 2023
Icy Strait Point, Alaska
1:30 PM
10:00 PM
Docked
Wed
Jul 5, 2023
Scenic Cruising Hubbard Glacier
-
-
Thu
Jul 6, 2023
Juneau, Alaska
7:30 AM
8:00 PM
Docked
Fri
Jul 7, 2023
Ketchikan, Alaska
2:00 PM
8:30 PM
Docked
Sat
Jul 8, 2023
Scenic Cruising Inside Passage
-
-
Sun
Jul 9, 2023
Vancouver, British Columbia, Canada
6:00 AM
Disembark
*Embark/Departure/Disembark times subject to change.
Vancouver, British Columbia, Canada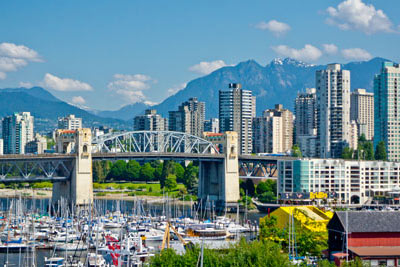 Among the world's most liveable cities - diverse, cultural, beautiful - this culinary capital treats you to fresh local seafood, farm-to-table produce, and authentic Asian flavors. West Coast architecture - modernism with a woodsy bent - emerged here. But while downtown shines with steel and glass, its epicenter is green Stanley Park, a 1,000-acre oasis of spectacular beaches, trails, and views. North of town, ride scenic Sea to Sky Highway along the coast and through the forest toward Whistler, 2,200 feet above sea level. On your way, behold lofty Shannon Falls and brave the heart-pounding Sky Pilot Suspension Bridge.

Scenic Cruising Inside Passage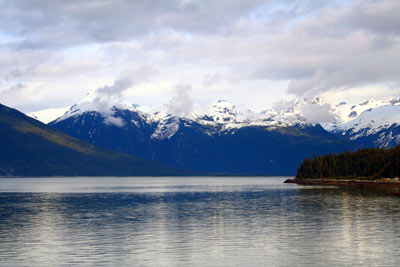 You'll sail beyond the Inside Passage into the more protected Alaska Inside Passage in southeastern Alaska. This complex labyrinth of fjords, bays, and lush green islands is home to an abundance of wildlife, including orca, mountain goats, bald eagles, bears, puffins, sea otters and much more. During the summer months, the long hours of daylight allow for ample opportunities for nature photos on your Inside Passage Cruise. You'll never forget the sight of 40-ton whales hurling themselves into the air, almost completely escaping the water. If you're especially lucky, you could see them swimming together to create a bubble net, trapping and eating fish by the giant mouthful.

Icy Strait Point, Alaska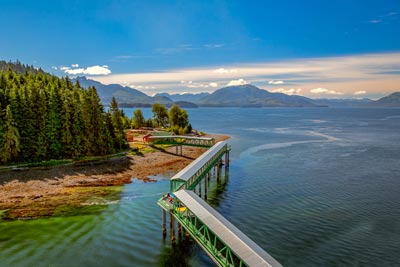 For thousands of years, the Tlingit Indians have called this place home. Located near the city of Hoonah, and home to a historic cannery, Icy Strait Point also offers travelers the chance to view wildlife like humpback whales, orcas, seals, eagles, and brown bears, or to explore monuments to the region's fishing heritage.
Scenic Cruising Hubbard Glacier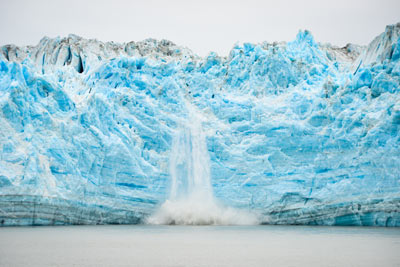 Hubbard Glacier, Alaska: The Hubbard Glacier is located about 30 miles north off the coast of Yakutat and is by far one of Alaska's most exciting natural treasures. On your cruise to Hubbard Glacier, enjoy incredible picture-perfect views of this glorious mount of ice from about every angle on your ship. Named after Gardiner Hubbard, the founder and president of the National Geographic Society, Hubbard Glacier is the longest tidewater glacier in the world. Dramatically massive at about 7-miles wide, 76-miles long and as tall as a 30-story building above the waterline, it's the largest river of ice in North America. How this magnificent block came to form begins about 400 years ago from the snowfalls on the slopes of Mount Logan. While most of the world's glaciers are retreating, the Hubbard Glacier has continued to thicken over the years and on rare occasion will partially block Russell Fjord, temporarily damming its passage.
Juneau, Alaska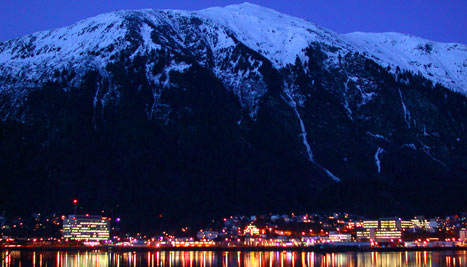 Here's your chance to take a glacial dogsled adventure in Alaska's capital, where cultured sophistication meets the ruggedness of the Last Frontier.
Ketchikan, Alaska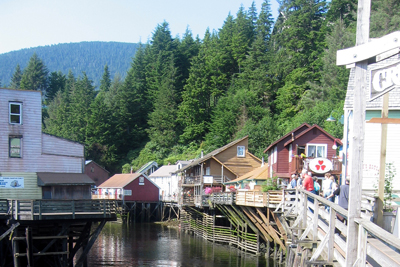 You've never tasted salmon so fresh. Known as the 'Salmon Capital of the World', Ketchikan is also the ancestral home of the Tlingit people, who have carved the world's largest collection of totem poles. If you're up for an adventure, take a canoe and nature trail excursion through the rain forest or a wilderness exploration followed by a sumptuous crab feast you'll long remember.
The Ship: Celebrity Eclipse®

Unwind in stylish accommodations, including Concierge Class and the spa-inspired AquaClass® with exclusive dining at Blu. And, the ultimate in luxury, exclusive sanctuary, The Retreat® which includes private restaurant dining and 24/7 lounge. Enjoy globally-inspired cuisine in distinctive restaurants with menus crafted by our Michelin-starred chef. Make a toast in the Passport Bar, Martini Bar, or World Class Bar. Enjoy endless ocean views, catch some sun, and play your favorite outdoor games on a ½ acre of real grass at The Lawn Club. You'll feel refreshed in The Spa, which features soothing treatments to invigorate the senses. Savor an incredible five-course meal designed by our Global Culinary Ambassador, Chef Daniel Boulud. Onboard experiences also include shopping at the finest boutiques and family-fun activities, including Hot Glass classes and theatrical events. Set sail and discover a whole new level of rest and relaxation.
Signature features of Celebrity Eclipse include:
Eclipse Theater: The Theatre is the premier live performance venue aboard Celebrity Eclipse®. While accommodating a generous audience, it retains a comfortable, intimate atmosphere, bringing you production shows, beautiful musical arrangements, and sidesplitting comedy.
Fortunes Casino: Feeling lucky? Combining the ambience of Monte Carlo and the energy of Las Vegas, Fortunes Casino is the perfect spot to participate in a game of change or comfortably view all of the action at our ticket in/ticket out slot machines and table games.
Shops on the Boulevard: Beautiful walkways lead you to sophisticated boutiques that hold stylish clothing, jewelry, cosmetics, fragrances and more. Window shop, attend a fashion show or select gifts for friends and family. Then, indulge yourself as you encounter the ideal memento of your truly extraordinary cruise experience.
Quasar: A retro-chic nightclub for the late-night crowd, Quasar features DJs spinning the best of today's dance and club favorites.
Sky Observation Lounge: The perfect daytime spot to gaze over the sea with a cocktail in hand. At night, the space comes alive with live music and dancing. Featuring twelve signature Zodiac cocktails based on your astrological sign, all prepared by flaring mixologists.
The Spa: Whether you want to clear your mind, fine-tune your body, reinvigorate your spirit - or all of the above - The Spa is a luxurious sanctuary where you can do it all. Here, Celebrity Cruises has introduced an array of innovative new firsts in beauty, fitness, and wellness that make finding complete bliss on vacation easier than ever. With MLX i³ Dome, Quartz and WellMassage 4D specialty treatment beds, Kérastase Institute, Ideal Image® Ocean featuring Dysport®, Thermage® and CoolSculpting® treatments, to Peloton bikes overlooking the ocean, The Spa is an escape within your escape.
Fitness Center: You may be on vacation, but you won't want to skip The Fitness Center. In fact, you may find yourself looking for any excuse to work out. Sstate-of-the-art weight machines and cardio equipment will take your fitness to the next level. And, if you're looking for motivation, you can enjoy the hottest fitness trends and classes, never before seen on Celebrity. The inspiration doesn't end there - floor-to-ceiling windows offer invigorating views of the sea as your backdrop.
World Class Bar: Welcome to Celebrity's "fine drinking" experience, where the ritual of making cocktails is just as exciting as drinking them. Using the freshest ingredients and the finest spirits, expert mixologists aim to satisfy the palates of both curious newcomers and connoisseurs alike.
Martini Bar & Crush: Talented bartenders put on a high-energy show preparing an intriguing menu of classic and contemporary martinis, served on an ice-topped bar. Sit back and relax, listening to up-tempo tunes and enjoying a collection of rare vodkas and a portfolio of fine caviars.
Moonlight Sonata Restaurantt: The magnificent and luxurious main dining room of Celebrity Eclipse®. With a two-story glass wine tower and dazzling chandeliers, this quintessential dining area has a decidedly Hollywood aura. Serving savory World & Continental cuisine, complete with Celebrity's famed European-style service.
Mast Grill: Let your cravings go wild. Grab a great burger in a relaxed, poolside environment.
Le Petit Chef at Qsine: Say hello to a new type of cruise ship dining. Le Petit Chef is a one-of-a-kind Celebrity Cruises® experience, where an augmented reality meets luxury cuisine. Celebrity Cruises has partnered with TableMation™ Studios and innovative Skullmapping tecnology to make fine dining more fun for everyone. Le Petit Chef is a feast for the senses, where an animated 3D character appears right on guest's plates and prepares each course for a truly interactive, artistic evening.
Tuscan Grille: An Italian ristorante and enoteca with a contemporary twist.
Sushi on Five: Wildly popular from the day it appeared, Sushi on Five satisfies your craving for locally sourced, authentically prepared sushi and other Japanese specialties. Treat yourself to the complex flavors of a hand-made sushi roll or nigiri featuring tuna albacore, shrimp, eel, and other fresh selections, or savor the simplicity of yellowtail, salmon, and octopus sashimi. Your culinary experience would be incomplete without dessert - be sure to try the caramelized gingerbread with wasabi gelato.
Murano: Classic French dishes - with a contemporary twist - serve as the inspiration for Murano's menu. Enjoy nouveau cuisine with old-world charm, as signature dishes are prepared tableside while you watch.

Verandah Stateroom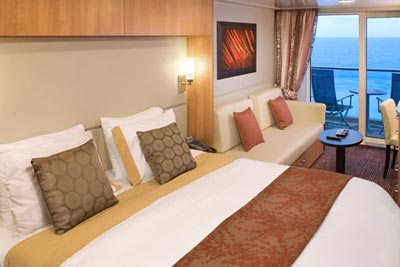 Ample indoor and outdoor space come together to create your private sanctuary at sea. Your personal veranda lets you greet the day, soak in breathtaking sunsets, and enjoy fresh sea breezes.
Ocean View Stateroom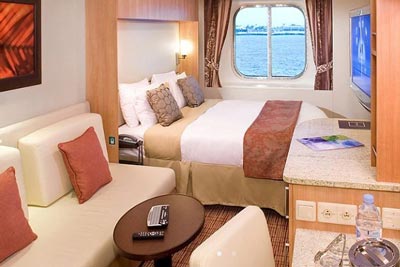 Expansive views make Ocean View Staterooms on the Celebrity Eclipse the ideal place to unwind at sea. These perfectly indulgent spaces come furnished with Celebrity's eXhale bedding featuring a luxury Queen-size mattress and everything else a modern traveler needs.
Inside Stateroom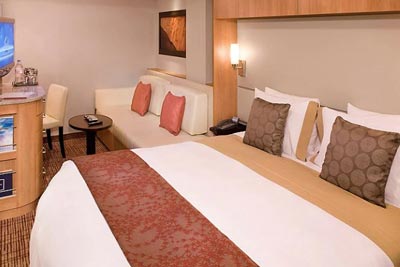 Your escape at sea, Inside Staterooms offer ample living space, including a sitting area and a flat screen TV. Each inside stateroom on board Celebrity Eclipse includes world-class amenities.
Photos and renderings of guestrooms are representative of the general design and view of the rooms.
The exact layout and view in any of the guestroom photos are not guaranteed.

We have a block of cabins for seminar participants.
Once this block is sold, cabins are on availability only and may be at a higher rate.
Cruises sell out early
Travel Arrangements
To receive these discounted cruise fares you must book your cruise through us. We have all of the information regarding the cruise and seminar and can make your cruise reservations.

Reservations
Reservations will be secured and cabins assigned upon receipt of passenger deposit of $500 per cabin. Final payment as instructed by our travel agent. Due to the number of details needed to complete cruise cabin booking accurately, a cabin will not be booked for you until you have spoken with one of our cruise agents via phone or via direct email correspondence. Please contact our office at 1-800-222-6927 or 1-509-547-7065 to complete your cruise reservation.
Discounted Fares
We have been able to negotiate a GREAT DISCOUNT for you on this luxurious cruise! See reservation form for details. ALWAYS CALL US BEFORE BOOKING ANYWHERE ELSE: (800) 222-6927

TARGET AUDIENCE
This course is designed for physicians, physician assistants, nurse practitioners, registered nurses, and all other medical care providers who must maintain state-of-the-art knowledge of the emergency medicine specialty or are impacted by it.
PROGRAM PURPOSE
The practitioner of emergency medicine must possess evidence-based scientific background for competent clinical practice; maintain state-of-the-art knowledge of the specialty and all additional related disciplines; maintain an up-to-the-minute armamentarium of knowledge and skills for the selection and use of complex equipment, pharmacological agents, and procedures; manage self and colleagues to function toward common goals in providing consistent care in all settings in which emergency care is provided; serve as an expert in matters involving quality, safe and equitable health care delivery and support of other service providers, departments, institutions, and organizations dependent upon professional expertise. Presentations are designed to facilitate the acquisition of cognitive and technical skills as defined through evidence-based data translated to best practice standards by the pertinent governmental and professional organizations including the American College of Emergency Physicians, American College of Surgeons and the Emergency Nurses Association and abilities in one or more of the disciplines vital to the practicing professional.
OBJECTIVES
At the conclusion of this activity, the participant will be able to:
Apply the pertinent physical and behavioral sciences as they impact and are affected by the planning, delivery, and monitoring of services inherent in the professions
Explain the selection, dosing considerations with methods of administration, safe use, contraindications and precautions of drugs based on their chemical and pharmacologic properties
Outline comprehensive patient management plans for the special patient population
Apply the principles of safety and asepsis in the performance of all aspects of patient care regardless of the clinical environment in which the practice resides
Incorporate the published tenets of pertinent, recognized external organizations, institutions, and professional groups defining medical, legal, philosophical, ethical, and health care management standards.

Topics in Emergency Medicine
7-Night Alaskan Hubbard Glacier Cruise
July 2-9, 2023


Sunday, July 2 - Vancouver, British Columbia, Canada - Embark

1600
Ship Sails (subject to change)

Monday, July 3 - Scenic Cruising Inside Passage – Afternoon Open

0800
Registration - Mandatory Sign In
0825
Welcome
NWS Staff
0830
Hidden Killers: The Plan Film Findings You Can't Afford to Miss
S.Mehta
0930
Pandemics: Past, Present and Future
S.Mehta
1030
Introduction to Point-of-Care Ultrasound in the Emergency Department: What Does the Data Suggest?
M.Bacher
1130
Utilization of Point-of-Care Ultrasound in the Critically Ill Patient
M.Bacher
1230
Adjourn

Tuesday, July 4 – Icy Straight Point, Alaska – Afternoon Open

0800
Registration – Mandatory Sign In
0815
Interesting Point-of-Care Ultrasound Cases
M.Bacher
0915
Obstetrics Emergencies
M.Bacher
1015
Emergency Medicine at 29,035 Feet: High Altitude Medicine
S.Mehta
1115
Two for One: Trauma in Pregnancy
S.Mehta
1215
Adjourn

Wednesday, July 5 - Hubbard Glacier – Afternoon Open

0745
Registration - Mandatory Sign In
0800
All Bleeding Stops Sometimes: Hemorrhage Control in Trauma
S.Mehta
0900
Emergency Physician X-Ray Interpretation: What Do We Miss?
M.Bacher
1000
Acute MI Management: Shifting of the STEMI / NSTEMI Paradigm
M.Bacher
1100
Adjourn

Thursday, July 6 - Juneau, Alaska - Day Open

Friday, July 7 - Ketchikan, Alaska - Afternoon Open

0845
Registration - Mandatory Sign In
0900
Sleep on This: Procedural Sedation
S.Mehta
1000
It's Getting Hot in Here: Pediatric Fever
S.Mehta
1100
Identification of Early Ischemia on EKG: Cases
M.Bacher
1200
Approach to Efficient Use of Evidence-Based Medicine
M.Bacher
1300
Adjourn

Saturday, July 8 – Scenic Cruising Inside Passage

0815
Registration - Mandatory Sign In
0830
Update on Sexually Transmitted Diseases
S.Mehta
0930
Reflections on a Combat Sabbatical: Lessons Learned in War
S.Mehta
1030
Do No Harm: Complications From Common Treatments We Must Consider
M.Bacher
1130
Pain Management in the Emergency Department: New Considerations
M.Bacher
1230
Resiliency in Emergency Medicine: Hard Won Wisdom for Life and Becoming a Better Physician
S.Mehta
1330
Adjourn

Sunday, July 9 - Vancouver, British Columbia, Canada - Disembark

20 CME

20 Class A CE

3.8 Pharmacology Hours†

Refreshments served at the meeting are for registered attendees only.
Rev. 6/16/23
FACULTY
Henry M. Bacher, MD
Greater San Antonio Emergency Physicians Staff
San Antonio, Texas
Sumeru Ghanshyam Mehta, MD
Staff Physician, Greater San Antonio Emergency Physicians
Board of Directors, Greater San Antonio Emergency Physicians
Clinical Assistant Professor, University of Texas Health Science Center at San Antonio
Department of Surgery, Division of Emergency Medicine
Assistant Professor, Uniformed Services University of The Health Sciences
Department of Military and Emergency Medicine
San Antonio, Texas
Program Coordinator
ACCREDITATION
Northwest Anesthesia Seminars / Northwest Seminars is accredited by the Accreditation Council for Continuing Medical Education (ACCME) to provide continuing medical education for physicians.
Northwest Anesthesia Seminars / Northwest Seminars designates this live activity for a maximum of 20 AMA PRA Category 1 Credit(s)™. Physicians should claim only the credit commensurate with the extent of their participation in the activity.
Approved by the American College of Emergency Physicians for 20 hour(s) of ACEP Category I credit.
American Board of Anesthesiology: CME credit will be sent directly to The American Board of Anesthesiology to fulfill the Part 2 requirement for the Maintenance of Certification in Anesthesiology Program (MOCA®).
Canadian Physicians: This activity is eligible for Section 1 credits in the Royal College's Maintenance of Certification (MOC) Program. Participants must log into MAINPORT to claim this activity.
Certified Registered Nurse Anesthetists: This program has been prior approved by the American Association of Nurse Anesthesiology for 20 Class A CE credits; AANA approval number 1042713; Expiration Date 07/08/2023.
Nurse Practitioners: The American Academy of Nurse Practitioners Certification Program (AANPCP) and the American Nurses Credentialing Center (ANCC) accept CME from organizations accredited by the ACCME.
Osteopathic Physicians: This program is eligible for Category 2 credit with the American Osteopathic Association (AOA).
Physician Assistants: The American Academy of Physician Assistants (AAPA) accepts certificates of participation for educational activities certified for AMA PRA Category 1 Credit™ from organizations accredited by ACCME or a recognized state medical society. Physician assistants may receive a maximum of 20 hours of Category I credit for completing this program.
Registered Nurses: NWAS/NWS is an approved provider for the following state nursing boards: Arkansas State Board of Nursing (Provider Number 50-7480), District of Columbia Board of Nursing (Provider Number 50-7480), Florida Board of Nursing (Provider Number 50-7480), Georgia Board of Nursing (Provider Number 50-7480), and the South Carolina Board of Nursing (Provider Number 50-7480).
The AANA is an approved provider by the California Board of Registered Nursing, CEP #10862.
This program offers 20 contact hours.
†Pharmacology hours subject to change.
COURSE DIRECTOR
Mark T. Murphy, MD, MSN Education, LLC, Treasure Island, Florida, Medical Director, Northwest Seminars, Pasco, Washington
SCHEDULE AND FACULTY CHANGES
Factors beyond our control sometimes necessitate changes in the schedule and faculty. If time permits, we will inform all registrants of any changes prior to the program. Changes on site due to local conditions will be announced in class.
COURSE CANCELLATION BY PROVIDER
We reserve the right to cancel a course for any reason. In such case, a minimum of days notice will be given to those registered and 100% of tuition paid will be refunded. NWAS/NWS and NWWT will not be responsible for any non-refundable airfare, hotel, or other liabilities you may incur. We highly recommend purchase of travel insurance. Travel at your own risk.

COURSE CANCELLATION FEE
$100 May 4, 2023 to June 3, 2023. No refund after June 3, 2023; however, 50% of tuition paid may be applied toward tuition for another NWS/NWAS program within the next 12 months. Cancellation must be made in writing. No tuition credit or refund will be issued for attendees that are no-shows for the program.
FAP (Frequent Attendee Points)
We value your patronage and have a simple program to reward you. Our Frequent Attendee Points (FAP) program gives you an added bonus for money spent on our seminars, as well as cruise cabins booked through our in-house travel agency, Northwest Worldwide Travel.
You are automatically enrolled in this program with your paid registration. Click here for more information.
*Effective January 1, 2023, net hotel stays for 2023 and beyond will no longer be included in FAP calculations.
Lecture notes will be provided via download in PDF format.
You must sign-in every day you attend to receive credit.
While we strive for accuracy at all times with our published information, we cannot be responsible for typographical and other errors.
Please note that children and non-registered guests are not allowed to attend the lectures. The concierge can provide you with childcare information.
Travel at your own risk.
REGISTER EARLY
We recommend that you register early to assure your spot. We reserve the right to close registrations to a course at any time without notice. We may not be able to accommodate onsite registrations.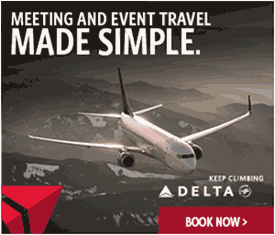 For flights in 2023:

Delta Air Lines is pleased to offer special discounts for Northwest Anesthesia Seminars / Northwest Seminars.
Please click here to book your flights.
You may also call Delta Meeting Network® at 1-800-328-1111* Monday-Friday, 8:00 a.m. - 6:30 p.m. (EST) and refer to Meeting Event Code NM2NH
*Please note there is not a service fee for reservations booked and ticketed via the Delta Meeting Network® reservation 800 number.