Disneyland® Resort (Anaheim), California
In Walt Disney's words, "To all who come to this happy place... Welcome." Since 1955, Disneyland® Park has been a magical destination where families can have fun together and make memories to last a lifetime.
Both the young and young at heart will discover a magical kingdom full of classic family-friendly attractions where you can blast off in a rocket, explore the deepest jungles, sail aboard a pirate ship, or rub elbows with princesses, just to name a few. When the sun goes down, you won't want to miss Disneyland's iconic fireworks display or the delightful stage show effects of Fantasmic!, a journey through imagination.
Next door at Disney California Adventure® Park, experience the golden age of Hollywood as you stroll the shops of Buena Vista Street. Stop for a photo op with your favorite Pixar and Marvel characters, or head to the newly re-imagined Pixar Pier. Nights come alive when you join in for the spectacular World of Color®, a brilliant display of fountains, dazzling lights, and effects.
After the parks close, the fun continues at Downtown Disney® District, where you can find souvenirs of every kind including clothing, housewares, toys, jewelry, sunglasses and more. Enjoy live music as you shop, then dine on a wide selection of great food including Cajun, Mexican, or Italian favorites. Don't forget to grab ice cream or a churro for dessert.
Be sure to mark your calendars to secure Specially Priced Theme Park Tickets when our Ticket Store opens on Thursday, November 24, 2022!
These specially-priced Disneyland® Resort Theme Park tickets are only available via our group's on-line Disney Ticket Store: https://www.mydisneygroup.com/GCNC23B
This link provides the opportunity for attendees to add to the magic of their meeting experience by purchasing specially-priced Disneyland® Resort Theme Park tickets prior to their arrival.
Tickets are valid from March 13-24, 2023.
To enter a park, both a theme park reservation and a valid ticket for the same park on the same date are required. Date and park availability may change at any time until the park reservation is finalized; check back often. A theme park reservation does not guarantee park admission or access to any experience, attraction, offering or dining location. Explore health and safety measures as well as updates to experiences. Here's what to know before you go:
https://disneyland.disney.go.com/experience-updates/
Timed Reservation for Theme Park Entry Required All guests (age 3 & over) must have valid admission AND then make a park reservation for the same date via the Disney Park Pass system.
Once you select your tickets, it will then take you to the reservation system to select dates.
If you are unable to find reservations for the days you wish to visit, check the ticket website frequently for new reservation openings. Northwest Seminars does not have any control over reservation availability.
Ticket Store opens on Thursday, November 24, 2022! Be sure to purchase tickets by 9pm PST on Wednesday, March 15, 2023! Specially-priced Disneyland® Resort Theme Park ticket prices offered in our online store are not available once you arrive at the Resort. Don't delay as prices are subject to change without notice.
These specially priced tickets are intended only for guests that are participating in this Event. Only the registered attendee is allowed to purchase tickets from this discounted ticket store link. If one person or one credit card will be used to purchase tickets for several attendees, please combine orders. There is a limit of 6 tickets per order with a maximum of 2 orders. Terms and conditions apply.
If you need help placing your order, please call the Disney Ticket Store (714) 520-7053,  Monday–Friday from 8:30am-5pm, PST.
Disney's Grand Californian Hotel® & Spa
This stunning hotel offers premium accommodations and rich dining experiences in American Craftsman style and elegance. Choose from a variety of different relaxing pools, including the peaceful oasis of the Fountain Pool and outdoor hot tub, the Redwood Pool with waterslide, and the refreshing Mariposa pool and outdoor hot tub. Disover award-winning food and wine, cozy lounges, family-friendly dining and much more.
Standard guestrooms feature either one King-size bed, or one Queen-size bed plus Twin-size sleeper, or 2 Queen-size beds (bedding based on availability at time of check-in), complimentary wireless and wired Internet access, robes, DVD player, iron/board, hairdryer, make-up mirror, safe and more. Disney's Grand Californian Hotel® & Spa is located approximately 14.2 miles from John Wayne Airport (SNA), 14.3 miles from Long Beach Airport (LGB), and 34 miles from Los Angeles International Airport (LAX).
TARGET AUDIENCE
This course is designed for physicians, physician assistants, nurse practitioners, registered nurses, and all other medical care providers who must maintain state-of-the-art knowledge of the critical care specialty or are impacted by it.
PROGRAM PURPOSE
The practitioner of critical care medicine must possess the scientific background for clinical practice; maintain state-of-the-art knowledge of not only the specialty, but also of all additional related disciplines which may impact it; maintain an up-to-the-minute armamentarium of knowledge and skills for the selection and use of complex equipment, pharmacological agents, and procedures necessary for the provision of quality patient care; manage self and colleagues to function toward common goals in the clinical setting, clinical and educational institutions, and the community in which the practice resides; serve as an expert in matters involving health care delivery; serve as an informed manager of clinical and educational services provided, including the acquisition and distribution of resources necessary in meeting professional goals; and provide assistance with and support of other service providers, departments, institutions, and organizations dependent upon the professional expertise of the practitioner.
Presentations are designed to facilitate the healthcare provider maintaining skills of the same kind to review and update knowledge and abilities in one or more of these areas vital to the practicing professional.
OBJECTIVES
At the conclusion of this activity, the participant will be able to:
Apply the pertinent physical and behavioral sciences as they impact and are affected by the planning, delivery, and monitoring of critical care services.
Explain the selection, dosing considerations with methods of administration, safe use, and contraindications and precautions of drugs based on their chemical and pharmacologic properties.
Outline comprehensive management plans for the group of patients discussed, whether related in age, physical status, cultural background, invasive procedure, anesthetic or analgesic requirements, clinical setting, adverse reactions, and/or goals of care.
Apply the principles of safety and asepsis in the performance of all aspects of patient care regardless of the clinical environment in which the practice resides.
Incorporate
the appropriate recommendations and/or requirements of pertinent external organizations, institutions, and professional groups in the provision of critical care services, whether medical, legal, philosophical, ethical, or health care management standards.
Critical Care: The Team Approach
Disneyland® Resort (Anaheim), California
March 16-19, 2023


Thursday, March 16

0700
Registration - Mandatory Sign in – Continental Breakfast
0725
Welcome
NWS Staff
0730
ARDS Management: An Overview
M.Javed
0830
Ventilator Asynchrony: Using Ventilator Graphics to Improve Patient Care
M.Javed
0930
Break
0945
Venovenous ECMO: Physiology and Troubleshooting
S.Galvagno
1045
Endpoints of Resuscitation in Shock
S.Galvagno
1145
Emergent Intubation of the Morbidly Obese
T.Osborn
1245
Adjourn

Friday, March 17

0700
Registration - Mandatory Sign in - Continental Breakfast
0730
Sepsis Definitions: What's in a Name?
T.Osborn
0830
Resuscitation in Sepsis
T.Osborn
0930
Break
0945
DKA Management
M.Javed
1045
Sodium Changes and the Osmotic Demyelination Syndrome
M.Javed
1145
Use of Viscoelastic Monitoring for Trauma Resuscitation
S.Galvagno
1245
Adjourn

Saturday, March 18

0700
Registration - Mandatory Sign in - Continental Breakfast
0730
Evidence-Based Management of Arrhythmias in the Intensive Care Unit
S.Galvagno
0830
Prevention of Peri-Intubation Death: "Perfusion Protective" Ventilation
S.Galvagno
0930
Break
0945
Vasopressors: What to Use When?
T.Osborn
1045
Beyond the Stethoscope: When Physicians Becomes Family
T.Osborn
1145
Newer Anticoagulants and Reversal Methodologies
M.Javed
1245
Adjourn

Sunday, March 19

0700
Registration - Mandatory Sign in - Continental Breakfast
0730
Palliative Care and End-of-Life Care in the ICU
M.Javed
0830
Burnout in the ICU
M.Javed
0930
Break
0945
Full Spectrum Sedation in the ICU
S.Galvagno
1045
Aeromedical Evaluation
S.Galvagno
1145
The Harsh Reality of More Demand Than Systems Can Handle: Lessons From COVID
T.Osborn
1245
Adjourn

20 CME

20 Class A CE

20 CE

6.2 Pharmacology Hours†

Refreshments served at the meeting are for registered attendees only.
Rev. 2/8/23
FACULTY
Sam Galvagno, DO, PhD, MS, FCCM
Colonel, USAF, MC, SFS
Professor (Tenured)
Executive Vice Chair
Department of Anesthesiology
The University of Maryland School of Medicine
State Medical Director, Critical Care Coordination Center (C4)
Maryland Institute for Emergency Medical Services Systems (MIEMSS)
IMA to the Director
Reserve Medical Directorate
Headquarters, United States Air Force
Pentagon, Washington, District of Columbia
Tiffany Osborn, MD, MPH, FCCM, FACEP
Professor of Surgery and Emergency Medicine
Surgical / Trauma Critical Care
Washington University / Barnes Jewish Hospital
St. Louis, Missouri
Muhammad Ali Javed, MD, FCCP
Associate Professor of Medicine
Pulmonary and Neuro Critical Care
Mercy Hospital St. Louis
Department of Critical Care Medicine
St. Louis, Missouri
PROGRAM COORDINATOR
(non-speaking role)
Stuart Lowson, BSc, MBBs, MRCP, FRCA
Associate Professor of Anesthesiology
Co-Director Surgical Trauma ICU
University of Virginia
Charlottesville, Virginia
ACCREDITATION
This activity has been planned and implemented in accordance with the accreditation requirements and policies of the Accreditation Council for Continuing Medical Education (ACCME) through the joint providership of The A. Webb Roberts Center for Continuing Medical Education of Baylor Scott & White Health and Northwest Seminars. The A. Webb Roberts Center for Continuing Medical Education of Baylor Scott & White Health is accredited by the ACCME to provide continuing medical education for physicians.
The A. Webb Roberts Center for Continuing Medical Education of Baylor Scott & White Health designates this live activity for a maximum of 20 AMA PRA Category 1 Credit(s)™. Physicians should claim only the credit commensurate with the extent of their participation in the activity.
American Board of Anesthesiology: CME credit will be sent directly to The American Board of Anesthesiology to fulfill the Part 2 requirement for the Maintenance of Certification in Anesthesiology Program (MOCA®).
Canadian Physicians: This activity is eligible for Section 1 credits in the Royal College's Maintenance of Certification (MOC) Program. Participants must log into MAINPORT to claim this activity.
Certified Registered Nurse Anesthetists: This program has been prior approved by the American Association of Nurse Anesthesiology for 20 Class A CE credits; AANA approval number 1042741; Expiration Date 03/19/2023.
Nurse Practitioners: The American Academy of Nurse Practitioners Certification Program (AANPCP) and the American Nurses Credentialing Center (ANCC) accept CME from organizations accredited by the ACCME.
Osteopathic Physicians: This program is eligible for Category 2 credit with the American Osteopathic Association (AOA).
Physician Assistants: The American Academy of Physician Assistants (AAPA) accepts certificates of participation for educational activities certified for AMA PRA Category 1 Credit™ from organizations accredited by ACCME or a recognized state medical society. Physician assistants may receive a maximum of 20 hours of Category I credit for completing this program.
Registered Nurses: NWAS/NWS is an approved provider for the following state nursing boards: Arkansas State Board of Nursing (Provider Number 50-7480), District of Columbia Board of Nursing (Provider Number 50-7480), Florida Board of Nursing (Provider Number 50-7480), Georgia Board of Nursing (Provider Number 50-7480), and the South Carolina Board of Nursing (Provider Number 50-7480).
The AANA is an approved provider by the California Board of Registered Nursing, CEP #10862.
This program offers 20 contact hours.
†Pharmacology hours subject to change.
COURSE DIRECTOR
Mark T. Murphy, MD, MSN Education, LLC, Treasure Island, Florida, Medical Director, Northwest Seminars, Pasco, Washington
SCHEDULE AND FACULTY CHANGES
Factors beyond our control sometimes necessitate changes in the schedule and faculty. If time permits, we will inform all registrants of any changes prior to the program. Changes on site due to local conditions will be announced in class.
COURSE CANCELLATION BY PROVIDER
We reserve the right to cancel a course for any reason. In such case, a minimum of days notice will be given to those registered and 100% of tuition paid will be refunded. NWAS/NWS and NWWT will not be responsible for any non-refundable airfare, hotel, or other liabilities you may incur. We highly recommend purchase of travel insurance. Travel at your own risk.

COURSE CANCELLATION FEE
$100 January 15, 2023 to February 14, 2023. No refund after February 14, 2023; however, 50% of tuition paid may be applied toward tuition for another NWS/NWAS program within the next 12 months. Cancellation must be made in writing. No tuition credit or refund will be issued for attendees that are no-shows for the program.
FAP (Frequent Attendee Points)
We value your patronage and have a simple program to reward you. Our Frequent Attendee Points (FAP) program gives you an added bonus for money spent on our seminars, as well as cruise cabins booked through our in-house travel agency, Northwest Worldwide Travel.
You are automatically enrolled in this program with your paid registration. Click here for more information.
*Effective January 1, 2023, net hotel stays for 2023 and beyond will no longer be included in FAP calculations.
Lecture notes will be provided via download in PDF format.
You must sign-in every day you attend to receive credit.
While we strive for accuracy at all times with our published information, we cannot be responsible for typographical and other errors.
Please note that children and non-registered guests are not allowed to attend the lectures. The concierge can provide you with childcare information.
Travel at your own risk.
REGISTER EARLY
We recommend that you register early to assure your spot. We reserve the right to close registrations to a course at any time without notice. We may not be able to accommodate onsite registrations.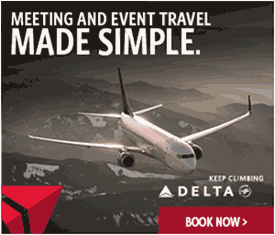 For flights in 2023:

Delta Air Lines is pleased to offer special discounts for Northwest Anesthesia Seminars / Northwest Seminars.
Please click here to book your flights.
You may also call Delta Meeting Network® at 1-800-328-1111* Monday-Friday, 8:00 a.m. - 6:30 p.m. (EST) and refer to Meeting Event Code NM2NH
*Please note there is not a service fee for reservations booked and ticketed via the Delta Meeting Network® reservation 800 number.