Atlantic Beach, Florida
Atlantic Beach, Florida is located east of Jacksonville, south of Amelia Island, north of Ponte Vedra, and just minutes from Jacksonville Beach. Atlantic Beach is the quintessential Florida beach community feel with a vibrant dining and nightlife scene, fun beach dive bars, boutique resorts and friendly family atmosphere. You'll find miles of casual beaches, excellent golf, parks plus everything the nearby city of Jacksonville has to offer. Atlantic Beach offers a rich cultural history and is the site of what many experts believe was the first year-round Native American settlement in North America while Jacksonville is the ideal destination to discover Florida's and America's history while experiencing unique places with French, Spanish, Native American and African American history.  Be sure to visit Hannah Park, a magnet for surfers, beachcombers, campers and bicyclists along Atlantic Beach's northern border, a place that keeps a bit of Old Florida alive. In addition to numerous parks and beach access points, there is also a two-mile paddle trail in the Dutton Island, Riverbranch and Tideview Preserves (400 acres of marshlands) on the intracoastal waterway to explore.
Atlantic Beach Town Center is  home to a number of restaurants and bars, authentic shopping, and entertainment to occupy your time. Connecting the border between Atlantic and Neptune Beach, you'll find the eclectic Beaches Town Center with boutiques filled with unique clothing and trinkets as well as many restaurants. If golf is your hobby, don't miss your chance to play on the same greens as PGA Professionals at TPC Sawgrass or, make your way to the redesigned Jax Beach Golf Club for a laid back experience. If you need even more, nearby Jacksonville offers activities for all ages and interests.  Explore historic sites, attend a sports event, or visit world-class museums. The Jacksonville Zoo and Gardens is one of the most visited attractions in Northeast Florida and one of the top 25 zoos in the nation. Kona Skate Park is the oldest operating skate park in the world and lessons are available for all skill levels. Jacksonville's beaches are family-friendly with dozens of activities for the entire family including paddle boarding, kayaking and fishing. As an added bonus, Jacksonville's food scene is an eclectic hybrid of inspired casual elegance and classic southern comfort. Fresh seafood, southern and island flavors, local ingredients and decorated chefs all come together in Jacksonville to create an innovative and delicious food scene unlike anywhere else in Florida.
One Ocean Resort & Spa
One Ocean Resort & Spa  is a refuge for relaxation situated on the sweeping white sands of the Atlantic Ocean. Relax in the outdoor swimming pool or stay energized in the premier fitness center featuring Matrix Strength equipment, free weights, and cardio workout machines. Rent a bicycle and cruise the shimmering coastline, and discover surfing, windsurfing, and kayaking just steps from the resort. Make your way to the Spa at One Ocean and choose from more than 40 marine-inspired rituals and specialty treatments, like unique massage styles, body wraps, peels, and facials. End your day with a fabulous meal at Azurea, the resort's signature restaurant featuring seasonal coastal cuisine. As as added bonus, the resort is nestled directly across from the picturesque Beaches Town Center, with charming cobblestone streets that feature a unique mix of shops, restaurants, art galleries, ice-cream parlors, and nightlife. Deluxe guest rooms feature one king or two plush double beds with luxury bedding and striking coastline views of the Atlantic Ocean visible through floor-to-ceiling windows. Other guest room amenities include LCD TV, mini-refrigerator, Keurig coffee/tea maker, laptop safe,  alarm clock, robes, and more. One Ocean Resort & Spa is located approximately 26 miles from Jacksonville International Airport (JAX).
To purchase specially priced Walt Disney World® Meeting/Convention Theme Park tickets, CLICK HERE or call 407-566-5600.
Tickets are valid 7 days before, during, and 7 days after the meeting dates. To enter a park, both a park reservation and valid ticket on the same day are required. To make park reservations, you will need to sign-in to an existing Disney® Account or create a new one and link each ticket. Park reservations are subject to availability – please check the Park Availability Calendar. For details on making a park reservation, please visit Disney Park Pass Experience Updates.
Whether it's your first visit or your 100th, we recommend reviewing the Walt Disney World® Resort Experience Updates.
TARGET AUDIENCE
This course is designed for physicians, physician assistants, nurse practitioners, registered nurses, and all other medical care providers who must maintain state-of-the-art knowledge of the emergency medicine specialty or are impacted by it.

PROGRAM PURPOSE
The practitioner of emergency medicine must possess evidence-based scientific background for competent clinical practice; maintain state-of-the-art knowledge of the specialty and all additional related disciplines; maintain an up-to-the-minute armamentarium of knowledge and skills for the selection and use of complex equipment, pharmacological agents, and procedures; manage self and colleagues to function toward common goals in providing consistent care in all settings in which emergency care is provided; serve as an expert in matters involving quality, safe and equitable health care delivery and support of other service providers, departments, institutions, and organizations dependent upon professional expertise.
Presentations are designed to facilitate the acquisition of cognitive and technical skills as defined through evidence-based data translated to best practice standards by the pertinent governmental and professional organizations including the American College of Emergency Physicians, American College of Surgeons and the Emergency Nurses Association and abilities in one or more of the disciplines vital to the practicing professional.
OBJECTIVES
At the conclusion of this activity, the participant will be able to:
Apply the pertinent physical and behavioral sciences as they impact and are affected by the planning, delivery, and monitoring of services inherent in the professions
Explain the selection, dosing considerations with methods of administration, safe use, contraindications and precautions of drugs based on their chemical and pharmacologic properties
Outline comprehensive patient management plans for the special patient population discussed
Apply the principles of safety and asepsis in the performance of all aspects of patient care regardless of the clinical environment in which the practice resides
Incorporate the published tenets of pertinent, recognized external organizations, institutions, and professional groups defining medical, legal, philosophical, ethical, and health care management standards.
Topics in Emergency Medicine
Atlantic Beach, Florida
January 30 - February 2, 2024


Tuesday, January 30

0700
Registration - Mandatory Sign in - Continental Breakfast
0725
Welcome
NWAS Staff
0730
Sore Throats That Can Kill!
T.Sanson
0830
In Case You Missed It: Review of Recent Clinically Impactful Journal Articles
M.Greenberg
0930
Break
0945
We've Got Your Back: A Common Sense Approach to Acute Back Pain
M.Greenberg
1045
Violence in the Medical Setting
T.Sanson
1145
Giving and Receiving Effective Feedback
T.Sanson
1245
Adjourn

Wednesday, January 31

0700
Registration - Mandatory Sign in - Continental Breakfast
0730
ENT Tricks of the Trade
T.Sanson
0830
What's in the CDC for Me?
M.Greenberg
0930
Break
0945
Updates in DVT and PE: ICU or Home?
M.Greenberg
1045
What's Sex and Gender Medicine and Why You Should Care!
M.Greenberg
1145
Combative and Agitated Patients
T.Sanson
1245
Adjourn

Thursday, February 1

0700
Registration - Mandatory Sign in - Continental Breakfast
0730
Their Blood Pressure Was What? Who Needs What, When and Where?
M.Greenberg
0830
Teamwork at the Bedside: How It Impacts Rapid Responses and Patient Safety
M.Greenberg
0930
Break
0945
Resilience: What Does It Mean?
T.Sanson
1045
Special Cases in Pulmonary Embolism
T.Sanson
1145
The Opioid Epidemic: Best Practice Tools for Substance Use Disorder
M.Greenberg
1245
Adjourn

Friday, February 2

0700
Registration - Mandatory Sign in - Continental Breakfast
0730
Risk Management: Practical Patient Safety
T.Sanson
0830
Litigation Stress
T.Sanson
0930
Break
0945
Effective Communication and Conflict Management
T.Sanson
1045
Beyond "Clumsy": Recognizing and Assisting Victims of Intimate Partner Violence
M.Greenberg
1145
Survivor: How to Last in a Demanding Profession
M.Greenberg
1245
Adjourn

20 CME

20 Class A CE

20 CE

3 Pharmacology Hours†

Refreshments served at the meeting are for registered attendees only.
Rev. 3/10/23
FACULTY
Marna Rayl Greenberg, DO, MPH, FACEP
Vice-Chair Department of Emergency and Hospital Medicine, Research
Professor USF MCOM
Lehigh Valley Health Network
Bethlehem, Pennsylvania
Tracy G. Sanson, MD, FACEP
Educator, Coach, Consultant
Founder TracySansonMD, LLC
Lutz, Florida
Program Coordinator
ACCREDITATION
Northwest Anesthesia Seminars / Northwest Seminars is accredited by the Accreditation Council for Continuing Medical Education (ACCME) to provide continuing medical education for physicians.
Northwest Anesthesia Seminars / Northwest Seminars designates this live activity for a maximum of 20 AMA PRA Category 1 Credit(s)™. Physicians should claim only the credit commensurate with the extent of their participation in the activity.
Approved by the American College of Emergency Physicians for 20 hour(s) of ACEP Category I credit.
American Board of Anesthesiology: CME credit will be sent directly to The American Board of Anesthesiology to fulfill the Part 2 requirement for the Maintenance of Certification in Anesthesiology Program (MOCA®).
Canadian Physicians: This activity is eligible for Section 1 credits in the Royal College's Maintenance of Certification (MOC) Program. Participants must log into MAINPORT to claim this activity.
Certified Registered Nurse Anesthetists: This program has been prior approved by the American Association of Nurse Anesthesiology for 20 Class A CE credits; AANA approval number 1043189; Expiration Date 02/02/2024.
Nurse Practitioners: The American Academy of Nurse Practitioners Certification Program (AANPCP) and the American Nurses Credentialing Center (ANCC) accept CME from organizations accredited by the ACCME.
Osteopathic Physicians: This program is eligible for Category 2 credit with the American Osteopathic Association (AOA).
Physician Assistants: The American Academy of Physician Assistants (AAPA) accepts certificates of participation for educational activities certified for AMA PRA Category 1 Credit™ from organizations accredited by ACCME or a recognized state medical society. Physician assistants may receive a maximum of 20 hours of Category I credit for completing this program.
Registered Nurses: NWAS/NWS is an approved provider for the following state nursing boards: Arkansas State Board of Nursing (Provider Number 50-7480), District of Columbia Board of Nursing (Provider Number 50-7480), Florida Board of Nursing (Provider Number 50-7480), Georgia Board of Nursing (Provider Number 50-7480), and the South Carolina Board of Nursing (Provider Number 50-7480).
The AANA is an approved provider by the California Board of Registered Nursing, CEP #10862.
This program offers 20 contact hours.
†Pharmacology hours subject to change.
COURSE DIRECTOR
Mark T. Murphy, MD, MSN Education, LLC, Treasure Island, Florida, Medical Director, Northwest Seminars, Pasco, Washington
SCHEDULE AND FACULTY CHANGES
Factors beyond our control sometimes necessitate changes in the schedule and faculty. If time permits, we will inform all registrants of any changes prior to the program. Changes on site due to local conditions will be announced in class.
COURSE CANCELLATION BY PROVIDER
We reserve the right to cancel a course for any reason. In such case, a minimum of days notice will be given to those registered and 100% of tuition paid will be refunded. NWAS/NWS and NWWT will not be responsible for any non-refundable airfare, hotel, or other liabilities you may incur. We highly recommend purchase of travel insurance. Travel at your own risk.

COURSE CANCELLATION FEE
$100 December 1, 2023 to December 31, 2023. No refund after December 31, 2023; however, 50% of tuition paid may be applied toward tuition for another NWS/NWAS program within the next 12 months. Cancellation must be made in writing. No tuition credit or refund will be issued for attendees that are no-shows for the program.
FAP (Frequent Attendee Points)
We value your patronage and have a simple program to reward you. Our Frequent Attendee Points (FAP) program gives you an added bonus for money spent on our seminars, as well as cruise cabins booked through our in-house travel agency, Northwest Worldwide Travel.
You are automatically enrolled in this program with your paid registration. Click here for more information.
*Effective January 1, 2023, net hotel stays for 2023 and beyond will no longer be included in FAP calculations.
Lecture notes will be provided via download in PDF format.
You must sign-in every day you attend to receive credit.
While we strive for accuracy at all times with our published information, we cannot be responsible for typographical and other errors.
Please note that children and non-registered guests are not allowed to attend the lectures. The concierge can provide you with childcare information.
Travel at your own risk.
REGISTER EARLY
We recommend that you register early to assure your spot. We reserve the right to close registrations to a course at any time without notice. We may not be able to accommodate onsite registrations.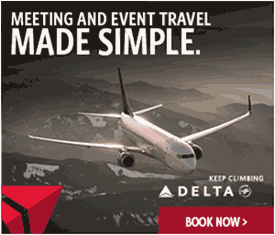 For flights in 2024:

Delta Air Lines is pleased to offer special discounts for Northwest Anesthesia Seminars / Northwest Seminars.
Please click here to book your flights.
You may also call Delta Meeting Network® at 1-800-328-1111* Monday-Friday, 8:00 a.m. - 6:30 p.m. (EST) and refer to Meeting Event Code NM2NP
*Please note there is not a service fee for reservations booked and ticketed via the Delta Meeting Network® reservation 800 number.