Banff, Alberta, Canada
Welcome to the town of Banff in the heart of Banff National Park, a UNESCO World Heritage Site. Imagine if you could step into a real-life snow globe - that's what experiencing winter in Banff National Park feels like. You'll find plenty of snow, as you reconnect with nature, yourself and your family amidst the fresh mountain air and the peaceful snow-blanketed landscape. Visitors can experience every authentically Canadian winter activity you can think of in Banff and Lake Louise or the surrounding area. Incredible animal encounters, stunning mountains and world-class skiing in one of North America's longest ski seasons are a few things available to visitors. For the adventurer, take part in heli-sightseeing or heli-hiking. Learn a new skill with training programs for all skill levels in the disciplines of rock and ice climbing, mountaineering, outdoor leadership, avalanche awareness, and ski mountaineering.

Banff National Park may boast three area ski hills, but if the slopes aren't calling your name there are plenty of other winter activities to keep you busy! Snowshoeing, cross-country skiing, ice-climbing, sleigh-riding, dog-sledding and ice skating will get you to fall in love with winter, while a visit to local museums and galleries will help you appreciate the arts and culture scene of Banff. Finish off a busy day with a soak in the Banff Upper Hot Springs or a relaxing spa treatment. Finally, enjoy strolling downtown Banff as you discover a cosmopolitan collection of galleries, boutiques, and cafés. Shops range from internationally recognized clothiers and independently-owned establishments to Canada's oldest department store.
The Rimrock Resort Hotel
The Rimrock Resort Hotel is located in the heart of the Canadian Rockies and Banff National Park. The Rimrock Resort Hotel offers exceptional views of the Canadian Rockies, fine dining, a luxury spa, pool and fitness center.
Guest rooms are approximately 350 square feet and feature 1 King bed or 2 Queen beds (based on hotel availability), LCD TV, Wireless High Speed Internet access (fee may apply), in-room safe, Keurig Coffee Maker, mini fridge, and more.
Premium guest rooms offer varying mountain views of the majestic Canadian Rockies, while Grandview guest rooms offer even more breathtaking views of the Canadian Rockies.
The Rimrock Resort Hotel is located on Sulphur Mountain in Banff National Park, a 5 minute drive from the Banff town site and 1.5 hours west of Calgary International Airport (approx 90 miles/145 kilometers). If you opt to take one of the frequent airport shuttle services from Calgary to Banff, you'll enjoy a luxury ride directly to your hotel entrance. Once in the town of Banff, you'll find the town very walkable, and you can easily jump on the local transit system to get you further afield. The skiing and snowboarding in Banff and Lake Louise are short drives from the town of Banff or hop on a ski shuttle from Banff hotels to ski resorts.
Park Pass: The city of Banff is located in one of Canada's National Parks. Everyone entering the parks must purchase a park pass. The rate is approximately $10.50 CAD per day for 1 adult or $21 CAD total per day for 2 or more persons in the same vehicle. Daily passes are sold for no more than 6 days, so if you are staying longer you must purchase a Parks Canada Discovery Pass for $72.25 CAD per adult or $145.20 CAD for family. Visit https://www.pc.gc.ca/en/pn-np/ab/banff/visit/passer-passes/FAQ-pass for more information. Prices are subject to change without notice. You can purchase your pass online and print it out in advance: https://www.banfflakelouise.com/park-pass-purchase
In winter, some areas and roads in Banff National Park experience seasonal or weather related closures, plan ahead by visiting: https://www.pc.gc.ca/en/pn-np/ab/banff
Receive a 15% discount on the Banff Airporter's daily shuttle service between the Calgary Airport and Banff. Click Banff Airporter and then Book Now. Proceed through the reservation and type NWSEMINARS - in the "Promo Code" section on the final payment page to receive the discount. This special rate is available for travel dates between March 24th - April 4th, 2023.
For those who plan skiing or snowboarding during their  free time, here is some information to help you plan:
Transportation for skiing from Rimrock Hotel:
There are no shuttle buses that go directly from Rimrock Hotel to the ski slopes, however, hotel guests can arrange shuttle service with the Concierge desk 24 hours prior to departure time  - be aware that space is limited.
Concierge drops off at Mount Royal Hotel, from there it could take 20 minutes to Norquay, 30 minutes to Sunshine and an hour to Lake Louise.
Area Ski shuttles run multiple times daily during ski season and pick up from convenient locations throughout Banff and select locations in Lake Louise. The shuttles run to all three ski resorts: Lake Louise Ski Resort, Mt. Norquay Ski Resort, and Sunshine Village Ski Resort.
Ski shuttles are free to use for anyone with a valid lift ticket.  For shuttle stops and schedules, visit https://www.skibig3.com/ski-shuttle/ Shuttle pick-up locations and schedules are subject to change without notice.
Lift Tickets and Rentals: Lift tickets can be purchased directly through the ski resorts or a tri-lift ticket can be purchased through SkiBig3.
Special Offers
"SkiBig3" Pass:
Purchase your lift tickets using the link below, and they will be delivered to the Rimrock Hotel for guests to collect upon check-in. You can also arrange for  rental gear which can then be collected from the downtown rental/retail store SkiBig3 Adventure Hub. SkiBig3 pass includes includes Banff Sunshine, Lake Louise Ski Resort, and Mt Norquay with the SkiBig3 lift ticket.  You can also take advantage of 50% off lift tickets at all Mountain Collective Destinations including Marmot Basin (NEW), Revelstoke, Panorama, Big Sky and Sun Valley. Don't delay - booking via this link closes March 23! For details and to purchase, visit https://tinyurl.com/4zwzzyaw
For questions or assistance, call SkiBig3 Adventure Hub at 1 (403) 762-4754
Mount Norquay is offering Northwest Seminars attendees only 20% off window rates for lift tickets from March 24th until April 1st. (You will need to show a copy of our informational email you will receive prior to the meeting at time of purchase to receive the discount).
Lake Louise - Offers their Lake Louise Plus Card that includes:
~Get 3 Free Days on your 1st, 4th and 7th visits.
~Get 20% off Lift Tickets all other days.
~Plus card is good at Lake Louise, Castle, Panorama or RED Mountain
~Cost is approx. $149 CAD per card starting in January 2023.
To purchase, visit  https://www.skilouise.com/tickets-passes/plus-cards/
For questions or assistance, call 1 (877) 956-8473
TARGET AUDIENCE
This course is designed for physicians, physician assistants, nurse practitioners, registered nurses, and all other medical care providers who must maintain state-of-the-art knowledge of the emergency medicine specialty or are impacted by it.

PROGRAM PURPOSE
The practitioner of emergency medicine must possess evidence-based scientific background for competent clinical practice; maintain state-of-the-art knowledge of the specialty and all additional related disciplines; maintain an up-to-the-minute armamentarium of knowledge and skills for the selection and use of complex equipment, pharmacological agents, and procedures; manage self and colleagues to function toward common goals in providing consistent care in all settings in which emergency care is provided; serve as an expert in matters involving quality, safe and equitable health care delivery and support of other service providers, departments, institutions, and organizations dependent upon professional expertise.
Presentations are designed to facilitate the acquisition of cognitive and technical skills as defined through evidence-based data translated to best practice standards by the pertinent governmental and professional organizations including the American College of Emergency Physicians, American College of Surgeons and the Emergency Nurses Association and abilities in one or more of the disciplines vital to the practicing professional.
OBJECTIVES
At the conclusion of this activity, the participant will be able to:
Apply the pertinent physical and behavioral sciences as they impact and are affected by the planning, delivery, and monitoring of services inherent in the professions
Explain the selection, dosing considerations with methods of administration, safe use, contraindications and precautions of drugs based on their chemical and pharmacologic properties
Outline comprehensive patient management plans for the special patient population discussed
Apply the principles of safety and asepsis in the performance of all aspects of patient care regardless of the clinical environment in which the practice resides
Incorporate the published tenets of pertinent, recognized external organizations, institutions, and professional groups defining medical, legal, philosophical, ethical, and health care management standards.
Current Topics in Emergency Medicine
Banff, Alberta, Canada
March 27-31, 2023

Monday, March 27

0630
Registration - Mandatory Sign In - Continental Breakfast
0655
Introduction
NWS Staff
0700
High-Risk EKGs: The Good, the Bad, and the Ugly
J.Casaletto
0800
Management Update 2023: AFIB
J.Casaletto
0900
Break
1645
Registration - Mandatory Sign In
1700
Chest Pain Advanced Diagnostic Protocols
B.Nicks
1800
Stroke Update
A.Mehrotra
1900
Adjourn

Tuesday, March 28

0630
Registration - Mandatory Sign In - Continental Breakfast
0700
Geriatric Syncope: When Gravity Wins
B.Nicks
0800
Anticoagulation Reversal
A.Mehrotra
0900
Break
1645
Registration - Mandatory Sign In
1700
PE, PESI, and PERC
J.Casaletto
1800
Trauma Update 2023
J.Casaletto
1900
Adjourn

Wednesday, March 29

0630
Registration - Mandatory Sign In - Continental Breakfast
0700
Mitigate the Crisis in Sickle Cell Management
B.Nicks
0800
Pediatric Asthma Exacerbations: An Advanced Algorithmic Approach
B.Nicks
0900
Break
1645
Registration - Mandatory Sign In
1700
Psychpocalypse: Now Showing in Your ED
A.Mehrotra
1800
Quality Measures in EM
A.Mehrotra
1900
Adjourn

Thursday, March 30

0630
Registration - Mandatory Sign In - Continental Breakfast
0700
Bump or Brain Injury: Peds Head Injury 2023
J.Casaletto
0800
What Not to Miss: Intimate Partner Violence
J.Casaletto
0900
Break
1645
Registration - Mandatory Sign In
1700
ALTO: Alternatives to Opioids
A.Mehrotra
1800
ED MacGyver: Unique Solutions to Everyday Challenges
B.Nicks
1900
Adjourn

Friday, March 31

0630
Registration - Mandatory Sign In - Continental Breakfast
0700
Organizational Culture: What You Permit, You Promote
B.Nicks
0800
Novel Agents for Sedation
A.Mehrotra
0900
Break
0915
Cardiac Fashion Wear: VADs, Vests, and Ventricular Devices
J.Casaletto
1015
EM ENT and Dental Updates: We Can Handle the Tooth
J.Casaletto
1115
Adjourn

20 CME

20 CE

5.5 Pharmacology Hours†

Refreshments served at the meeting are for registered attendees only.
Rev. 4/15/22
FACULTY
Jennifer J. Casaletto, MD, FACEP
Associate Professor of Emergency Medicine
Virginia Tech-Carilion School of Medicine
Adjunct Faculty Physician
Department of Emergency Medicine
Atrium Health Carolinas Medical Center
Charlotte, North Carolina
Program Coordinator
Abhi Mehrotra, MD, MBA, FACEP
Clinical Professor, Emergency Medicine
Adjunct Professor
UNC Kenan Flagler Business School
Vice-Chair, Strategic Initiatives and Operations
Department of Emergency Medicine
University of North Carolina
Chapel Hill, North Carolina
Bret Nicks, MD, MHA, FACEP
Professor and Executive Vice-Chair, Emergency Medicine
Director, Masters of Healthcare Leadership (WFU)
Director, Administrative and Leadership EM Fellowship
Wake Forest School of Medicine
Winston Salem, North Carolina
ACCREDITATION
This activity has been planned and implemented in accordance with the accreditation requirements and policies of the Accreditation Council for Continuing Medical Education (ACCME) through the joint providership of The A. Webb Roberts Center for Continuing Medical Education of Baylor Scott & White Health and Northwest Seminars. The A. Webb Roberts Center for Continuing Medical Education of Baylor Scott & White Health is accredited by the ACCME to provide continuing medical education for physicians.
The A. Webb Roberts Center for Continuing Medical Education of Baylor Scott & White Health designates this live activity for a maximum of 20 AMA PRA Category 1 Credit(s)™. Physicians should claim only the credit commensurate with the extent of their participation in the activity.
Approved by the American College of Emergency Physicians for 20 hour(s) of ACEP Category I credit.
American Board of Anesthesiology: This activity contributes to the CME component of the American Board of Anesthesiology's redesigned Maintenance of Certification in Anesthesiology™ (MOCA®) program, known as MOCA 2.0®. Please consult the ABA website, www.theABA.org, for a list of all MOCA 2.0® requirements.
Canadian Physicians: This activity is eligible for Section 1 credits in the Royal College's Maintenance of Certification (MOC) Program. Participants must log into MAINPORT to claim this activity.
Certified Registered Nurse Anesthetists: This program has been prior approved by the American Association of Nurse Anesthesiology for 20 Class A CE credits; AANA approval number 1042208; Expiration Date 03/31/2023.
Nurse Practitioners: The American Academy of Nurse Practitioners Certification Program (AANPCP) and the American Nurses Credentialing Center (ANCC) accept CME from organizations accredited by the ACCME.
Osteopathic Physicians: This program is eligible for Category 2 credit with the American Osteopathic Association (AOA).
Physician Assistants: The American Academy of Physician Assistants (AAPA) accepts certificates of participation for educational activities certified for AMA PRA Category 1 Credit™ from organizations accredited by ACCME or a recognized state medical society. Physician assistants may receive a maximum of 20 hours of Category I credit for completing this program.
Registered Nurses: NWAS/NWS is an approved provider for the following state nursing boards: Arkansas State Board of Nursing (Provider Number 50-7480), District of Columbia Board of Nursing (Provider Number 50-7480), Florida Board of Nursing (Provider Number 50-7480), Georgia Board of Nursing (Provider Number 50-7480), and the South Carolina Board of Nursing (Provider Number 50-7480).
The AANA is an approved provider by the California Board of Registered Nursing, CEP #10862.
This program offers 20 contact hours.
†Pharmacology hours subject to change.
COURSE DIRECTOR
Mark T. Murphy, MD, MSN Education, LLC, Treasure Island, Florida, Medical Director, Northwest Seminars, Pasco, Washington
SCHEDULE AND FACULTY CHANGES
Factors beyond our control sometimes necessitate changes in the schedule and faculty. If time permits, we will inform all registrants of any changes prior to the program. Changes on site due to local conditions will be announced in class.
COURSE CANCELLATION BY PROVIDER
We reserve the right to cancel a course for any reason. In such case, a minimum of days notice will be given to those registered and 100% of tuition paid will be refunded. NWAS/NWS and NWWT will not be responsible for any non-refundable airfare, hotel, or other liabilities you may incur. We highly recommend purchase of travel insurance. Travel at your own risk.

COURSE CANCELLATION FEE
$100 January 26, 2023 to February 25, 2023. No refund after February 25, 2023; however, 50% of tuition paid may be applied toward tuition for another NWS/NWAS program within the next 12 months. Cancellation must be made in writing. No tuition credit or refund will be issued for attendees that are no-shows for the program.
FAP (Frequent Attendee Points)
We value your patronage and have a simple program to reward you. Our Frequent Attendee Points (FAP) program gives you an added bonus for money spent on our seminars, as well as cruise cabins booked through our in-house travel agency, Northwest Worldwide Travel.
You are automatically enrolled in this program with your paid registration. Click here for more information.
*Effective January 1, 2023, net hotel stays for 2023 and beyond will no longer be included in FAP calculations.
Lecture notes will be provided via download in PDF format.
You must sign-in every day you attend to receive credit.
While we strive for accuracy at all times with our published information, we cannot be responsible for typographical and other errors.
Please note that children and non-registered guests are not allowed to attend the lectures. The concierge can provide you with childcare information.
Travel at your own risk.
REGISTER EARLY
We recommend that you register early to assure your spot. We reserve the right to close registrations to a course at any time without notice. We may not be able to accommodate onsite registrations.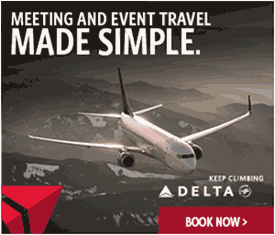 For flights in 2023:

Delta Air Lines is pleased to offer special discounts for Northwest Anesthesia Seminars / Northwest Seminars.
Please click here to book your flights.
You may also call Delta Meeting Network® at 1-800-328-1111* Monday-Friday, 8:00 a.m. - 6:30 p.m. (EST) and refer to Meeting Event Code NM2NH
*Please note there is not a service fee for reservations booked and ticketed via the Delta Meeting Network® reservation 800 number.