Charleston, South Carolina
Charleston is America's most beautifully preserved architectural and historic treasure with a rich 300-year history just waiting to be discovered. Hundreds of lovingly preserved structures from the colonial and antebellum periods grace the Historic District's narrow streets. Visit Charles Towne Landing, the site where the original settlement was established in 1670.
Explore the Charleston Museum, our nation's first museum, founded in 1773. Tour Patriots Point, the world's largest naval and maritime museum and home to WW II's Fighting Lady, the aircraft carrier Yorktown. Drive to Fort Moultrie, scene of the first decisive American victory of the Revolution and a mainstay of shore defense until 1947. Take a scenic boat tour to Fort Sumter, the man-made island fortress where the Civil War began. World-famous plantations and gardens offer visitors a fascinating glimpse into life during the antebellum era.
Informative tours of the Charleston area are offered daily and are a must for all who want to truly appreciate this living museum. The area's lush sea islands and sun-drenched beaches offer as much recreation and relaxation as your heart desires. Golf is on a world-class level, with challenging courses reflecting the natural beauty of South Carolina's low country. Charter fishing in the Gulf Stream or inshore waters is readily available. Shopping is a passionate pursuit. Marvel at native sweet grass baskets and handmade crafts found in Charleston's famous open-air market or browse through inviting boutiques, art galleries, and antique shops. When it comes to dining your biggest decision may just be what to try next.
Every meal is a celebration of tastes, with variety that ranges from traditional oyster roasts to fine continental dining. If festivals strike your fancy you have come to the right place. At any time of year you will always find more to see, do, and experience than you ever imagined in a place where warm welcomes have been a treasured tradition for over 300 years.
The Charleston Place
Located at the very heart of downtown Charleston, in the historic district and within walking distance of all the major attractions, The Charleston Place makes every guest feel part of this great Southern city. A gathering point for local society, this luxury hotel blends gentility and old-world charm with a leading-edge spa and innovative cuisine.
Leisure activities include working out in the state of the art fitness center, dining in the award-winning Charleston Grill and browsing the exclusive boutiques. The undisputed jewel in the hotel's crown is located on the roof top of the fourth floor. Featuring a stunning retractable glass roof, you'll feel like you're standing on top of the world. It's a Mecca for swimmers and sun-worshippers alike with a heated saltwater pool and luxurious lounge chairs on the deck. Striking 'porthole' windows overlook downtown Charleston and lush plants surround the pool and jacuzzi providing a private paradise.
Renowned as Charleston's finest accommodations, modern luxuries include master controlled lighting, bedside reading lamps, a mini refrigerator, robes, slippers and much more. Bathrooms feature Italian Carrara marble vanities, walk-in rain head shower or soaking tub with shower combination, and exclusive The Charleston Place toiletries. Bedding options include a choice of one king or two double beds, based on availability at time of arrival.
The Charleston Place is located approximately 13 miles from the Charleston International Airport (CHS).
TARGET AUDIENCE
This course is designed for physicians, physician assistants, nurse practitioners, registered nurses, and all other medical care providers who must maintain state-of-the-art knowledge of the critical care specialty or are impacted by it.
PROGRAM PURPOSE
The practitioner of critical care medicine must possess the scientific background for clinical practice; maintain state-of-the-art knowledge of not only the specialty, but also of all additional related disciplines which may impact it; maintain an up-to-the-minute armamentarium of knowledge and skills for the selection and use of complex equipment, pharmacological agents, and procedures necessary for the provision of quality patient care; manage self and colleagues to function toward common goals in the clinical setting, clinical and educational institutions, and the community in which the practice resides; serve as an expert in matters involving health care delivery; serve as an informed manager of clinical and educational services provided, including the acquisition and distribution of resources necessary in meeting professional goals; and provide assistance with and support of other service providers, departments, institutions, and organizations dependent upon the professional expertise of the practitioner.
Presentations are designed to facilitate the healthcare provider maintaining skills of the same kind to review and update knowledge and abilities in one or more of these areas vital to the practicing professional.
OBJECTIVES
At the conclusion of this activity, the participant will be able to:
Apply the pertinent physical and behavioral sciences as they impact and are affected by the planning, delivery, and monitoring of critical care services.
Explain the selection, dosing considerations with methods of administration, safe use, and contraindications and precautions of drugs based on their chemical and pharmacologic properties.
Outline comprehensive management plans for the group of patients discussed, whether related in age, physical status, cultural background, invasive procedure, anesthetic or analgesic requirements, clinical setting, adverse reactions, and/or goals of care.
Apply the principles of safety and asepsis in the performance of all aspects of patient care regardless of the clinical environment in which the practice resides.
Incorporate
the appropriate recommendations and/or requirements of pertinent external organizations, institutions, and professional groups in the provision of critical care services, whether medical, legal, philosophical, ethical, or health care management standards.
Critical Care: The Team Approach
Charleston, South Carolina
December 11-14, 2023

Monday, December 11

0700
Registration - Mandatory Sign In - Continental Breakfast
0725
Welcome
NWS Staff
0730
ARDS Update
A.Vinayak
0830
Ventilator Waveforms
A.Vinayak
0930
Break
0945
ECMO for the General Intensivist
M.Javed
1045
DKA Management
M.Javed
1145
Care of the Geriatric Surgical Patient
R.Barraco
1245
Adjourn

Tuesday, December 12

0700
Registration - Mandatory Sign In - Continental Breakfast
0730
Airway Issues in the ICU
R.Barraco
0830
Nutrition in the Critically Ill Patient
R.Barraco
0930
Break
0945
Noninvasive Hemodynamic Monitoring
A.Vinayak
1045
Lung Ultrasound
A.Vinayak
1145
The Paradox of Choice in Medicine
M.Javed
1245
Adjourn

Wednesday, December 13

0700
Registration - Mandatory Sign In - Continental Breakfast
0730
Burnout in the ICU
M.Javed
0830
Newer Anticoagulants and Reversal Methodologies
M.Javed
0930
Break
0945
Palliative Care in the ICU
R.Barraco
1045
Ethics in the ICU
R.Barraco
1145
Update on Sedation and Delirium
A.Vinayak
1245
Adjourn

Thursday, December 14

0700
Registration - Mandatory Sign In - Continental Breakfast
0730
Management of PE: When to Lyse?
A.Vinayak
0830
Acute Right Heart Syndromes: The Problem With the Forgotten Ventricle
A.Vinayak
0930
Break
0945
Geriatric Trauma
R.Barraco
1045
Sodium Changes and the Osmotic Demyelination Syndrome
M.Javed
1145
Benefits and Pitfalls of Using Simulation for Medical Education
M.Javed
1245
Adjourn

20 CME

20 CE

Pharmacology Hours TBD†

Refreshments served at the meeting are for registered attendees only.
Rev. 5/30/23
FACULTY
Robert D. Barraco, MD, MPH, FACS, FCCP
Chief Academic Officer
Lehigh Valley Health Network
Associate Dean for Educational Affairs
Professor of Surgery, Acute Care Surgery
USF Morsani College of Medicine - Lehigh Valley
Allentown, Pennsylvania
Muhammad Ali Javed, MD, FCCP
Assistant Professor of Medicine
Pulmonary and Neuro Critical care
Mercy Hospital St Louis
Department of Critical Care Medicine
St. Louis, Missouri
Ajeet G. Vinayak, MD
Director, Medical Intensive Care Unit
MedStar Georgetown University
Associate Professor of Medicine
Georgetown University
Department of Medicine
Section of Pulmonary and Critical Care
Washington, District of Columbia
PROGRAM COORDINATOR
(non-speaking role)
Stuart Lowson, BSc, MBBs, MRCP, FRCA
Associate Professor of Anesthesiology
Co-Director Surgical Trauma ICU
University of Virginia
Charlottesville, Virginia
ACCREDITATION
Northwest Anesthesia Seminars / Northwest Seminars is accredited by the Accreditation Council for Continuing Medical Education (ACCME) to provide continuing medical education for physicians.
Northwest Anesthesia Seminars / Northwest Seminars designates this live activity for a maximum of 20 AMA PRA Category 1 Credit(s)™. Physicians should claim only the credit commensurate with the extent of their participation in the activity.
American Board of Anesthesiology: CME credit will be sent directly to The American Board of Anesthesiology to fulfill the Part 2 requirement for the Maintenance of Certification in Anesthesiology Program (MOCA®).
Canadian Physicians: This activity is eligible for Section 1 credits in the Royal College's Maintenance of Certification (MOC) Program. Participants must log into MAINPORT to claim this activity.
Certified Registered Nurse Anesthetists: This program has been prior approved by the American Association of Nurse Anesthesiology for 20 Class A CE credits; AANA approval number 1042712; Expiration Date 12/14/2023.
Nurse Practitioners: The American Academy of Nurse Practitioners Certification Program (AANPCP) and the American Nurses Credentialing Center (ANCC) accept CME from organizations accredited by the ACCME.
Osteopathic Physicians: This program is eligible for Category 2 credit with the American Osteopathic Association (AOA).
Physician Assistants: The American Academy of Physician Assistants (AAPA) accepts certificates of participation for educational activities certified for AMA PRA Category 1 Credit™ from organizations accredited by ACCME or a recognized state medical society. Physician assistants may receive a maximum of 20 hours of Category I credit for completing this program.
Registered Nurses: NWAS/NWS is an approved provider for the following state nursing boards: Arkansas State Board of Nursing (Provider Number 50-7480), District of Columbia Board of Nursing (Provider Number 50-7480), Florida Board of Nursing (Provider Number 50-7480), Georgia Board of Nursing (Provider Number 50-7480), and the South Carolina Board of Nursing (Provider Number 50-7480).
The AANA is an approved provider by the California Board of Registered Nursing, CEP #10862.
This program offers 20 contact hours.
†Pharmacology hours subject to change.
COURSE DIRECTOR
Mark T. Murphy, MD, MSN Education, LLC, Treasure Island, Florida, Medical Director, Northwest Seminars, Pasco, Washington
SCHEDULE AND FACULTY CHANGES
Factors beyond our control sometimes necessitate changes in the schedule and faculty. If time permits, we will inform all registrants of any changes prior to the program. Changes on site due to local conditions will be announced in class.
COURSE CANCELLATION BY PROVIDER
We reserve the right to cancel a course for any reason. In such case, a minimum of days notice will be given to those registered and 100% of tuition paid will be refunded. NWAS/NWS and NWWT will not be responsible for any non-refundable airfare, hotel, or other liabilities you may incur. We highly recommend purchase of travel insurance. Travel at your own risk.

COURSE CANCELLATION FEE
$100 October 12, 2023 to November 11, 2023. No refund after November 11, 2023; however, 50% of tuition paid may be applied toward tuition for another NWS/NWAS program within the next 12 months. Cancellation must be made in writing. No tuition credit or refund will be issued for attendees that are no-shows for the program.
FAP (Frequent Attendee Points)
We value your patronage and have a simple program to reward you. Our Frequent Attendee Points (FAP) program gives you an added bonus for money spent on our seminars, as well as cruise cabins booked through our in-house travel agency, Northwest Worldwide Travel.
You are automatically enrolled in this program with your paid registration. Click here for more information.
*Effective January 1, 2023, net hotel stays for 2023 and beyond will no longer be included in FAP calculations.
Lecture notes will be provided via download in PDF format.
You must sign-in every day you attend to receive credit.
While we strive for accuracy at all times with our published information, we cannot be responsible for typographical and other errors.
Please note that children and non-registered guests are not allowed to attend the lectures. The concierge can provide you with childcare information.
Travel at your own risk.
REGISTER EARLY
We recommend that you register early to assure your spot. We reserve the right to close registrations to a course at any time without notice. We may not be able to accommodate onsite registrations.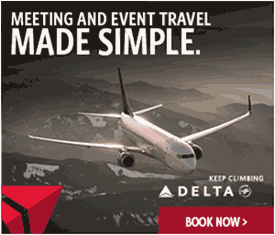 For flights in 2023:

Delta Air Lines is pleased to offer special discounts for Northwest Anesthesia Seminars / Northwest Seminars.
Please click here to book your flights.
You may also call Delta Meeting Network® at 1-800-328-1111* Monday-Friday, 8:00 a.m. - 6:30 p.m. (EST) and refer to Meeting Event Code NM2NH
*Please note there is not a service fee for reservations booked and ticketed via the Delta Meeting Network® reservation 800 number.