Clearwater Beach, Florida
Clearwater is an easy 20 mile drive from Tampa International Airport and even closer to Clearwater/St. Petersburg International Airport. The beach boasts sugar white sands that you will only experience here. Whether your pleasure is world-class fishing charters, relaxing on the beach, unique food and beverage experiences, or visiting one of many spas, there is something for everyone.
Visit Clearwater Marina, where you can take a sunset sail, dinner cruise, dolphin excursion or go deep sea fishing. Visit the Clearwater Marine Aquarium, go kayaking to Caledesi Island or play a round of golf—the opportunities are endless. Visit Pier 60 for one of the nightly sunset celebrations featuring artisans and street performers, rent fishing gear and cast a line, or let the kids explore the playground.
Even with all the activities Clearwater Beach has to offer, the best part of your trip might be as simple as a stroll on the beach at sunset, but if you want more, you'll be just a short drive away from many other popular Florida attractions, like Lowry Park Zoo or Busch Gardens in Tampa, or the Salvador Dali or Chihuly Art Museums in St. Petersburg.
Opal Sands Resort
Opal Sands Resort welcomes guests to a refreshingly modern hotel, where every guest room, restaurant, and even the fitness center offers breathtaking, unobstructed views of the Gulf of Mexico. Walk for miles on the white sand beach, or walk on the promenade to island-style shopping and dining just down the beach from the resort. You'll also enjoy an array of leisure options. Go for a swim with the dolphins, relax in the Jacuzzi, or soak up the sun from the outdoor pool. Sip handcrafted drinks as you watch the sun set into the water. Refresh your senses with a day of pampering at the full-service spa or keep up with your daily workouts in the large fitness center. From waterfront dining to tropical cocktails by the pool – the choices are endless.
All guest rooms are oceanfront with private balconies offering spectacular views of the Gulf, along with modern amenities designed with your comfort in mind. Opal Sands is conveniently located just a short drive away from both Tampa International Airport (21 miles) and St. Petersburg-Clearwater International Airport (13 miles).
To purchase specially priced Walt Disney World® Meeting/Convention Theme Park tickets, please call 407-566-5600 or visit http://www.mydisneygroup.com/nwstemj23
Please note the cut-off date for advance purchase savings is 06/13/2023. Tickets are valid 7 days before, during, and 7 days after your meeting dates. To enter a park, both a park reservation and valid ticket on the same day are required. To make park reservations, you will need to sign in to an existing Disney® Account or create a new one and link each ticket. Park reservations are subject to availability; please check the Park Availability Calendar.
For details on making a park reservation, please visit Disney Park Pass Experience Updates. If you have not visited the Walt Disney World® Resort in a while, we recommend reviewing the Experience Updates. Disney reserves the right to contact the ticket purchaser to request event registration confirmation. If it is discovered that the purchaser of the ticket is not participating or attending this event it will be considered a misuse of this offer and ticket, and the ticket(s) will be blocked and will not be eligible for a refund. In addition these tickets cannot be purchased for the purpose of being resold.
TARGET AUDIENCE
This course is designed for physicians, physician assistants, nurse practitioners, registered nurses, and all other medical care providers who must maintain state-of-the-art knowledge of the emergency medicine specialty or are impacted by it.

PROGRAM PURPOSE
The practitioner of emergency medicine must possess evidence-based scientific background for competent clinical practice; maintain state-of-the-art knowledge of the specialty and all additional related disciplines; maintain an up-to-the-minute armamentarium of knowledge and skills for the selection and use of complex equipment, pharmacological agents, and procedures; manage self and colleagues to function toward common goals in providing consistent care in all settings in which emergency care is provided; serve as an expert in matters involving quality, safe and equitable health care delivery and support of other service providers, departments, institutions, and organizations dependent upon professional expertise.
Presentations are designed to facilitate the acquisition of cognitive and technical skills as defined through evidence-based data translated to best practice standards by the pertinent governmental and professional organizations including the American College of Emergency Physicians, American College of Surgeons and the Emergency Nurses Association and abilities in one or more of the disciplines vital to the practicing professional.
OBJECTIVES
At the conclusion of this activity, the participant will be able to:
Apply the pertinent physical and behavioral sciences as they impact and are affected by the planning, delivery, and monitoring of services inherent in the professions
Explain the selection, dosing considerations with methods of administration, safe use, contraindications and precautions of drugs based on their chemical and pharmacologic properties
Outline comprehensive patient management plans for the special patient population discussed
Apply the principles of safety and asepsis in the performance of all aspects of patient care regardless of the clinical environment in which the practice resides
Incorporate the published tenets of pertinent, recognized external organizations, institutions, and professional groups defining medical, legal, philosophical, ethical, and health care management standards.
Topics in Emergency Medicine
Clearwater Beach, Florida
June 14-17, 2023

Wednesday, June 14

0700
Registration - Mandatory Sign In - Continental Breakfast
0725
Welcome
NWS Staff
0730
You Brought What Home? Fever and Infection in the Returning Traveler
F.LoVecchio
0830
Pediatric Fever Tips and Tricks
I.Claudius
0930
Break
0945
HIV: New Frontiers and Post-Exposure Prophylaxis
F.LoVecchio
1045
Sex Ed for 2023
I.Claudius
1145
Addiction for Primary Care and EM
F.LoVecchio
1245
Adjourn

Thursday, June 15

0700
Registration - Mandatory Sign In - Continental Breakfast
0730
Obstetric Emergencies
J.Hope
0830
Neonatal Resuscitation
I.Claudius
0930
Break
0945
You Ate What? Pediatric Ingestions
F.LoVecchio
1045
Human Trafficking
J.Hope
1145
Best Practice With ENT Complaints in the Urgent Care and ED
F.LoVecchio
1245
Adjourn

Friday, June 16

0700
Registration - Mandatory Sign In - Continental Breakfast
0730
We Don't Give That to Kids! When Children Aren't Little Adults
I.Claudius
0830
Don't Get Bitten by Envenomation Conundra
M.Levine
0930
Break
0945
Teen and Tween Drugs of Abuse
I.Claudius
1045
Drugs That Broke My Heart: Promising Drugs That Fell Short
J.Hope
1145
Taking the Pain Out of Analgesic Overdoses
M.Levine
1245
Adjourn

Saturday, June 17

0700
Registration - Mandatory Sign In - Continental Breakfast
0730
Abdominal Compartment Syndrome and Colon Catastrophes
J.Hope
0830
As and Bs of Children: All Things Pediatric Respiratory Distress
I.Claudius
0930
Break
0945
Ultrasound for Cardiac Arrest
C.Derr
1045
HALO Procedures: What You Need to Know for High Acuity, Low Occurrence Moments
J.Hope
1145
Tips for Ultrasound-Guided Vascular Access
C.Derr
1245
Adjourn

20 CME

20 Class A CE

20 CE

6.7 Pharmacology Hours†

Refreshments served at the meeting are for registered attendees only.
Rev. 2/9/23
FACULTY
Ilene A. Claudius, MD
Professor of Clinical Emergency Medicine
Department of Emergency Medicine
Director of Quality, Emergency Department
Harbor-UCLA Medical Center
Los Angeles, California
Program Coordinator
Charlotte Derr, MD, RDMS, FACEP
Residency Program Director
Ultrasound Fellowship Director
University of South Florida Emergency Medicine
Tampa, Florida
Jaime Hope, MD
Emergency Department Medical Director
Department of Emergency Medicine
Beaumont Health
Assistant Professor
Oakland University
William Beaumont School of Medicine
Rochester, Michigan
Michael Levine, MD
Associate Professor
David Geffen School of Medicine at UCLA
Los Angeles, California
Frank LoVecchio, DO, MPH
Professor, Research Scholar, Emergency Medicine, Pharmacology and Medicine
University of Arizona College of Medicine, Banner Poison Center
Valleywise Health, formerly Maricopa Medical Center
Medical Director of Clinical Research
College of Health Solutions, Arizona State University
Phoenix, Arizona
ACCREDITATION
Northwest Anesthesia Seminars / Northwest Seminars is accredited by the Accreditation Council for Continuing Medical Education (ACCME) to provide continuing medical education for physicians.
Northwest Anesthesia Seminars / Northwest Seminars designates this live activity for a maximum of 20 AMA PRA Category 1 Credit(s)™. Physicians should claim only the credit commensurate with the extent of their participation in the activity.
Approved by the American College of Emergency Physicians for 20 hour(s) of ACEP Category I credit.
American Board of Anesthesiology: CME credit will be sent directly to The American Board of Anesthesiology to fulfill the Part 2 requirement for the Maintenance of Certification in Anesthesiology Program (MOCA®).
Canadian Physicians: This activity is eligible for Section 1 credits in the Royal College's Maintenance of Certification (MOC) Program. Participants must log into MAINPORT to claim this activity.
Certified Registered Nurse Anesthetists: This program has been prior approved by the American Association of Nurse Anesthesiology for 20 Class A CE credits; AANA approval number 1042336; Expiration Date 06/17/2023.
Nurse Practitioners: The American Academy of Nurse Practitioners Certification Program (AANPCP) and the American Nurses Credentialing Center (ANCC) accept CME from organizations accredited by the ACCME.
Osteopathic Physicians: This program is eligible for Category 2 credit with the American Osteopathic Association (AOA).
Physician Assistants: The American Academy of Physician Assistants (AAPA) accepts certificates of participation for educational activities certified for AMA PRA Category 1 Credit™ from organizations accredited by ACCME or a recognized state medical society. Physician assistants may receive a maximum of 20 hours of Category I credit for completing this program.
Registered Nurses: NWAS/NWS is an approved provider for the following state nursing boards: Arkansas State Board of Nursing (Provider Number 50-7480), District of Columbia Board of Nursing (Provider Number 50-7480), Florida Board of Nursing (Provider Number 50-7480), Georgia Board of Nursing (Provider Number 50-7480), and the South Carolina Board of Nursing (Provider Number 50-7480).
The AANA is an approved provider by the California Board of Registered Nursing, CEP #10862.
This program offers 20 contact hours.
†Pharmacology hours subject to change.
COURSE DIRECTOR
Mark T. Murphy, MD, MSN Education, LLC, Treasure Island, Florida, Medical Director, Northwest Seminars, Pasco, Washington
SCHEDULE AND FACULTY CHANGES
Factors beyond our control sometimes necessitate changes in the schedule and faculty. If time permits, we will inform all registrants of any changes prior to the program. Changes on site due to local conditions will be announced in class.
COURSE CANCELLATION BY PROVIDER
We reserve the right to cancel a course for any reason. In such case, a minimum of days notice will be given to those registered and 100% of tuition paid will be refunded. NWAS/NWS and NWWT will not be responsible for any non-refundable airfare, hotel, or other liabilities you may incur. We highly recommend purchase of travel insurance. Travel at your own risk.

COURSE CANCELLATION FEE
$100 April 15, 2023 to May 15, 2023. No refund after May 15, 2023; however, 50% of tuition paid may be applied toward tuition for another NWS/NWAS program within the next 12 months. Cancellation must be made in writing. No tuition credit or refund will be issued for attendees that are no-shows for the program.
FAP (Frequent Attendee Points)
We value your patronage and have a simple program to reward you. Our Frequent Attendee Points (FAP) program gives you an added bonus for money spent on our seminars, as well as cruise cabins booked through our in-house travel agency, Northwest Worldwide Travel.
You are automatically enrolled in this program with your paid registration. Click here for more information.
*Effective January 1, 2023, net hotel stays for 2023 and beyond will no longer be included in FAP calculations.
Lecture notes will be provided via download in PDF format.
You must sign-in every day you attend to receive credit.
While we strive for accuracy at all times with our published information, we cannot be responsible for typographical and other errors.
Please note that children and non-registered guests are not allowed to attend the lectures. The concierge can provide you with childcare information.
Travel at your own risk.
REGISTER EARLY
We recommend that you register early to assure your spot. We reserve the right to close registrations to a course at any time without notice. We may not be able to accommodate onsite registrations.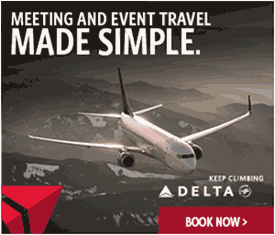 For flights in 2023:

Delta Air Lines is pleased to offer special discounts for Northwest Anesthesia Seminars / Northwest Seminars.
Please click here to book your flights.
You may also call Delta Meeting Network® at 1-800-328-1111* Monday-Friday, 8:00 a.m. - 6:30 p.m. (EST) and refer to Meeting Event Code NM2NH
*Please note there is not a service fee for reservations booked and ticketed via the Delta Meeting Network® reservation 800 number.