Duck Key, Florida
If you've had enough of an overcrowded and weary world, the islands of the Lower Keys are the place for you. You can snorkel or dive over the Looe Key coral reef, ride a bicycle through Key Deer country, take a fishing adventure in the back country, or troll the deep blue waters beyond the reef.
Hawks Cay Island Resort, located midway down the Florida Keys on the secluded 60 acre island of Duck Key, offers some of the world's best fishing, exciting water sports, dolphin interaction programs, a saltwater lagoon, five gorgeous swimming pools, and luxurious accommodations. Other nearby Keys have hidden treasures for everyone to discover.
At Marathon's Crane Point, visitors can hike through a wondrously preserved tropical hardwood grove and visit the home of an early 20th Century settler family. Sombrero Reef, a federally protected section of the United States' only living coral barrier reef, lies just a few miles offshore. Marathon's natural environment has activities for everyone, spectacular sailing, fishing, diving, snorkeling, and scuba appeal to families, as do the island's impeccably maintained Sombrero Beach and a host of eco-attractions and marine-based environmental programs such as turtle encounters. Beyond it are the deep blue waters of the Florida Straits, which host world-class wreck diving on artificial reefs.
Plan a vacation with your family and friends where you can dine in exquisite restaurants and relax in a full-service spa, while kids and teens have fun, all in the casual, relaxed pace of the Keys. Daily flights are offered into nearby Miami (90 miles), Fort Lauderdale (130 miles), and Key West (60 miles) International airports. Having a rental car is advised. For those who prefer to travel via water, Hawks Cay can easily be reached via the Atlantic Ocean or Gulf of Mexico and offers a full-service marina, with dockage for vessels up to 110 feet.
Hawks Cay Resort
Hawks Cay has a long history of honors, including being named as one of the TOP 10 RESORTS IN FLORIDA KEYS – 2021 READER'S CHOICE AWARDS Conde' Nast, among others. Hawks Cay Resort is the only resort in the continental United States that features an on-site dolphin research facility, with a variety of educational and exciting programs for adults, children, and the entire family to enjoy. Located just a few miles from the dock are the only living coral reefs in the continental United States, the strong Gulfstream currents, the fish-filled waters of Everglades National Park, and many productive local flats and bridges.
Hawks Cay Marina features knowledgeable and friendly Florida Keys fishing captains and guides and a complete fleet of both charter boats, rides, and rentals to accommodate anglers and water lovers of all ages and skill levels. The resort also offers plenty of activities for little ones, tweens, and teens. For adults, the Calm Waters Spa offers locally-influenced treatments and therapies that utilize the natural ingredients and aromas of the islands. You'll also find a salon services, a modern fitness center, and Cliff Drysdale Tennis®. When its time to dine, the restaurants at Hawks Cay embrace the true flavor of the islands and you're never more than a short stroll from your next meal or cool drink. Enjoy a romantic dinner at Sixty-One Prime, a cozy glass of wine by the fire pit or a toes-in-the-sand lunch at Oasis Cay or sit back and relax dockside as you savor some of the Key's favorite dishes or bring your own catch for a Hook and Cook meal. Guest rooms provide a laid-back tropical setting where you can relax, sip a cool drink and bury your worries in the sand. All rooms feature amenities such as premium bedding, bathrobes, flat screen TV, mini-fridge, safe and more.
TARGET AUDIENCE
This course is designed for physicians, physician assistants, nurse practitioners, registered nurses, and all other medical care providers who must maintain state-of-the-art knowledge of the critical care specialty or are impacted by it.
PROGRAM PURPOSE
The practitioner of critical care medicine must possess the scientific background for clinical practice; maintain state-of-the-art knowledge of not only the specialty, but also of all additional related disciplines which may impact it; maintain an up-to-the-minute armamentarium of knowledge and skills for the selection and use of complex equipment, pharmacological agents, and procedures necessary for the provision of quality patient care; manage self and colleagues to function toward common goals in the clinical setting, clinical and educational institutions, and the community in which the practice resides; serve as an expert in matters involving health care delivery; serve as an informed manager of clinical and educational services provided, including the acquisition and distribution of resources necessary in meeting professional goals; and provide assistance with and support of other service providers, departments, institutions, and organizations dependent upon the professional expertise of the practitioner.
Presentations are designed to facilitate the healthcare provider maintaining skills of the same kind to review and update knowledge and abilities in one or more of these areas vital to the practicing professional.
OBJECTIVES
At the conclusion of this activity, the participant will be able to:
Apply the pertinent physical and behavioral sciences as they impact and are affected by the planning, delivery, and monitoring of critical care services.
Explain the selection, dosing considerations with methods of administration, safe use, and contraindications and precautions of drugs based on their chemical and pharmacologic properties.
Outline comprehensive management plans for the group of patients discussed, whether related in age, physical status, cultural background, invasive procedure, anesthetic or analgesic requirements, clinical setting, adverse reactions, and/or goals of care.
Apply the principles of safety and asepsis in the performance of all aspects of patient care regardless of the clinical environment in which the practice resides.
Incorporate
the appropriate recommendations and/or requirements of pertinent external organizations, institutions, and professional groups in the provision of critical care services, whether medical, legal, philosophical, ethical, or health care management standards.
Critical Care: The Team Approach
Duck Key, Florida
December 2-5, 2024


Monday, December 2

0700
Registration - Mandatory Sign In - Continental Breakfast
0725
Welcome
NWS Staff
0730
Arterial Blood Gas Evaluation: Ions, Acids and Bases I
L.Guzzi
0830
Arterial Blood Gas Evaluation: Ions, Acids and Bases II
L.Guzzi
0930
Break
0945
Nutrition in the Critically Ill Patient
R.Barraco
1045
Pregnancy and Trauma
R.Barraco
1145
Stroke Management in the ICU
A.Rigamonti
1245
Adjourn

Tuesday, December 3

0700
Registration - Mandatory Sign In - Continental Breakfast
0730
Traumatic Brain Injury: Is a Protocolized Approach the Answer?
A.Rigamonti
0830
Ventilation in TBI and SCI
A.Rigamonti
0930
Break
0945
ECMO / Impella
L.Guzzi
1045
Airway Management in the ICU: Basic to Advanced
L.Guzzi
1145
Ethics in the ICU
R.Barraco
1245
Adjourn

Wednesday, December 4

0700
Registration - Mandatory Sign In - Continental Breakfast
0730
Care of the Geriatric Surgical Patient
R.Barraco
0830
Geriatric Trauma
R.Barraco
0930
Break
0945
Subarachnoid Hemorrhage: What's New and Not So New
A.Rigamonti
1045
Choice of Sedation in Neurointensive Care
A.Rigamonti
1145
AKI in the ICU
L.Guzzi
1245
Adjourn

Thursday, December 5

0700
Registration - Mandatory Sign In - Continental Breakfast
0730
Hyperthermia Evaluation in the ICU: Hot Topics
L.Guzzi
0830
Cardiac ERAS
L.Guzzi
0930
Break
0945
Shock
R.Barraco
1045
Palliative Care in the ICU
R.Barraco
1145
Hyperosmolar Therapy in ICU
A.Rigamonti
1245
Adjourn

20 CME

20 Class A CE

4.3 Pharmacology Hours†

Refreshments served at the meeting are for registered attendees only.
Rev. 5/20/23
FACULTY
Robert D. Barraco, MD, MPH, FACS, FCCP
Chief Academic Officer
Lehigh Valley Health Network
Associate Dean for Educational Affairs
Professor of Surgery, Acute Care Surgery
USF Morsani College of Medicine - Lehigh Valley
Allentown, Pennsylvania
Louis Guzzi, MD, FCCM
Clinical Professor of Anesthesia and CCM
Florida State University School of Medicine
Director Cardiovascular and Vascular Intensive Care Unit
Orlando Regional Medical Center
Orlando, Florida
Andrea Rigamonti, MD, FNCS
Associate Professor, University of Toronto
Medical Director, Trauma-Neuro ICU
Director, NeuroAnaesthesia Fellowship Program (ICPNT Accredited)
Department of Anaesthesia
Department of Critical Care Medicine
St. Michael's Hospital, Unity Health Toronto
Department of Anaesthesia
Toronto, Ontario, Canada

PROGRAM COORDINATOR
(non-speaking role)
Stuart Lowson, BSc, MBBs, MRCP, FRCA
Associate Professor of Anesthesiology
Co-Director Surgical Trauma ICU
University of Virginia
Charlottesville, Virginia
ACCREDITATION
Northwest Anesthesia Seminars / Northwest Seminars is accredited by the Accreditation Council for Continuing Medical Education (ACCME) to provide continuing medical education for physicians.
Northwest Anesthesia Seminars / Northwest Seminars designates this live activity for a maximum of 20 AMA PRA Category 1 Credit(s)™. Physicians should claim only the credit commensurate with the extent of their participation in the activity.
American Board of Anesthesiology: CME credit will be sent directly to The American Board of Anesthesiology to fulfill the Part 2 requirement for the Maintenance of Certification in Anesthesiology Program (MOCA®).
Canadian Physicians: This activity is eligible for Section 1 credits in the Royal College's Maintenance of Certification (MOC) Program. Participants must log into MAINPORT to claim this activity.
Certified Registered Nurse Anesthetists: This program has been prior approved by the American Association of Nurse Anesthesiology for 20 Class A CE credits; AANA approval number 1043538; Expiration Date 12/05/2024.
Nurse Practitioners: The American Academy of Nurse Practitioners Certification Program (AANPCP) and the American Nurses Credentialing Center (ANCC) accept CME from organizations accredited by the ACCME.
Osteopathic Physicians: This program is eligible for Category 2 credit with the American Osteopathic Association (AOA).
Physician Assistants: The American Academy of Physician Assistants (AAPA) accepts certificates of participation for educational activities certified for AMA PRA Category 1 Credit™ from organizations accredited by ACCME or a recognized state medical society. Physician assistants may receive a maximum of 20 hours of Category I credit for completing this program.
Registered Nurses: NWAS/NWS is an approved provider for the following state nursing boards: Arkansas State Board of Nursing (Provider Number 50-7480), District of Columbia Board of Nursing (Provider Number 50-7480), Florida Board of Nursing (Provider Number 50-7480), Georgia Board of Nursing (Provider Number 50-7480), and the South Carolina Board of Nursing (Provider Number 50-7480).
The AANA is an approved provider by the California Board of Registered Nursing, CEP #10862.
This program offers 20 contact hours.
†Pharmacology hours subject to change.
COURSE DIRECTOR
Mark T. Murphy, MD, MSN Education, LLC, Treasure Island, Florida, Medical Director, Northwest Seminars, Pasco, Washington
SCHEDULE AND FACULTY CHANGES
Factors beyond our control sometimes necessitate changes in the schedule and faculty. If time permits, we will inform all registrants of any changes prior to the program. Changes on site due to local conditions will be announced in class.
COURSE CANCELLATION BY PROVIDER
We reserve the right to cancel a course for any reason. In such case, a minimum of days notice will be given to those registered and 100% of tuition paid will be refunded. NWAS/NWS and NWWT will not be responsible for any non-refundable airfare, hotel, or other liabilities you may incur. We highly recommend purchase of travel insurance. Travel at your own risk.

COURSE CANCELLATION FEE
$100 October 3, 2024 to November 2, 2024. No refund after November 2, 2024; however, 50% of tuition paid may be applied toward tuition for another NWS/NWAS program within the next 12 months. Cancellation must be made in writing. No tuition credit or refund will be issued for attendees that are no-shows for the program.
FAP (Frequent Attendee Points)
We value your patronage and have a simple program to reward you. Our Frequent Attendee Points (FAP) program gives you an added bonus for money spent on our seminars, as well as cruise cabins booked through our in-house travel agency, Northwest Worldwide Travel.
You are automatically enrolled in this program with your paid registration. Click here for more information.
*Effective January 1, 2023, net hotel stays for 2023 and beyond will no longer be included in FAP calculations.
Lecture notes will be provided via download in PDF format.
You must sign-in every day you attend to receive credit.
While we strive for accuracy at all times with our published information, we cannot be responsible for typographical and other errors.
Please note that children and non-registered guests are not allowed to attend the lectures. The concierge can provide you with childcare information.
Travel at your own risk.
REGISTER EARLY
We recommend that you register early to assure your spot. We reserve the right to close registrations to a course at any time without notice. We may not be able to accommodate onsite registrations.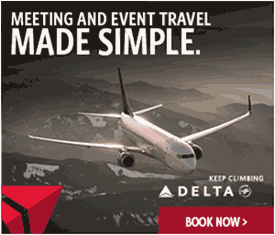 For flights in 2024:

Delta Air Lines is pleased to offer special discounts for Northwest Anesthesia Seminars / Northwest Seminars.
Please click here to book your flights.
You may also call Delta Meeting Network® at 1-800-328-1111* Monday-Friday, 8:00 a.m. - 6:30 p.m. (EST) and refer to Meeting Event Code NM2NP
*Please note there is not a service fee for reservations booked and ticketed via the Delta Meeting Network® reservation 800 number.