Kona, Hawaii
On the Big Island, you'll find diverse rainforest ecosystems, tumbling waterfalls, and a warm culture that embodies an authentic and heartfelt Aloha Spirit. The Kohala Coast, also referred to as the Gold Coast because of year round sunshine, is located on the west coast of the Big Island, north of the Kona Coast. Here you'll find Hawaii's golf mecca with world-class courses carved out of ancient lava flows nestled among historical Hawaiian landmarks and fronting some of the most beautiful coastline of the Pacific.
Waimea is home to Parker Ranch where fluorescent green pastures give way to lush valleys and a host of vibrant natural greens. Take a hike into spectacular valleys (Waipio Valley and Pololu Valley are a hiker's paradise) and to hidden waterfalls. Explore the Pacific waters with tropical fish and turtles, go deep sea fishing, scuba diving, or boogie boarding. Visit the world's most famous observatories on majestic Mauna Kea (13,796 ft.) for incredible scenery and star gazing. Watch for manta rays at night, delight in a helicopter flight over an active volcano, or go on a sunset cruise.
Walk to ancient fish ponds, sacred Hawaiian sites, heiaus, and petroglyphs on the Big Island. Puukohola Heiau, built by King Kamehameha in Kawaihae next to Spencer Beach Park, is worth a visit to learn and experience Hawaiian history. Flume the historic Kohala Sugar Plantation irrigation ditch by kayak on a unique ecotour. Last but not least, the Kohala Coast shoreline offers plenty of opportunities for sunbathing, swimming, and boating.
Mauna Lani, Auberge Resorts Collection
Voted #1 Resort on the Island of Hawai'i by Travel + Leisure 2022. Nestled along the dramatic Kohala Coast and in the piko, or center, of five great mountains, Mauna Lani is a sacred oasis where generations of families and friends have made memories together on soulful lands once cherished by the greatest of Hawaiian royalty. Greet the morning sun as it rises above the mountains' peaks from the seat of an outrigger canoe. Talk story with friends old and new at the Great Lawn as the sounds of ocean waves and laughter mingle. Dine amongst the company of loved ones at CanoeHouse, where locals have savored the island's bounty for decades. As you walk this storied coastline, breathe the rejuvenating salt air and swim in the crystalline waters, you feel the same mana, or spiritual energy, that first captivated legends like King Kamehameha I and Francis H. I'i Brown.
The subtle smell of sea breeze greets you from the verdant Great Lawn, where prime views of the Resort, Adult and Keiki pools are set amidst a picturesque backdrop painted with sunny skies and seascapes. Dotted with turquoise umbrellas and whispering palms, Mauna Lani's crescent of sandy shore hugs the expansive Pacific Ocean. Chase the tides as they kiss the shore, dipping your toes in the Pacific as you survey the water's surface for Honu (sea turtles) and Koholā (humpback whales). Grab your snorkel gear at the Surf Shack and dive into the crystal clear waters of Mauna Lani's swimmable lagoon, exploring the colorful reefs and tropical fish that lie beneath the surface. Surf your first wave with the help of the Kainalu Pros, or sit back, relax and savor the priceless joys of island time.
Rejuvenate the body and enrich the mind at the Auberge Spa, where treatments feature the revitalizing benefits of local oils, herbs, honey and flowers that canvas the Island of Hawai'i.  Soak in the refreshing island breeze as you work up a sweat at Mauna Lani's Wellness Center & Tennis Club. Grab a tennis racket, refine your backhand, and nail your ace, gleaning inspiration and motivation from Mauna Lani's natural surroundings. Check out the fitness center outfitted with an array of state-of-the-art equipment such as Peloton bikes, rowing machines, HIIT Mills, and more. For golfers, 36-holes of championship golf with picturesque seascapes, undulating lava flows and saturated sunsets blend seamlessly to curate a golf experience steeped in spirit and soul. While the North and South Courses enjoy storied fairways admired by pros of the past and present, the Wikiwiki – meaning "fast"– Course offers a 9-hole game fit for the whole family. Putt and drive along the North Course as the sweet smells of Kiawe forests are carried by subtle trade winds, or brush the rugged coastline in pursuit of the South Course's iconic Hole No. 15.
When it's time to dine, Mauna Lani has you covered. Mornings begin with freshly brewed Kona coffee, hearty stacks of ube pancakes and fresh tropical fruit juices at HāLani. Between rejuvenating ocean dips and long walks along the Fisherman's Trail, savor Hawaiian staples such as refreshing acai bowls, house-made ceviche and citrusy Lani Tais at alfresco-style eatery and bar, Hā Bar. Cap off the evening at CanoeHouse, Mauna Lani's storied oceanfront restaurant amidst the mesmerizing glow of the golden sunset.
At the end of the day, retire to your spacious guestroom offering 1 King or 2 Queen beds,  and understated, natural décor, with ample hardwood, natural fabrics, and textures that embody the essence of the soulful Hawaiian escape. All guestrooms feature a private lanai, floor to ceiling windows, state of the art technology, flat screen TV, Nespresso coffee/tea makers,  bathrobes, luxurious bathroom with dual vanities and a walk-in shower and much more.
Mauna Lani, Auberge Resorts Collection is located approximately 23 miles north of the Kona International Airport (KOA).
TARGET AUDIENCE
This course is designed for physicians, physician assistants, nurse practitioners, registered nurses, and all other medical care providers who must maintain state-of-the-art knowledge of the critical care specialty or are impacted by it.
PROGRAM PURPOSE
The practitioner of critical care medicine must possess the scientific background for clinical practice; maintain state-of-the-art knowledge of not only the specialty, but also of all additional related disciplines which may impact it; maintain an up-to-the-minute armamentarium of knowledge and skills for the selection and use of complex equipment, pharmacological agents, and procedures necessary for the provision of quality patient care; manage self and colleagues to function toward common goals in the clinical setting, clinical and educational institutions, and the community in which the practice resides; serve as an expert in matters involving health care delivery; serve as an informed manager of clinical and educational services provided, including the acquisition and distribution of resources necessary in meeting professional goals; and provide assistance with and support of other service providers, departments, institutions, and organizations dependent upon the professional expertise of the practitioner.
Presentations are designed to facilitate the healthcare provider maintaining skills of the same kind to review and update knowledge and abilities in one or more of these areas vital to the practicing professional.
OBJECTIVES
At the conclusion of this activity, the participant will be able to:
Apply the pertinent physical and behavioral sciences as they impact and are affected by the planning, delivery, and monitoring of critical care services.
Explain the selection, dosing considerations with methods of administration, safe use, and contraindications and precautions of drugs based on their chemical and pharmacologic properties.
Outline comprehensive management plans for the group of patients discussed, whether related in age, physical status, cultural background, invasive procedure, anesthetic or analgesic requirements, clinical setting, adverse reactions, and/or goals of care.
Apply the principles of safety and asepsis in the performance of all aspects of patient care regardless of the clinical environment in which the practice resides.
Incorporate
the appropriate recommendations and/or requirements of pertinent external organizations, institutions, and professional groups in the provision of critical care services, whether medical, legal, philosophical, ethical, or health care management standards.
Critical Care: The Team Approach
Kona, Hawaii
November 4-8, 2024

Monday, November 4

0700
Registration - Mandatory Sign In - Continental Breakfast
0725
Welcome
NWS Staff
0730
Sepsis Definitions: What's in a Name?
T.Osborn
0830
Circulatory Shock and Optimal Oxygenation
E.Kistler
0930
Break
0945
Sepsis Updates
T.Osborn
1045
Improving Outcomes in Patients in Septic Shock
E.Kistler
1145
Beyond Lines in the ICU: Tracheostomy, PEG, Laparotomies
M.Patel
1245
Adjourn

Tuesday, November 5

0700
Registration - Mandatory Sign In - Continental Breakfast
0730
ICU Liberation and the ABCDEF Bundle
M.Patel
0830
Delirium and Cognitive Impairment
M.Patel
0930
Break
0945
The Contribution of the GI Tract to Critical Illness
E.Kistler
1045
Acute Fluid Management in the ICU
E.Kistler
1145
Vasopressors: What to Use When
T.Osborn
1245
Adjourn

Wednesday November 6 – Open Day

Thursday, November 7

0700
Registration - Mandatory Sign In - Continental Breakfast
0730
Beyond the Stethoscope: When Physician Becomes Family
T.Osborn
0830
The Harsh Reality of More Demand Than Systems Can Handle: Lessons From COVID
T.Osborn
0930
Break
0945
Current Concepts in Trauma Resuscitation
M.Patel
1045
Managing Difficult Trauma Cases
M.Patel
1145
Emergency Airway Management in the ICU
E.Kistler
1245
Adjourn

Friday, November 8

0700
Registration - Mandatory Sign In - Continental Breakfast
0730
Acute Kidney Injury in the ICU
E.Kistler
0830
Beta Blockers and the Sympathetic Nervous System in Critical Illness
E.Kistler
0930
Break
0945
Past, Present, and Future Clinical Trials in Traumatic Brain Injury
M.Patel
1045
Contemporary Approach to the Burn Patient
M.Patel
1145
Difficult Conversations
T.Osborn
1245
Adjourn

20 CME

20 Class A CE

Pharmacology Hours TBD†

Refreshments served at the meeting are for registered attendees only.
Rev. 9/12/23
FACULTY
Erik B. Kistler, MD, PhD
Professor of Anesthesiology and Critical Care
Director, Anesthesia Critical Care (ACCM) VA ICU Service
Department of Anesthesiology and Critical Care Medicine
University of California San Diego / VA San Diego
Adjunct Professor
Department of Bioengineering
University of California San Diego
San Diego, California
Tiffany Osborn, MD, MPH, FCCM, FACEP
Professor of Surgery and Emergency Medicine
Surgical / Trauma Critical Care
Washington University / Barnes Jewish Hospital
St. Louis, Missouri
Mayur B. Patel, MD, MPH, FCCM, FACS
Associate Professor of Surgery
Director of Trauma Research
Vanderbilt University Medical Center
Chief of General Surgery
Tennessee Valley Healthcare System
Nashville, Tennessee
PROGRAM COORDINATOR
(non-speaking role)
Stuart Lowson, BSc, MBBs, MRCP, FRCA
Associate Professor of Anesthesiology
Co-Director Surgical Trauma ICU
University of Virginia
Charlottesville, Virginia
ACCREDITATION
Northwest Anesthesia Seminars / Northwest Seminars is accredited by the Accreditation Council for Continuing Medical Education (ACCME) to provide continuing medical education for physicians.
Northwest Anesthesia Seminars / Northwest Seminars designates this live activity for a maximum of 20 AMA PRA Category 1 Credit(s)™. Physicians should claim only the credit commensurate with the extent of their participation in the activity.
American Board of Anesthesiology: CME credit will be sent directly to The American Board of Anesthesiology to fulfill the Part 2 requirement for the Maintenance of Certification in Anesthesiology Program (MOCA®).
Canadian Physicians: This activity is eligible for Section 1 credits in the Royal College's Maintenance of Certification (MOC) Program. Participants must log into MAINPORT to claim this activity.
Certified Registered Nurse Anesthetists: This program is designed to meet requirements for Class A CE credit. Once approved by AANA, this will be indicated.
Nurse Practitioners: The American Academy of Nurse Practitioners Certification Program (AANPCP) and the American Nurses Credentialing Center (ANCC) accept CME from organizations accredited by the ACCME.
Osteopathic Physicians: This program is eligible for Category 2 credit with the American Osteopathic Association (AOA).
Physician Assistants: The American Academy of Physician Assistants (AAPA) accepts certificates of participation for educational activities certified for AMA PRA Category 1 Credit™ from organizations accredited by ACCME or a recognized state medical society. Physician assistants may receive a maximum of 20 hours of Category I credit for completing this program.
Registered Nurses: NWAS/NWS is an approved provider for the following state nursing boards: Arkansas State Board of Nursing (Provider Number 50-7480), District of Columbia Board of Nursing (Provider Number 50-7480), Florida Board of Nursing (Provider Number 50-7480), Georgia Board of Nursing (Provider Number 50-7480), and the South Carolina Board of Nursing (Provider Number 50-7480).
The AANA is an approved provider by the California Board of Registered Nursing, CEP #10862.
This program offers 20 contact hours.
†Pharmacology hours subject to change.
COURSE DIRECTOR
Mark T. Murphy, MD, MSN Education, LLC, Treasure Island, Florida, Medical Director, Northwest Seminars, Pasco, Washington
SCHEDULE AND FACULTY CHANGES
Factors beyond our control sometimes necessitate changes in the schedule and faculty. If time permits, we will inform all registrants of any changes prior to the program. Changes on site due to local conditions will be announced in class.
COURSE CANCELLATION BY PROVIDER
We reserve the right to cancel a course for any reason. In such case, a minimum of days notice will be given to those registered and 100% of tuition paid will be refunded. NWAS/NWS and NWWT will not be responsible for any non-refundable airfare, hotel, or other liabilities you may incur. We highly recommend purchase of travel insurance. Travel at your own risk.

COURSE CANCELLATION FEE
$100 September 5, 2024 to October 5, 2024. No refund after October 5, 2024; however, 50% of tuition paid may be applied toward tuition for another NWS/NWAS program within the next 12 months. Cancellation must be made in writing. No tuition credit or refund will be issued for attendees that are no-shows for the program.
FAP (Frequent Attendee Points)
We value your patronage and have a simple program to reward you. Our Frequent Attendee Points (FAP) program gives you an added bonus for money spent on our seminars, as well as cruise cabins booked through our in-house travel agency, Northwest Worldwide Travel.
You are automatically enrolled in this program with your paid registration. Click here for more information.
*Effective January 1, 2023, net hotel stays for 2023 and beyond will no longer be included in FAP calculations.
Lecture notes will be provided via download in PDF format.
You must sign-in every day you attend to receive credit.
While we strive for accuracy at all times with our published information, we cannot be responsible for typographical and other errors.
Please note that children and non-registered guests are not allowed to attend the lectures. The concierge can provide you with childcare information.
Travel at your own risk.
REGISTER EARLY
We recommend that you register early to assure your spot. We reserve the right to close registrations to a course at any time without notice. We may not be able to accommodate onsite registrations.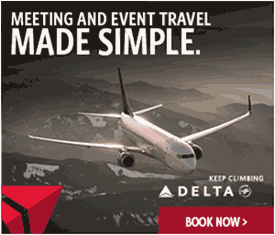 For flights in 2024:

Delta Air Lines is pleased to offer special discounts for Northwest Anesthesia Seminars / Northwest Seminars.
Please click here to book your flights.
You may also call Delta Meeting Network® at 1-800-328-1111* Monday-Friday, 8:00 a.m. - 6:30 p.m. (EST) and refer to Meeting Event Code NM2NP
*Please note there is not a service fee for reservations booked and ticketed via the Delta Meeting Network® reservation 800 number.