Marathon, Florida
The dazzling archipelago of the Florida Keys, sometimes called America's Caribbean, is a subtropical getaway that requires no passport, no customs clearance and no currency exchange. The 125-mile-long chain of islands is picturesquely framed by the Atlantic Ocean to the east and the Gulf of Mexico and Florida Bay to the west. Much of the Keys is protected as national and state parks, wildlife refuges and the Florida Keys National Marine Sanctuary, encompassing the continental United States' only living coral barrier reef. Key Largo, Islamorada, Marathon, Big Pine & the Lower Keys and Key West all have unique offerings.
Marathon Key offers access to a spectacular variety of wildlife and marine species and attractions such as the Turtle Hospital, the world's first state-licensed veterinary hospital for sea turtles as well as the acclaimed Dolphin Research Center and Florida Keys Aquarium Encounters. With Aquarium Encounter Experiences you can snorkel or dive through coral reefs teaming with fish, stingrays, and gentle nurse sharks. Tucked away amid the heart of the Marathon shopping district lies a 63-acre tropical oasis of hardwood trees, nature trails and educational displays for adults and children. One trail takes you by the Marathon Wild Bird Center, a hospital of sorts for injured pelicans, cormorants, egrets and other Keys birds. The staff care for their flock in hopes of returning them to their native habitats. Spend an hour or the whole day with the Dolphin Research Center family. Whether you come in under general admission for an up close look at dolphins and sea lions during  behavior sessions, or choose a fun-filled interactive program including swimming with dolphins, you're going to have a great time!
Take in the beauty of Marathon from the pedestrian portion of famous Seven Mile Bridge, browse area shops or just relax on a sandy beach. Don't forget to explore the other Keys - Islamorada, is known as the Sport Fishing Capital of the World and its Morada Way Arts & Cultural District delights those who enjoy fine art galleries. Big Pine & the Lower Keys' small islands are home to scenic Bahia Honda State Park and the National Key Deer Refuge. The legendary destination of Key West features a renowned historic district, an artistic heritage and a literary legacy forever tied to writer Ernest Hemingway, and lively Mallory Square, where stunning sunsets are celebrated nightly.
Isla Bella Beach Resort
At the threshold of the iconic Seven Mile Bridge lies the award winning  Isla Bella Beach Resort, the crown jewel of the Florida Keys. A lush, winding drive off the famed Overseas Highway transports guests to this private oasis, framed by a canopy of native plants and tropical greenery. Arriving at the stately lobby, visitors are greeted by their first view of the cerulean sea. Pristine white architecture and sandy beaches abound, providing guests a tranquil respite from the world beyond.
The resort features one mile of waterfront with sandy beach, 5 oceanfront pools, marina with water sports including fishing charters, jet ski tours, harbor cruises, and kayak, snorkeling and scuba diving trips. When it's time to dine, you'll find multiple dining options including a world-class Polynesian-inspired restaurant featuring the perfect blend of cuisine of the Pacific Rim with classic Keys seafood, beach bar, poolside food and beverage service, and grab and go from The Marketplace café. The Spa at Isla Bella is the perfect way to begin or end your vacation. Choose from an extensive spa menu, facial treatments, manicures and pedicures, plus their professional staff can also help you feel your our best with hairstyling, make-up and lash application, waxing and more. And don't forget about the state-of-the-art fitness center, and resort activities such as beach yoga, biking, bocce, giant chess, corn hols, miniature golf or just swaying in a hammock or start gazing.
Oceanfront balcony rooms feature large sliding doors to a gorgeous furnished outdoor living area overlooking the ocean and breathtaking sunrises and sunsets the Keys are so famous for. Other guest room amenities include LCD Smart TV, coffee and water, complimentary WiFi, safe, mini-fridge, luxurious bed linens, Molton Brown bath products, soaker tub, walk-in rainfall shower and more.
Perfectly located in the middle of the beautiful Florida Keys, you'll find Isla Bella Beach Resort midway between Key West and Key Largo, an approximate 2-hour drive from Miami (MIA) and a 1-hour drive from Key West International Airport (EYW). Self-Overnight parking is reduced to $10 per night, plus tax for those  who book their room through NWS/NWWT's reservation link only (otherwise, it's approximately $25 + tax per night). Visitor Day parking $10 plus tax, per day. No boats, trailers and/or RV parking on property. Parking fees subject to change without notice. Isla Bella Marina does not offer slip rentals on-site, but slips are available at their sister property, Faro Blanco Resort & Yacht Club.
TARGET AUDIENCE
This course is designed for physicians, physician assistants, nurse practitioners, registered nurses, and all other medical care providers who must maintain state-of-the-art knowledge of the critical care specialty or are impacted by it.
PROGRAM PURPOSE
The practitioner of critical care medicine must possess the scientific background for clinical practice; maintain state-of-the-art knowledge of not only the specialty, but also of all additional related disciplines which may impact it; maintain an up-to-the-minute armamentarium of knowledge and skills for the selection and use of complex equipment, pharmacological agents, and procedures necessary for the provision of quality patient care; manage self and colleagues to function toward common goals in the clinical setting, clinical and educational institutions, and the community in which the practice resides; serve as an expert in matters involving health care delivery; serve as an informed manager of clinical and educational services provided, including the acquisition and distribution of resources necessary in meeting professional goals; and provide assistance with and support of other service providers, departments, institutions, and organizations dependent upon the professional expertise of the practitioner.
Presentations are designed to facilitate the healthcare provider maintaining skills of the same kind to review and update knowledge and abilities in one or more of these areas vital to the practicing professional.
OBJECTIVES
At the conclusion of this activity, the participant will be able to:
Apply the pertinent physical and behavioral sciences as they impact and are affected by the planning, delivery, and monitoring of critical care services.
Explain the selection, dosing considerations with methods of administration, safe use, and contraindications and precautions of drugs based on their chemical and pharmacologic properties.
Outline comprehensive management plans for the group of patients discussed, whether related in age, physical status, cultural background, invasive procedure, anesthetic or analgesic requirements, clinical setting, adverse reactions, and/or goals of care.
Apply the principles of safety and asepsis in the performance of all aspects of patient care regardless of the clinical environment in which the practice resides.
Incorporate
the appropriate recommendations and/or requirements of pertinent external organizations, institutions, and professional groups in the provision of critical care services, whether medical, legal, philosophical, ethical, or health care management standards.
Critical Care: The Team Approach
Marathon, Florida
November 29 - December 2, 2023

Wednesday, November 29

0700
Registration - Mandatory Sign In - Continental Breakfast
0725
Welcome
NWS Staff
0730
Update in ARDS
J.Kress
0830
Advanced Liver Disease in the ICU
J.Kress
0930
Break
0945
ECMO / Impella
L.Guzzi
1045
Noninvasive Cardiac Management: SVV, CO, CI - Treatment and Science
L.Guzzi
1145
Post-Cardiac Arrest Management and Prognostication
T.Bleck
1245
Adjourn

Thursday, November 30

0700
Registration - Mandatory Sign In - Continental Breakfast
0730
Management of Severe Head Trauma
T.Bleck
0830
Coma and Brain Death
T.Bleck
0930
Break
0945
Sedation, Analgesia, and Delirium
J.Kress
1045
Nutrition and the Microbiome
J.Kress
1145
Airway Management in the ICU: Basic to Advanced
L.Guzzi
1245
Adjourn

Friday, December 1

00700
Registration - Mandatory Sign In - Continental Breakfast
0730
Arterial Blood Gas Evaluation: Ions, Acids and Bases I
L.Guzzi
0830
Arterial Blood Gas Evaluation: Ions, Acids and Bases II
L.Guzzi
0930
Break
0945
Seizures and Status Epilepticus
T.Bleck
1045
Acute Stroke Intervention
T.Bleck
1145
AKI in the ICU
L.Guzzi
1245
Adjourn

Saturday, December 2

0700
Registration - Mandatory Sign In - Continental Breakfast
0730
Complications in the ICU
J.Kress
0830
ICU Care: Less Is More
J.Kress
0930
Break
0945
Tips on Optimizing Procedures and Avoiding Complications
J.Kress
1045
Critical Care of the Patient With Acute Subarachnoid Hemorrhage
T.Bleck
1145
Neurogenic Respiratory Failure
T.Bleck
1245
Adjourn

20 CME

20 Class A CE

20 CE

4.8 Pharmacology Hours†

Refreshments served at the meeting are for registered attendees only.
Rev. 5/20/23
FACULTY
Thomas P. Bleck, MD, MCCM, FNCS
Professor of Neurology, Ken and Ruth Davee Department of Neurology
Northwestern University Feinberg School of Medicine
Professor Emeritus of Neurological Sciences, Neurosurgery, Anesthesiology, and Internal Medicine
Rush Medical College
Chicago, Illinois
Director, Neurocritical Care Fellowship
Northwestern University
Founding Past President, The Neurocritical Care Society
Senior Editor, Critical Care Medicine
Louis Guzzi, MD, FCCM
Clinical Professor of Anesthesia and CCM
Florida State University School of Medicine
Director Cardiovascular and Vascular Intensive Care Unit
Orlando Regional Medical Center
Orlando, Florida
John P. Kress, MD, FCCP
Professor of Medicine
Director, Medical ICU
University of Chicago
Department of Medicine
Section of Pulmonary and Critical Care
Chicago, Illinois
PROGRAM COORDINATOR
(non-speaking role)
Stuart Lowson, BSc, MBBs, MRCP, FRCA
Associate Professor of Anesthesiology
Co-Director Surgical Trauma ICU
University of Virginia
Charlottesville, Virginia
ACCREDITATION
Northwest Anesthesia Seminars / Northwest Seminars is accredited by the Accreditation Council for Continuing Medical Education (ACCME) to provide continuing medical education for physicians.
Northwest Anesthesia Seminars / Northwest Seminars designates this live activity for a maximum of 20 AMA PRA Category 1 Credit(s)™. Physicians should claim only the credit commensurate with the extent of their participation in the activity.
American Board of Anesthesiology: CME credit will be sent directly to The American Board of Anesthesiology to fulfill the Part 2 requirement for the Maintenance of Certification in Anesthesiology Program (MOCA®).
Canadian Physicians: This activity is eligible for Section 1 credits in the Royal College's Maintenance of Certification (MOC) Program. Participants must log into MAINPORT to claim this activity.
Certified Registered Nurse Anesthetists: This program has been prior approved by the American Association of Nurse Anesthesiology for 20 Class A CE credits; AANA approval number 1042726; Expiration Date 12/02/2023.
Nurse Practitioners: The American Academy of Nurse Practitioners Certification Program (AANPCP) and the American Nurses Credentialing Center (ANCC) accept CME from organizations accredited by the ACCME.
Osteopathic Physicians: This program is eligible for Category 2 credit with the American Osteopathic Association (AOA).
Physician Assistants: The American Academy of Physician Assistants (AAPA) accepts certificates of participation for educational activities certified for AMA PRA Category 1 Credit™ from organizations accredited by ACCME or a recognized state medical society. Physician assistants may receive a maximum of 20 hours of Category I credit for completing this program.
Registered Nurses: NWAS/NWS is an approved provider for the following state nursing boards: Arkansas State Board of Nursing (Provider Number 50-7480), District of Columbia Board of Nursing (Provider Number 50-7480), Florida Board of Nursing (Provider Number 50-7480), Georgia Board of Nursing (Provider Number 50-7480), and the South Carolina Board of Nursing (Provider Number 50-7480).
The AANA is an approved provider by the California Board of Registered Nursing, CEP #10862.
This program offers 20 contact hours.
†Pharmacology hours subject to change.
COURSE DIRECTOR
Mark T. Murphy, MD, MSN Education, LLC, Treasure Island, Florida, Medical Director, Northwest Seminars, Pasco, Washington
SCHEDULE AND FACULTY CHANGES
Factors beyond our control sometimes necessitate changes in the schedule and faculty. If time permits, we will inform all registrants of any changes prior to the program. Changes on site due to local conditions will be announced in class.
COURSE CANCELLATION BY PROVIDER
We reserve the right to cancel a course for any reason. In such case, a minimum of days notice will be given to those registered and 100% of tuition paid will be refunded. NWAS/NWS and NWWT will not be responsible for any non-refundable airfare, hotel, or other liabilities you may incur. We highly recommend purchase of travel insurance. Travel at your own risk.

COURSE CANCELLATION FEE
$100 September 30, 2023 to October 30, 2023. No refund after October 30, 2023; however, 50% of tuition paid may be applied toward tuition for another NWS/NWAS program within the next 12 months. Cancellation must be made in writing. No tuition credit or refund will be issued for attendees that are no-shows for the program.
FAP (Frequent Attendee Points)
We value your patronage and have a simple program to reward you. Our Frequent Attendee Points (FAP) program gives you an added bonus for money spent on our seminars, as well as cruise cabins booked through our in-house travel agency, Northwest Worldwide Travel.
You are automatically enrolled in this program with your paid registration. Click here for more information.
*Effective January 1, 2023, net hotel stays for 2023 and beyond will no longer be included in FAP calculations.
Lecture notes will be provided via download in PDF format.
You must sign-in every day you attend to receive credit.
While we strive for accuracy at all times with our published information, we cannot be responsible for typographical and other errors.
Please note that children and non-registered guests are not allowed to attend the lectures. The concierge can provide you with childcare information.
Travel at your own risk.
REGISTER EARLY
We recommend that you register early to assure your spot. We reserve the right to close registrations to a course at any time without notice. We may not be able to accommodate onsite registrations.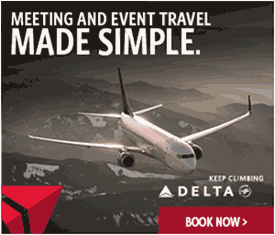 For flights in 2023:

Delta Air Lines is pleased to offer special discounts for Northwest Anesthesia Seminars / Northwest Seminars.
Please click here to book your flights.
You may also call Delta Meeting Network® at 1-800-328-1111* Monday-Friday, 8:00 a.m. - 6:30 p.m. (EST) and refer to Meeting Event Code NM2NH
*Please note there is not a service fee for reservations booked and ticketed via the Delta Meeting Network® reservation 800 number.