**MEETING RELOCATION NOTICE**
In the wake of the devastating wild fires in Maui, Hawaii, our thoughts are with those impacted by this historic event.
While the Hyatt Regency Maui Resort did not suffer direct fire damages, due to the significant impact in the Lahaina area of Maui, Hawaii,
we have made the difficult decision to relocate our October 23-27, 2023 Critical Care: The Team Approach meeting and hotel block from the Hyatt Regency Maui in Maui, Hawaii to the Grand Hyatt Kauai Resort & Spa in Kauai, Hawaii
.
Attendees should check their email for more details.
Donations for Maui residents affected by fires can be made by clicking here.
Kauai, Hawaii
Kauai, Hawaii basks amidst the sparkling blue waters of the Pacific Ocean, about 20 minutes by air from Honolulu. Formed some six million years ago, the island encompasses roughly 550 square miles and is the oldest and northernmost of the main Hawaiian Islands. From the soaring cliffs of the Napali Coast to the vast chasms of Waimea Canyon, Kauai embraces the senses like no other destination.
Explore the island via land, sea, or air to experience settings you've only dreamed about. Discover 50 miles of heavenly beaches from Poipu Beach to Hanalei Bay. Explore charming and historic small towns like Hanapepe and Koloa where no building is taller than a coconut tree. The sunny South Shore of Kauai is home to historic Old Koloa Town and the resort area of Poipu. This is an area of activity and historic attractions whether you're playing on a championship golf course or exploring the Koloa Heritage Trail.
Spend the day at Poipu Beach Park. Nearby Spouting Horn features a blowhole that releases a spout of water up to 20 feet or more into the air. See why Kauai is nicknamed "The Garden Isle" at two National Tropical Botanical Gardens: McBryde Garden, featuring 259-acres of gardens and world's largest collection of Hawaiian plants, and Allerton Garden, an 80-acre gem with sophisticated garden design and the giant Moreton Figs made famous in the film "Jurassic Park." You'll even find the Kauai Coffee farm tour just a few miles west of Poipu.
Grand Hyatt Kauai Resort & Spa
Grand Hyatt Kauai Resort & Spa was inducted into the 2021 Travel + Leisure World's Best Award, with over a decade of honors as one of the best resorts in Hawaii. The resort was also honored as one of the The Top 20 Resort Hotels in Hawaii in 2020 Travel + Leisure World's Best Award.
Lush gardens and dramatic waterfalls set the mood for an experience that is nothing short of spectacular. Explore this stunning AAA Four Diamond Kauai resort and create your own personal retreat from the vast array of exceptional amenities available. Kayak in hidden lagoons, indulge in a reviving treatment at Anara Spa, or simply stroll barefoot along crystal white beaches. Enjoy the quintessential aloha experience with our authentic Lu'au, play a memorable round of championship golf, or head out for a land, sea, or air adventure. Ideally set along the picturesque shores of Keoneloa Bay, this dramatic 50-acre Kauai Hawaii hotel and resort offers total seclusion and easy access to everything our Garden Isle has to offer. The resort's water playground includes an adult pool, a large activity pool, a meandering river pool with waterfalls and hidden caves, 150 foot waterslide, cabanas, three Jacuzzis, and a saltwater lagoon. Kids ages 3-12 can partake in an array of activities at Camp Hyatt Kauai.
The resort is located approximately 15 miles from the Lihue Airport (LIH). Due to the short shore break and strong current, the resort advises only advanced surfers to venture further than the shoreline. Warning flags are posted along the beach to help guests determine whether conditions are safe for ocean swimming.
Self-parking is included in the resort fee. Valet parking is available for $30 per day. Parking fees subject to change without notice.
TARGET AUDIENCE
This course is designed for physicians, physician assistants, nurse practitioners, registered nurses, and all other medical care providers who must maintain state-of-the-art knowledge of the critical care specialty or are impacted by it.
PROGRAM PURPOSE
The practitioner of critical care medicine must possess the scientific background for clinical practice; maintain state-of-the-art knowledge of not only the specialty, but also of all additional related disciplines which may impact it; maintain an up-to-the-minute armamentarium of knowledge and skills for the selection and use of complex equipment, pharmacological agents, and procedures necessary for the provision of quality patient care; manage self and colleagues to function toward common goals in the clinical setting, clinical and educational institutions, and the community in which the practice resides; serve as an expert in matters involving health care delivery; serve as an informed manager of clinical and educational services provided, including the acquisition and distribution of resources necessary in meeting professional goals; and provide assistance with and support of other service providers, departments, institutions, and organizations dependent upon the professional expertise of the practitioner.
Presentations are designed to facilitate the healthcare provider maintaining skills of the same kind to review and update knowledge and abilities in one or more of these areas vital to the practicing professional.
OBJECTIVES
At the conclusion of this activity, the participant will be able to:
Apply the pertinent physical and behavioral sciences as they impact and are affected by the planning, delivery, and monitoring of critical care services.
Explain the selection, dosing considerations with methods of administration, safe use, and contraindications and precautions of drugs based on their chemical and pharmacologic properties.
Outline comprehensive management plans for the group of patients discussed, whether related in age, physical status, cultural background, invasive procedure, anesthetic or analgesic requirements, clinical setting, adverse reactions, and/or goals of care.
Apply the principles of safety and asepsis in the performance of all aspects of patient care regardless of the clinical environment in which the practice resides.
Incorporate
the appropriate recommendations and/or requirements of pertinent external organizations, institutions, and professional groups in the provision of critical care services, whether medical, legal, philosophical, ethical, or health care management standards.
Critical Care: The Team Approach
Kauai, Hawaii
October 23-27, 2023

Monday, October 23

0700
Registration - Mandatory Sign in - Continental Breakfast
0725
Welcome
NWS Staff
0730
ARDS Update
A.Vinayak
0830
Ventilator Waveforms
A.Vinayak
0930
Break
0945
ECMO / Impella
L.Guzzi
1045
Airway Management
L.Guzzi
1145
Common Procedures in the ICU: Tracheostomy, PEG, Bedside Debridement
R.Sawyer
1245
Adjourn

Tuesday, October 24

0700
Registration - Mandatory Sign in - Continental Breakfast
0730
Initial Management of the Multi-Trauma Patient
R.Sawyer
0830
What to Do If Someone Is Bleeding Really, Really Fast
R.Sawyer
0930
Break
0945
Management of PE: When to Lyse
A.Vinayak
1045
Acute Right Heart Syndromes: The Problem With The Forgotten Ventricle
A.Vinayak
1145
Management of Blast Injuries: On the Battlefield and Off
L.Guzzi
1245
Adjourn

Wednesday, October 25 - Day Open

Thursday, October 26

0700
Registration - Mandatory Sign in - Continental Breakfast
0730
Arterial Blood Gas Evaluation I
L.Guzzi
0830
Arterial Blood Gas Evaluation II
L.Guzzi
0930
Break
0945
Management of Bad Wounds
R.Sawyer
1045
Necrotizing Pancreatitis: When to, and Not to, Operate
R.Sawyer
1145
Noninvasive Hemodynamic Monitoring
A.Vinayak
1245
Adjourn

Friday, October 27

0700
Registration - Mandatory Sign in - Continental Breakfast
0730
Update on Sedation and Delirium
A.Vinayak
0830
Lung Ultrasound
A.Vinayak
0930
Break
0945
Severe C. Difficile Disease: When and How to Operate?
R.Sawyer
1045
AKI in the ICU
L.Guzzi
1145
Nuclear, Biologic and Chemical Terrorism: An Intensivist View
L.Guzzi
1245
Adjourn

20 CME

20 Class A CE

3 Pharmacology Hours†

Refreshments served at the meeting are for registered attendees only.
Rev. 5/20/23
FACULTY
Louis Guzzi, MD, FCCM
Clinical Professor of Anesthesia and CCM
Florida State University School of Medicine
Director Cardiovascular and Vascular Intensive Care Unit
Orlando Regional Medical Center
Orlando, Florida
Robert G. Sawyer, MD, FACS, FIDSA, FCCM
Professor of Surgery and Medical Engineering
Chair, Department of Surgery
Western Michigan University
Homer Stryker MD School of Medicine
Kalamazoo, Michigan
Ajeet G. Vinayak, MD
Director, Medical Intensive Care Unit
MedStar Georgetown University
Associate Professor of Medicine
Georgetown University
Department of Medicine
Section of Pulmonary and Critical Care
Washington, District of Columbia
PROGRAM COORDINATOR
(non-speaking role)
Stuart Lowson, BSc, MBBs, MRCP, FRCA
Associate Professor of Anesthesiology
Co-Director Surgical Trauma ICU
University of Virginia
Charlottesville, Virginia
ACCREDITATION
Northwest Anesthesia Seminars / Northwest Seminars is accredited by the Accreditation Council for Continuing Medical Education (ACCME) to provide continuing medical education for physicians.
Northwest Anesthesia Seminars / Northwest Seminars designates this live activity for a maximum of 20 AMA PRA Category 1 Credit(s)™. Physicians should claim only the credit commensurate with the extent of their participation in the activity.
American Board of Anesthesiology: This activity contributes to the CME component of the American Board of Anesthesiology's redesigned Maintenance of Certification in Anesthesiology™ (MOCA®) program, known as MOCA 2.0®. Please consult the ABA website, www.theABA.org, for a list of all MOCA 2.0® requirements.
Canadian Physicians: This activity is eligible for Section 1 credits in the Royal College's Maintenance of Certification (MOC) Program. Participants must log into MAINPORT to claim this activity.
Certified Registered Nurse Anesthetists: This program has been prior approved by the American Association of Nurse Anesthesiology for 20 Class A CE credits; AANA approval number 1042603; Expiration Date 10/27/2023.
Nurse Practitioners: The American Academy of Nurse Practitioners Certification Program (AANPCP) and the American Nurses Credentialing Center (ANCC) accept CME from organizations accredited by the ACCME.
Osteopathic Physicians: This program is eligible for Category 2 credit with the American Osteopathic Association (AOA).
Physician Assistants: The American Academy of Physician Assistants (AAPA) accepts certificates of participation for educational activities certified for AMA PRA Category 1 Credit™ from organizations accredited by ACCME or a recognized state medical society. Physician assistants may receive a maximum of 20 hours of Category I credit for completing this program.
Registered Nurses: NWAS/NWS is an approved provider for the following state nursing boards: Arkansas State Board of Nursing (Provider Number 50-7480), District of Columbia Board of Nursing (Provider Number 50-7480), Florida Board of Nursing (Provider Number 50-7480), Georgia Board of Nursing (Provider Number 50-7480), and the South Carolina Board of Nursing (Provider Number 50-7480).
The AANA is an approved provider by the California Board of Registered Nursing, CEP #10862.
This program offers 20 contact hours.
†Pharmacology hours subject to change.
COURSE DIRECTOR
Mark T. Murphy, MD, MSN Education, LLC, Treasure Island, Florida, Medical Director, Northwest Seminars, Pasco, Washington
SCHEDULE AND FACULTY CHANGES
Factors beyond our control sometimes necessitate changes in the schedule and faculty. If time permits, we will inform all registrants of any changes prior to the program. Changes on site due to local conditions will be announced in class.
COURSE CANCELLATION BY PROVIDER
We reserve the right to cancel a course for any reason. In such case, a minimum of days notice will be given to those registered and 100% of tuition paid will be refunded. NWAS/NWS and NWWT will not be responsible for any non-refundable airfare, hotel, or other liabilities you may incur. We highly recommend purchase of travel insurance. Travel at your own risk.

COURSE CANCELLATION FEE
$100 August 24, 2023 to September 23, 2023. No refund after September 23, 2023; however, 50% of tuition paid may be applied toward tuition for another NWS/NWAS program within the next 12 months. Cancellation must be made in writing. No tuition credit or refund will be issued for attendees that are no-shows for the program.
FAP (Frequent Attendee Points)
We value your patronage and have a simple program to reward you. Our Frequent Attendee Points (FAP) program gives you an added bonus for money spent on our seminars, as well as cruise cabins booked through our in-house travel agency, Northwest Worldwide Travel.
You are automatically enrolled in this program with your paid registration. Click here for more information.
*Effective January 1, 2023, net hotel stays for 2023 and beyond will no longer be included in FAP calculations.
Lecture notes will be provided via download in PDF format.
You must sign-in every day you attend to receive credit.
While we strive for accuracy at all times with our published information, we cannot be responsible for typographical and other errors.
Please note that children and non-registered guests are not allowed to attend the lectures. The concierge can provide you with childcare information.
Travel at your own risk.
REGISTER EARLY
We recommend that you register early to assure your spot. We reserve the right to close registrations to a course at any time without notice. We may not be able to accommodate onsite registrations.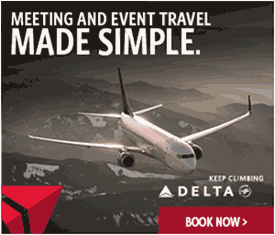 For flights in 2023:

Delta Air Lines is pleased to offer special discounts for Northwest Anesthesia Seminars / Northwest Seminars.
Please click here to book your flights.
You may also call Delta Meeting Network® at 1-800-328-1111* Monday-Friday, 8:00 a.m. - 6:30 p.m. (EST) and refer to Meeting Event Code NM2NH
*Please note there is not a service fee for reservations booked and ticketed via the Delta Meeting Network® reservation 800 number.