Napa Valley, California
With over 400 wineries, Napa Valley is the world's most diverse winery region. Napa Valley's culinary scene is thriving with more than 125 restaurants and a farm-to-table culture that inspires chefs throughout the world.
Sip wine next to a cozy fireplace to relax, restore, and reconnect. Napa Valley's warm and welcoming communities offer one-of-a-kind hometown experiences that span from elegant to quirky and magical to romantic.
In addition to fabulous wine and food, Napa Valley is home to art, music, architecture, and limitless outdoor adventures on both intimate and grand scales. Revolving art exhibitions at wineries, permanent and special museum exhibitions, art galleries, open studios, historic and contemporary architecture, and art festivals all provide a cultural experience that is legendary. At night, the Napa Valley is sizzling with activity. Whether you are dancing and dining in Calistoga or catching a live show in downtown Napa, you are guaranteed a great time.
The Napa Valley Marriott Hotel and Spa is located approximately 55 miles from the Oakland International Airport (OAK), 32 miles from the San Francisco International Airport (SFO), and 67 miles from the Sacramento International Airport (SMF). Having a rental car at this location will give you the freedom to fully explore the surrounding area.
Napa Valley Marriott Hotel and Spa

Experience the charm and beauty of California's world-famous wine country from one of the premier Napa Valley hotels, the Napa Valley Marriott Hotel & Spa. Its convenient location, just off of Highway 29, makes it an ideal choice for exploring the Napa Wine Country and other exciting local activities and attractions.
Treat yourself to a blissful experience at The Spa at the Napa Valley Marriott offering a variety of deluxe, full-service treatments for total rejuvenation, or be spoiled and beautified in the salon. Wander the outdoor garden spaces, relax by a warm fire pit, unwind in the luxurious resort-style swimming pool, or stay on track in the fitness center. Enjoy a delicious meal at Little Summer, where you'll find a menu incorporating local, seasonal ingredients to create simple dishes with a gourmet touch or stop by the Market to grab your favorite freshly brewed Napa Valley Roasters drink and a quick snack.
Guest rooms feature pillow-top mattresses and luxurious linens, flat-screen HD TV, in-room coffee service, refrigerator, hair dryer, and iron and ironing board.
TARGET AUDIENCE
This course is designed for physicians, physician assistants, nurse practitioners, registered nurses, and all other medical care providers who must maintain state-of-the-art knowledge of the emergency medicine specialty or are impacted by it.

PROGRAM PURPOSE
The practitioner of emergency medicine must possess evidence-based scientific background for competent clinical practice; maintain state-of-the-art knowledge of the specialty and all additional related disciplines; maintain an up-to-the-minute armamentarium of knowledge and skills for the selection and use of complex equipment, pharmacological agents, and procedures; manage self and colleagues to function toward common goals in providing consistent care in all settings in which emergency care is provided; serve as an expert in matters involving quality, safe and equitable health care delivery and support of other service providers, departments, institutions, and organizations dependent upon professional expertise.
Presentations are designed to facilitate the acquisition of cognitive and technical skills as defined through evidence-based data translated to best practice standards by the pertinent governmental and professional organizations including the American College of Emergency Physicians, American College of Surgeons and the Emergency Nurses Association and abilities in one or more of the disciplines vital to the practicing professional.
OBJECTIVES
At the conclusion of this activity, the participant will be able to:
Apply the pertinent physical and behavioral sciences as they impact and are affected by the planning, delivery, and monitoring of services inherent in the professions
Explain the selection, dosing considerations with methods of administration, safe use, contraindications and precautions of drugs based on their chemical and pharmacologic properties
Outline comprehensive patient management plans for the special patient population discussed
Apply the principles of safety and asepsis in the performance of all aspects of patient care regardless of the clinical environment in which the practice resides
Incorporate the published tenets of pertinent, recognized external organizations, institutions, and professional groups defining medical, legal, philosophical, ethical, and health care management standards.
Topics in Emergency Medicine
Napa Valley, California
April 12-15, 2023

Wednesday, April 12

0700
Registration - Mandatory Sign In - Continental Breakfast
0725
Welcome
NWS Staff
0730
State of the Art Testing for Pulmonary Embolism: Who to Test and How
M.Courtney
0830
Risk Stratification and Imaging in Potential Acute Coronary Syndrome
D.Diercks
0930
Break
0945
Common Pediatric Ortho Emergencies: Diagnosis, Management, Disposition
C.Courtney
1045
Pediatric Emergencies: Rashes and Trauma
D.Diercks
1145
Handy Tips to Know: Hand and Wrist Injuries You Need to Identify and Treat Correctly
C.Courtney
1245
Adjourn

Thursday, April 13

0700
Registration - Mandatory Sign In - Continental Breakfast
0730
Pulmonary Embolism Diagnosis: Now What? Who Goes Home to Who Needs Lysis
M.Courtney
0830
Atrial Dysrhythmias in the ED
D.Diercks
0930
Break
0945
Ocular Emergencies
D.Diercks
1045
Sepsis Update: What Do I Need to Know to Provide Guideline-Based Care?
M.Courtney
1145
Obstetric Emergencies
D.Diercks
1245
Adjourn

Friday, April 14

0700
Registration - Mandatory Sign In - Continental Breakfast
0730
Adult Orthopedic Cases: How to Manage Like a Pro
C.Courtney
0830
Lower Respiratory Tract Infection: Beyond COVID
M.Courtney
0930
Break
0945
Aortic Dissection: Finding the Needle in the Haystack
M.Courtney
1045
Are You Ready for a Mass Causality Event? Preparing as a Team
C.Courtney
1145
Difficult ED Cases: Discussion of the Most Interesting and Challenging
C.Courtney / M.Courtney / D.Diercks
1245
Adjourn

Saturday, April 15

0700
Registration - Mandatory Sign In - Continental Breakfast
0730
Pediatric Respiratory Disasters: A Case-Based Review
C.Courtney
0830
Updates in Stroke Management
D.Diercks
0930
Break
0945
ED Sports Medicine: It's Not Just for Athletes - Tips to Elevate Your Practice
C.Courtney
1045
Ways to Enhance Your Wellbeing and Insulate Against the Heat of Burnout in Medicine
M.Courtney
1145
Future of EM: Where Is It Now and Where Is It Headed?
C.Courtney / M.Courtney / D.Diercks
1245
Adjourn

20 CME

20 Class A CE

2 Pharmacology Hours†

Refreshments served at the meeting are for registered attendees only.
Rev. 1/27/23
FACULTY
Chris Courtney, MD, FACEP
President Scottsdale Emergency Associates
Envision Regional Medical Director
Teaching Faculty, Honor Health Scottsdale, Department of Emergency Medicine
Adjunct Faculty, Maricopa Medical Center Emergency Medicine Residency
Co-Founder and President, Nothing to Lose Foundation
Scottsdale, Arizona
D. Mark Courtney, MD, MSc
Professor
Executive Vice Chair, Academic Affairs
Department of Emergency Medicine
University of Texas Southwestern Medical Center
Dallas, Texas
Program Coordinator
Deborah Diercks, MD, MSc
Professor and Chair
Department of Emergency Medicine
Audre and Bernand Rapoport Distinguished Chair in Clinical Care and Research
University of Texas Southwestern
Dallas, Texas
ACCREDITATION
This activity has been planned and implemented in accordance with the accreditation requirements and policies of the Accreditation Council for Continuing Medical Education (ACCME) through the joint providership of The A. Webb Roberts Center for Continuing Medical Education of Baylor Scott & White Health and Northwest Seminars. The A. Webb Roberts Center for Continuing Medical Education of Baylor Scott & White Health is accredited by the ACCME to provide continuing medical education for physicians.
The A. Webb Roberts Center for Continuing Medical Education of Baylor Scott & White Health designates this live activity for a maximum of 20 AMA PRA Category 1 Credit(s)™. Physicians should claim only the credit commensurate with the extent of their participation in the activity.
Approved by the American College of Emergency Physicians for 20 hour(s) of ACEP Category I credit.
American Board of Anesthesiology: This activity contributes to the CME component of the American Board of Anesthesiology's redesigned Maintenance of Certification in Anesthesiology™ (MOCA®) program, known as MOCA 2.0®. Please consult the ABA website, www.theABA.org, for a list of all MOCA 2.0® requirements.
Canadian Physicians: This activity is eligible for Section 1 credits in the Royal College's Maintenance of Certification (MOC) Program. Participants must log into MAINPORT to claim this activity.
Certified Registered Nurse Anesthetists: This program has been prior approved by the American Association of Nurse Anesthesiology for 20 Class A CE credits; AANA approval number 1042280; Expiration Date 04/15/2023.
Nurse Practitioners: The American Academy of Nurse Practitioners Certification Program (AANPCP) and the American Nurses Credentialing Center (ANCC) accept CME from organizations accredited by the ACCME.
Osteopathic Physicians: This program is eligible for Category 2 credit with the American Osteopathic Association (AOA).
Physician Assistants: The American Academy of Physician Assistants (AAPA) accepts certificates of participation for educational activities certified for AMA PRA Category 1 Credit™ from organizations accredited by ACCME or a recognized state medical society. Physician assistants may receive a maximum of 20 hours of Category I credit for completing this program.
Registered Nurses: NWAS/NWS is an approved provider for the following state nursing boards: Arkansas State Board of Nursing (Provider Number 50-7480), District of Columbia Board of Nursing (Provider Number 50-7480), Florida Board of Nursing (Provider Number 50-7480), Georgia Board of Nursing (Provider Number 50-7480), and the South Carolina Board of Nursing (Provider Number 50-7480).
The AANA is an approved provider by the California Board of Registered Nursing, CEP #10862.
This program offers 20 contact hours.
†Pharmacology hours subject to change.
COURSE DIRECTOR
Mark T. Murphy, MD, MSN Education, LLC, Treasure Island, Florida, Medical Director, Northwest Seminars, Pasco, Washington
SCHEDULE AND FACULTY CHANGES
Factors beyond our control sometimes necessitate changes in the schedule and faculty. If time permits, we will inform all registrants of any changes prior to the program. Changes on site due to local conditions will be announced in class.
COURSE CANCELLATION BY PROVIDER
We reserve the right to cancel a course for any reason. In such case, a minimum of days notice will be given to those registered and 100% of tuition paid will be refunded. NWAS/NWS and NWWT will not be responsible for any non-refundable airfare, hotel, or other liabilities you may incur. We highly recommend purchase of travel insurance. Travel at your own risk.

COURSE CANCELLATION FEE
$100 February 11, 2023 to March 13, 2023. No refund after March 13, 2023; however, 50% of tuition paid may be applied toward tuition for another NWS/NWAS program within the next 12 months. Cancellation must be made in writing. No tuition credit or refund will be issued for attendees that are no-shows for the program.
FAP (Frequent Attendee Points)
We value your patronage and have a simple program to reward you. Our Frequent Attendee Points (FAP) program gives you an added bonus for money spent on our seminars, as well as cruise cabins booked through our in-house travel agency, Northwest Worldwide Travel.
You are automatically enrolled in this program with your paid registration. Click here for more information.
*Effective January 1, 2023, net hotel stays for 2023 and beyond will no longer be included in FAP calculations.
Lecture notes will be provided via download in PDF format.
You must sign-in every day you attend to receive credit.
While we strive for accuracy at all times with our published information, we cannot be responsible for typographical and other errors.
Please note that children and non-registered guests are not allowed to attend the lectures. The concierge can provide you with childcare information.
Travel at your own risk.
REGISTER EARLY
We recommend that you register early to assure your spot. We reserve the right to close registrations to a course at any time without notice. We may not be able to accommodate onsite registrations.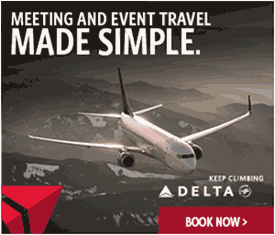 For flights in 2023:

Delta Air Lines is pleased to offer special discounts for Northwest Anesthesia Seminars / Northwest Seminars.
Please click here to book your flights.
You may also call Delta Meeting Network® at 1-800-328-1111* Monday-Friday, 8:00 a.m. - 6:30 p.m. (EST) and refer to Meeting Event Code NM2NH
*Please note there is not a service fee for reservations booked and ticketed via the Delta Meeting Network® reservation 800 number.