Palm Beach, Florida
Palm Beach is home to legendary resorts, exquisite mansions and historic landmarks just waiting to be explored. Gilded Age architecture, chic restaurants, luxury shops, ocean views, and the Lake Worth Lagoon will captivate and make any visitor feel like a VIP.
Bring your umbrella and beach gear. Mid-Town Municipal Beach is easily accessible and perfect for a swim. Grab a gelato and window shop the length of Worth Avenue, which hosts a plethora of high-end retailers like Saks Fifth Avenue, Neiman Marcus, Kate Spade, Armani, Tiffany's and more.

Marvel at the art and architecture of the Henry Morrison Flagler Museum. Built by 19th century business tycoon Henry Flagler, this mansion is defined by extravagance in its attention to detail. Every corner is adorned by crown mouldings, beautiful damask patterns, metal and masonry work. Visitors can even get a glimpse of Flagler's private railcar and great rooms full of antiques of every kind.
Next, get some fresh air at The Society of the Four Arts, where you'll discover themed gardens and an eclectic collection of metal sculpture.

Rent a bike or stroll the Lake Trail to view local attractions from another angle including the Flagler Museum, gorgeous mansions and estates, a giant Kapok Tree, and pleasure yachts in the harbor. Golf fairways overlooking the ocean at Palm Beach Par 3 Golf Course, a fun course to practice your short game. There's so much to do in fabulous Palm Beach!
Eau Palm Beach Resort & Spa
Welcome to Palm Beach re-imagined. An intimate ocean retreat; a breath of fresh air. Modern, playful and indulgent. Situated on the sweeping back drop of Florida's gold coast and with the Atlantic as its playground, Eau Palm Beach invokes the relaxed glamour of America's first resort destination; a chance to refresh, play and rediscover time. One of only two Forbes Five-Star resorts in Palm Beach and eight in Florida, Eau Palm Beach Resort & Spa is where effortless living meets relaxed luxury.
Situated on a private beach on seven acres of oceanfront with lush tropical gardens, guests are welcomed with champagne, breathtaking ocean views and cooling tropical breezes. Here, you'll find an Active Resort Pool and Adult Tranquility Pool, 3,000 square-foot oceanfront terrace with fire pit, 24-hour access Business Lounge, aquatic sports, boating, fishing and more. Indulge in the warm Florida sunshine, sumptuous accommodations designed by Jonathan Adler, and the award-winning Eau Spa. Eau Spa is 42,000 square feet of pure wonderland. This world-class and award winning spa offers a sublime retreat with a distinct setting to engage in a magical spa experience with a variety of sensational beauty treatments and surprising touches throughout. Lift, spin and flow as you work on your fitness with beachside yoga, spin classes and state of the art equipment. Guests can also join tennis pros daily on of three Har-tru clay tennis courts. Kids can partake in Camp AquaNuts where each week features a new theme to explore in the afternoon, and a morning full of fun in the ocean and pool! Coast Camp for Teens is also available with surfing, Science and more! (Fees apply for all Kids Clubs and for some activities).
When it's time to dine, Eau Palm Beach Resort & Spa presents a multi-sensory experience with its choices of fine eateries and oceanfront venues. Taking advantage of the bounty of fresh local ingredients while infusing imported luxury items such as rare caviar and artisanal cheese, Eau Palm Beach's Master Chefs are renowned for innovative and savory cuisine. Toss in location and you've got an oceanfront fête second to none.
Every guestroom provides the backdrop for your effortless living. Enter your dream space with stylish, custom-made, and intelligent interiors, top-of-the-line entertainment and earth-saving technologies. Retreat in style to your private balcony and engage your senses with refreshing breezes, the rhythmic sounds of the ocean and stunning vistas. Submerge into comfort at night and rise into your next day of adventure and play. Your escape starts here. Guest rooms are approximately 418 sq feet and feature a private furnished balcony, lanai or terrace, marble bath with 2 vanities, plush robes, LCD HDTV, complimentary WiFi access, twice daily housekeeping and more.
The Eau Palm Beach Resort & Spa is located approximately 8 miles from Palm Beach International Airport (PBI) and 43 miles from the Ft. Lauderdale - Hollywood International Airport (FLL).
Valet parking only at the hotel. Approximate fee is $35 plus tax, per vehicle, per night. Parking fees subject to change without notice.
To purchase specially priced Walt Disney World® Meeting/Convention Theme Park tickets, please call 407-566-5600 or visit http://www.mydisneygroup.com/nwstemd23
Please note the cut-off date for advance purchase savings is 12/17/2023. Tickets are valid 7 days before, during, and 7 days after your meeting dates.
To enter a park, both a park reservation and valid ticket on the same day are required. To make park reservations, you will need to sign in to an existing Disney® Account or create a new one and link each ticket.
Park reservations are subject to availability; please check the Park Availability Calendar. For details on making a park reservation, please visit Disney Park Pass Experience Updates. If you have not visited the Walt Disney World® Resort in a while, we recommend reviewing the Experience Updates. Disney reserves the right to contact the ticket purchaser to request event registration confirmation. If it is discovered that the purchaser of the ticket is not participating or attending this event it will be considered a misuse of this offer and ticket, and the ticket(s) will be blocked and will not be eligible for a refund. In addition these tickets cannot be purchased for the purpose of being resold.
TARGET AUDIENCE
This course is designed for physicians, physician assistants, nurse practitioners, registered nurses, and all other medical care providers who must maintain state-of-the-art knowledge of the emergency medicine specialty or are impacted by it.

PROGRAM PURPOSE
The practitioner of emergency medicine must possess evidence-based scientific background for competent clinical practice; maintain state-of-the-art knowledge of the specialty and all additional related disciplines; maintain an up-to-the-minute armamentarium of knowledge and skills for the selection and use of complex equipment, pharmacological agents, and procedures; manage self and colleagues to function toward common goals in providing consistent care in all settings in which emergency care is provided; serve as an expert in matters involving quality, safe and equitable health care delivery and support of other service providers, departments, institutions, and organizations dependent upon professional expertise.
Presentations are designed to facilitate the acquisition of cognitive and technical skills as defined through evidence-based data translated to best practice standards by the pertinent governmental and professional organizations including the American College of Emergency Physicians, American College of Surgeons and the Emergency Nurses Association and abilities in one or more of the disciplines vital to the practicing professional.
OBJECTIVES
At the conclusion of this activity, the participant will be able to:
Apply the pertinent physical and behavioral sciences as they impact and are affected by the planning, delivery, and monitoring of services inherent in the professions
Explain the selection, dosing considerations with methods of administration, safe use, contraindications and precautions of drugs based on their chemical and pharmacologic properties
Outline comprehensive patient management plans for the special patient population discussed
Apply the principles of safety and asepsis in the performance of all aspects of patient care regardless of the clinical environment in which the practice resides
Incorporate the published tenets of pertinent, recognized external organizations, institutions, and professional groups defining medical, legal, philosophical, ethical, and health care management standards.
Topics in Emergency Medicine
Palm Beach, Florida
December 18-21, 2023

Monday, December 18

0700
Registration - Mandatory Sign in – Continental Breakfast
0725
Welcome
NWS Staff
0730
From Ocean Deep to Mountain Peak: Diagnosing and Treating Atmospheric Illness
B.Becker
0830
Dermatologic Emergencies
D.Chiu
0930
Break
0945
Pharmacology Fun: Controversial and New Medications in the ED
P.Smulowitz
1045
Oncologic Emergencies
D.Chiu
1145
Chilling Out While Cooling Out: Surviving Press Ganey, Patient Satisfaction…
B.Becker
1245
Adjourn

Tuesday, December 19

0700
Registration - Mandatory Sign in – Continental Breakfast
0730
Dangerous Arrhythmias
D.Chiu
0830
The Illusion of Perfection: Error in Medicine
P.Smulowitz
0930
Break
0945
High-Risk Case Conference
P.Smulowitz
1045
To Err Is Human, to Forgive, Expensive: An Overview of Medical Malpractice for Emergency Medicine Practitioners
B.Becker
1145
You've Been Served: Essential Steps to Survive and Win Your Malpractice Suit
B.Becker
1245
Adjourn

Wednesday, December 20

0700
Registration - Mandatory Sign in – Continental Breakfast
0730
Caring for the Dying Patient and Their Family in the Emergency Department
B.Becker
0830
Emergencies of the Liver
P.Smulowitz
0930
Break
0945
Difficult Airway
D.Chiu
1045
Shock and Awe
P.Smulowitz
1145
Syncope in the ED
D.Chiu
1245
Adjourn

Thursday, December 21

0700
Registration - Mandatory Sign in – Continental Breakfast
0730
Top Articles to Keep in Your Back Pocket
P.Smulowitz
0830
Home the Weary Traveler: Diseases Your Patients Didn't Intend to Pack
B.Becker
0930
Break
0945
Chest Pain
P.Smulowitz
1045
Ocular Emergencies
D.Chiu
1145
Powder Day or Dust on Crust: Treating Common Injuries of Skiers and Snowboarders
B.Becker
1245
Adjourn

20 CME

20 CE

3.7 Pharmacology Hours†

Refreshments served at the meeting are for registered attendees only.
Rev. 4/4/23
FACULTY
David Chiu, MD
Vice President
Network Operation
Harvard Medical Faculty Physicians
Director of Operations
Department of Emergency Medicine
Beth Israel Deaconess Medical Center
Assistant Program Director, Harvard
Affiliated Emergency Medicine Residency
Fellowship Director, Emergency Administration and Operations
Instructor in Emergency Medicine
Harvard Medical School
Boston, Massachusetts
Bruce Becker, MD, FACEP
Professor of Behavioral and Social Science (Adj)
School of Public Health
Brown University
Attending Physician, Emergency Medicine
South County Hospital, Roger Williams General Hospital, Our Lady of Fatima Hospital
Wakefield and Providence, Rhode Island
Peter B. Smulowitz, MD, MPH
Associate Professor of Emergency Medicine
University of Massachusetts Medical School
Chief Medical Officer
Milford Regional Medical Center
Milford, Massachusetts
PROGRAM COORDINATOR
(non-speaking role)
Liudvikas Jagminas, MD, FACEP
Facility Medical Director and
Chief of Emergency Medicine
South County Health System
Associate Professor of Medical Science (Adj), Medical Education
Brown University & Alpert Medical School
Providence, Rhode Island
ACCREDITATION
Northwest Anesthesia Seminars / Northwest Seminars is accredited by the Accreditation Council for Continuing Medical Education (ACCME) to provide continuing medical education for physicians.
Northwest Anesthesia Seminars / Northwest Seminars designates this live activity for a maximum of 20 AMA PRA Category 1 Credit(s)™. Physicians should claim only the credit commensurate with the extent of their participation in the activity.
Approved by the American College of Emergency Physicians for 20 hour(s) of ACEP Category I credit.
American Board of Anesthesiology: CME credit will be sent directly to The American Board of Anesthesiology to fulfill the Part 2 requirement for the Maintenance of Certification in Anesthesiology Program (MOCA®).
Canadian Physicians: This activity is eligible for Section 1 credits in the Royal College's Maintenance of Certification (MOC) Program. Participants must log into MAINPORT to claim this activity.
Certified Registered Nurse Anesthetists: This program has been prior approved by the American Association of Nurse Anesthesiology for 20 Class A CE credits; AANA approval number 1043163; Expiration Date 12/21/2023.
Nurse Practitioners: The American Academy of Nurse Practitioners Certification Program (AANPCP) and the American Nurses Credentialing Center (ANCC) accept CME from organizations accredited by the ACCME.
Osteopathic Physicians: This program is eligible for Category 2 credit with the American Osteopathic Association (AOA).
Physician Assistants: The American Academy of Physician Assistants (AAPA) accepts certificates of participation for educational activities certified for AMA PRA Category 1 Credit™ from organizations accredited by ACCME or a recognized state medical society. Physician assistants may receive a maximum of 20 hours of Category I credit for completing this program.
Registered Nurses: NWAS/NWS is an approved provider for the following state nursing boards: Arkansas State Board of Nursing (Provider Number 50-7480), District of Columbia Board of Nursing (Provider Number 50-7480), Florida Board of Nursing (Provider Number 50-7480), Georgia Board of Nursing (Provider Number 50-7480), and the South Carolina Board of Nursing (Provider Number 50-7480).
The AANA is an approved provider by the California Board of Registered Nursing, CEP #10862.
This program offers 20 contact hours.
†Pharmacology hours subject to change.
COURSE DIRECTOR
Mark T. Murphy, MD, MSN Education, LLC, Treasure Island, Florida, Medical Director, Northwest Seminars, Pasco, Washington
SCHEDULE AND FACULTY CHANGES
Factors beyond our control sometimes necessitate changes in the schedule and faculty. If time permits, we will inform all registrants of any changes prior to the program. Changes on site due to local conditions will be announced in class.
COURSE CANCELLATION BY PROVIDER
We reserve the right to cancel a course for any reason. In such case, a minimum of days notice will be given to those registered and 100% of tuition paid will be refunded. NWAS/NWS and NWWT will not be responsible for any non-refundable airfare, hotel, or other liabilities you may incur. We highly recommend purchase of travel insurance. Travel at your own risk.

COURSE CANCELLATION FEE
$100 October 19, 2023 to November 18, 2023. No refund after November 18, 2023; however, 50% of tuition paid may be applied toward tuition for another NWS/NWAS program within the next 12 months. Cancellation must be made in writing. No tuition credit or refund will be issued for attendees that are no-shows for the program.
FAP (Frequent Attendee Points)
We value your patronage and have a simple program to reward you. Our Frequent Attendee Points (FAP) program gives you an added bonus for money spent on our seminars, as well as cruise cabins booked through our in-house travel agency, Northwest Worldwide Travel.
You are automatically enrolled in this program with your paid registration. Click here for more information.
*Effective January 1, 2023, net hotel stays for 2023 and beyond will no longer be included in FAP calculations.
Lecture notes will be provided via download in PDF format.
You must sign-in every day you attend to receive credit.
While we strive for accuracy at all times with our published information, we cannot be responsible for typographical and other errors.
Please note that children and non-registered guests are not allowed to attend the lectures. The concierge can provide you with childcare information.
Travel at your own risk.
REGISTER EARLY
We recommend that you register early to assure your spot. We reserve the right to close registrations to a course at any time without notice. We may not be able to accommodate onsite registrations.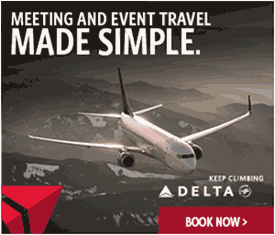 For flights in 2023:

Delta Air Lines is pleased to offer special discounts for Northwest Anesthesia Seminars / Northwest Seminars.
Please click here to book your flights.
You may also call Delta Meeting Network® at 1-800-328-1111* Monday-Friday, 8:00 a.m. - 6:30 p.m. (EST) and refer to Meeting Event Code NM2NH
*Please note there is not a service fee for reservations booked and ticketed via the Delta Meeting Network® reservation 800 number.