Paris, France
Whether you're strolling along the Seine or soaking up city life from a sidewalk cafe, you'll see why Paris is synonymous with the word style. From culinary delights to cultural sights, every one of your senses will be tempted. Famed throughout the world for beauty and variety, the monuments, towers, churches, palaces, archways, bridges and fountains will transport you back in time.
A sense of romance along the Pont Neuf, a shiver in the catacombs or an exotic mood at the Mosque: Paris is a mix of atmospheres and cultures. From the must-see to the more unusual, all of these relate two thousand years of the capital's history. An essential part of your stay, a cruise along the Seine is not to be missed! As you glide along the water you'll find yourself face to face with splendid museums. Leonardo da Vinci, Raphael, Monet, Rodin, Delacroix and Picasso: all these icons of the art world are represented as are antiquities from the four corners of the world.
When people think Paris, they think fashion. Sophisticated or baroque, the window displays of the superb boutiques are a celebration of beauty, a fantasy of fabulous fabrics, delicate scents and sparkling jewels. Located on the outskirts of Paris, theme parks, zoos and a safari park await. You will need at least a full day to appreciate their full worth. Of course, you can't miss the Eiffel Tower, the Arc de Triomphe, Versailles and the Louvre, but be sure to spend a quiet moment in the Jardin de Tuileries and savor an éclair from a patisserie or a glass of Beaujolais in a romantic bistro.
L'Hotel du Collectionneur Arc De Triomphe - Paris
L'Hotel du Collectionneur is perfectly located, facing the very chic Parc Monceau, just a few minutes from the Arc de Triomphe, the Avenue des Champs-Elysées and the prestigious boutiques and art galleries of the Rue du Faubourg Saint-Honoré.
Sip local wines in The Collectionneur Bar, a luxuriously adorned space with 30s-style decoration, gold-leaf fluting, intimate alcoves, crystal chandeliers and rich wood accents. Enjoy a beautiful breakfast of croissants freshly pressed juice at Salvaje, an independently run restaurant located in the hotel. Serving breakfast. lunch and dinner.
Adjoining the Hotel du Collectionneur, enjoy the facilities of Jacqueline Auriol sports center offering guests a swimming pool, a playground, a gymnasium, and climbing walls. Make yourself at home in comfortable rooms offering Art-Deco-style furniture and tasteful decor.
Enjoy amenities including a flat-screen television, marble bathroom, safe, bathrobes, complimentary toiletries, hairdryer, and more.
TARGET AUDIENCE
This course is designed for physicians, physician assistants, nurse practitioners, registered nurses, and all other medical care providers who must maintain state-of-the-art knowledge of the emergency medicine specialty or are impacted by it.

PROGRAM PURPOSE
The practitioner of emergency medicine must possess evidence-based scientific background for competent clinical practice; maintain state-of-the-art knowledge of the specialty and all additional related disciplines; maintain an up-to-the-minute armamentarium of knowledge and skills for the selection and use of complex equipment, pharmacological agents, and procedures; manage self and colleagues to function toward common goals in providing consistent care in all settings in which emergency care is provided; serve as an expert in matters involving quality, safe and equitable health care delivery and support of other service providers, departments, institutions, and organizations dependent upon professional expertise.
Presentations are designed to facilitate the acquisition of cognitive and technical skills as defined through evidence-based data translated to best practice standards by the pertinent governmental and professional organizations including the American College of Emergency Physicians, American College of Surgeons and the Emergency Nurses Association and abilities in one or more of the disciplines vital to the practicing professional.
OBJECTIVES
At the conclusion of this activity, the participant will be able to:
Apply the pertinent physical and behavioral sciences as they impact and are affected by the planning, delivery, and monitoring of services inherent in the professions
Explain the selection, dosing considerations with methods of administration, safe use, contraindications and precautions of drugs based on their chemical and pharmacologic properties
Outline comprehensive patient management plans for the special patient population discussed
Apply the principles of safety and asepsis in the performance of all aspects of patient care regardless of the clinical environment in which the practice resides
Incorporate the published tenets of pertinent, recognized external organizations, institutions, and professional groups defining medical, legal, philosophical, ethical, and health care management standards.
Current Topics in Emergency Medicine
Paris, France
August 7-11, 2023
Sold Out

Monday, August 7

0700
Registration - Mandatory Sign In
0725
Welcome
NWS Staff
0730
Implementing Evidence-Based Medicine Into Your Practice
J.Holmes
0830
Pediatric Fever: Current Evidence on the Initial Evaluation and Treatment
I.Claudius
0930
Break
0945
Aortic Dissection: Finding the Needle in the Haystack
M.Courtney
1045
Pediatric Trauma: Children Are Not Little Adults
I.Claudius
1145
Initial Evaluation of the Minor Trauma Patient: Evidence-Based
J.Holmes
1245
Adjourn

Tuesday, August 8

0715
Registration - Mandatory Sign In
0730
Sedation in 2023: What Should We Be Doing in the Emergency Setting?
I.Claudius
0830
State of the Art Testing for Pulmonary Embolism: Who to Test and How?
M.Courtney
0930
Break
0945
Pulmonary Embolism Diagnosis - Now What? Who Goes Home, Who Needs a Pill, Who Needs Advanced Therapy?
M.Courtney
1045
Chest Pain Evaluation in 2023: High Sensitivity Troponin and Risk Stratification Strategies
J.Holmes
1145
Panel Discussion: Highlighting Current Controversies in Emergency Care
I.Claudius, M.Courtney, J.Holmes
1245
Adjourn

Wednesday, August 9 - Day Open

Thursday, August 10

0715
Registration - Mandatory Sign In
0730
Sepsis Update: What Do I Need to Know to Know to Provide Guideline-Based Care?
M.Courtney
0830
Respiratory Emergencies in Children
I.Claudius
0930
Break
0945
Lower Respiratory Tract Infections: Beyond the COVID Test
M.Courtney
1045
Initial Evaluation and Management of the Sick Neonate
I.Claudius
1145
Recent Emergency Care Articles That Every Clinician Should Know
J.Holmes
1245
Adjourn

Friday, August 11

0715
Registration - Mandatory Sign In
0730
Initial Concussion Management
I.Claudius
0830
Pain and the Opiate Crisis: Where Are We Now?
J.Holmes
0930
Break
0945
Posterior Circulation Stroke: Evaluation and Treatment (30 minutes)
J.Holmes
1015
ED Clearance and Treatment of Psychiatric Patient (30 minutes)
J.Holmes
1045
Are We Burned Out? Update On Drivers and Focus on Enhancing Wellbeing
M.Courtney
1145
Panel Discussion: Burning Questions and Highlights From the Week
I.Claudius, M.Courtney, J.Holmes
1245
Adjourn
20 CME / 20 CEC

20 CME

20 Class A CE

20 CE

3.6 Pharmacology Hours†

Refreshments served at the meeting are for registered attendees only.
Rev. 2/9/23
FACULTY

Ilene A. Claudius, MD
Professor of Clinical Emergency Medicine
Department of Emergency Medicine
Director of Quality, Emergency Department
Harbor-UCLA Medical Center
Los Angeles, California
D. Mark Courtney, MD, MSc
Professor
Executive Vice Chair, Academic Affairs
Department of Emergency Medicine
University of Texas Southwestern Medical Center
Dallas, Texas
James F. Holmes, MD, MPH
Professor and Vice Chair for Research
Department of Emergency Medicine
University of California, Davis School of Medicine
Sacramento, California
Program Coordinator
ACCREDITATION
Northwest Anesthesia Seminars / Northwest Seminars is accredited by the Accreditation Council for Continuing Medical Education (ACCME) to provide continuing medical education for physicians.
Northwest Anesthesia Seminars / Northwest Seminars designates this live activity for a maximum of 20 AMA PRA Category 1 Credit(s)™. Physicians should claim only the credit commensurate with the extent of their participation in the activity.
Approved by the American College of Emergency Physicians for 20 hour(s) of ACEP Category I credit.
American Board of Anesthesiology: CME credit will be sent directly to The American Board of Anesthesiology to fulfill the Part 2 requirement for the Maintenance of Certification in Anesthesiology Program (MOCA®).
Canadian Physicians: This activity is eligible for Section 1 credits in the Royal College's Maintenance of Certification (MOC) Program. Participants must log into MAINPORT to claim this activity.
Certified Registered Nurse Anesthetists: This program has been prior approved by the American Association of Nurse Anesthesiology for 20 Class A CE credits; AANA approval number 1042497; Expiration Date 08/11/2023.
Nurse Practitioners: The American Academy of Nurse Practitioners Certification Program (AANPCP) and the American Nurses Credentialing Center (ANCC) accept CME from organizations accredited by the ACCME.
Osteopathic Physicians: This program is eligible for Category 2 credit with the American Osteopathic Association (AOA).
Physician Assistants: The American Academy of Physician Assistants (AAPA) accepts certificates of participation for educational activities certified for AMA PRA Category 1 Credit™ from organizations accredited by ACCME or a recognized state medical society. Physician assistants may receive a maximum of 20 hours of Category I credit for completing this program.
Registered Nurses: NWAS/NWS is an approved provider for the following state nursing boards: Arkansas State Board of Nursing (Provider Number 50-7480), District of Columbia Board of Nursing (Provider Number 50-7480), Florida Board of Nursing (Provider Number 50-7480), Georgia Board of Nursing (Provider Number 50-7480), and the South Carolina Board of Nursing (Provider Number 50-7480).
The AANA is an approved provider by the California Board of Registered Nursing, CEP #10862.
This program offers 20 contact hours.
†Pharmacology hours subject to change.
COURSE DIRECTOR
Mark T. Murphy, MD, MSN Education, LLC, Treasure Island, Florida, Medical Director, Northwest Seminars, Pasco, Washington
SCHEDULE AND FACULTY CHANGES
Factors beyond our control sometimes necessitate changes in the schedule and faculty. If time permits, we will inform all registrants of any changes prior to the program. Changes on site due to local conditions will be announced in class.
COURSE CANCELLATION BY PROVIDER
We reserve the right to cancel a course for any reason. In such case, a minimum of days notice will be given to those registered and 100% of tuition paid will be refunded. NWAS/NWS and NWWT will not be responsible for any non-refundable airfare, hotel, or other liabilities you may incur. We highly recommend purchase of travel insurance. Travel at your own risk.

COURSE CANCELLATION FEE
$100 June 8, 2023 to July 8, 2023. No refund after July 8, 2023; however, 50% of tuition paid may be applied toward tuition for another NWS/NWAS program within the next 12 months. Cancellation must be made in writing. No tuition credit or refund will be issued for attendees that are no-shows for the program.
FAP (Frequent Attendee Points)
We value your patronage and have a simple program to reward you. Our Frequent Attendee Points (FAP) program gives you an added bonus for money spent on our seminars, as well as cruise cabins booked through our in-house travel agency, Northwest Worldwide Travel.
You are automatically enrolled in this program with your paid registration. Click here for more information.
*Effective January 1, 2023, net hotel stays for 2023 and beyond will no longer be included in FAP calculations.
Lecture notes will be provided via download in PDF format.
You must sign-in every day you attend to receive credit.
While we strive for accuracy at all times with our published information, we cannot be responsible for typographical and other errors.
Please note that children and non-registered guests are not allowed to attend the lectures. The concierge can provide you with childcare information.
Travel at your own risk.
REGISTER EARLY
We recommend that you register early to assure your spot. We reserve the right to close registrations to a course at any time without notice. We may not be able to accommodate onsite registrations.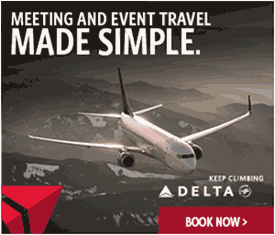 For flights in 2023:

Delta Air Lines is pleased to offer special discounts for Northwest Anesthesia Seminars / Northwest Seminars.
Please click here to book your flights.
You may also call Delta Meeting Network® at 1-800-328-1111* Monday-Friday, 8:00 a.m. - 6:30 p.m. (EST) and refer to Meeting Event Code NM2NH
*Please note there is not a service fee for reservations booked and ticketed via the Delta Meeting Network® reservation 800 number.