Sunriver, Oregon
Nestled next to the Deschutes River on 3,300 acres of pristine high desert, lush meadows, and beautiful pine forests, Sunriver, Oregon is the premier Northwest destination for vacationers, golfers, and outdoor enthusiasts of all ages. With the Cascade Mountains to the west and the Newberry Volcanic National Monument to the east, Sunriver boasts an exciting array of world class amenities such as golf, tennis, swimming, horseback riding, kayaking, canoeing, whitewater rafting, fly fishing, biking, hiking, bird watching, spa and fitness centers, music and art festivals, and a variety of restaurants from fine dining to casual.
In the summer, the Sunriver Village is the place to dine, shop, and mingle, with activities for the whole family ranging from mini-golf, bumper cars, train rides and bounce houses. Just a short drive away, the High Desert Museum offers an interactive experience, complete with birds of prey, otters, porcupines, a bobcat, and living history. A 20 minute drive away, the Mt. Bachelor Bike Park features more than 10 miles of excavated and single-track trails. Mt. Bachelor's Disc Golf course is a PDGA listed course. Ride the Pine Marten chair up to hole #1 and work your way down the mountain to the final hole #18. Elevation and the varied terrain add extra elements to your game!
The towns and unique regions that make up Central Oregon—Bend, Sisters, Madras, Redmond, LaPine and others—are bursting with high desert and mountain culture and ideas. Dubbed the "outdoor playground of the West" for a thousand good reasons, Bend is world famous for both its outdoor pursuits and pristine beauty. You can catch an art exhibit, dine at an award-winning restaurant, spoil yourself at one of many spas, or trek the legendary Bend Ale Trail, the largest beer trail in the west. Bend makes a great spot for family-friendly fun as well, from floating the river through the Old Mill District to canoe tours under the stars at one of the many Cascade Lakes.
Sunriver Resort
Sunriver Resort offers a unique Oregon vacation in a serene, natural setting. The resort boasts 63 holes of world-class golf, so magnificent that Golf Magazine awarded Sunriver the coveted Gold Medal, identifying this as one of America's best golf resorts.
If Tennis is your game, the Resort's USPTA certified tennis professional will give you the tools needed to play to your fullest potential. Take advantage of their indoor facility, including three tennis courts and state of the art conditioning center, or play on four outdoor courts. Visit The Cove, Sunriver Resort's pool complex featuring a large pool area with zero entry design, hot tub, new spacious deck and lawn areas, water slide, kid's discovery area, nature trails, food and beverage services, and private cabanas. Sunriver Resort has also recently launched a new indoor aquatics center that is located next to The Cove. The Cove aquatic center has a lazy river, waterslide, pool and hot tub for guests to enjoy.
Take refuge in the renowned Sage Springs Club and Spa, offering a full range of treatments for relaxation seekers. For those traveling with kids, you'll find a host activities that have been thoughtfully designed to keep every member of the family happy.
Be sure to check out the The Sunriver Nature Center & Observatory for a closer look into the natural world that surrounds the Sunriver area. There is even a private marina on the Deschutes River for canoeing and kayaking.
---
Lodge Village Guestrooms offer one king or two double beds, gas fireplace, private deck, hairdryer, coffee maker, iron and more.
Lodge Village 2 Queen Suites sleep 2-6 people and are approximately 900 sqft. Two Queen beds are in an open loft upstairs with a Queen sleeper sofa downstairs in the living room. Kitchenette includes four-burner stove (no oven), small refrigerator, dishwasher, microwave, and dining and living room area. Queen Suites also offer two bathrooms, private deck, hair dryer, coffee maker, iron and more.
River Lodge guestrooms are 550 square feet and are located near the Main Lodge and Great Hall. Amenities include 1 King or 2 Queen beds, private deck/patio space, gas fireplace, Keurig Coffee maker, mini-refrigerator, flat-screen TV, MP3 docking station, robes, safe, spacious bathroom and separate glass-enclosed shower plus soaking tub.

The Sunriver Resort is located approximately 45 minutes away from Redmond, Oregon Airport (RDM); 3 1/2 hours from Portland International Airport (PDX); 2 1/2 hours from Eugene, Oregon Airport (EUG).
TARGET AUDIENCE
This course is designed for physicians, physician assistants, nurse practitioners, registered nurses, and all other medical care providers who must maintain state-of-the-art knowledge of the emergency medicine specialty or are impacted by it.

PROGRAM PURPOSE
The practitioner of emergency medicine must possess evidence-based scientific background for competent clinical practice; maintain state-of-the-art knowledge of the specialty and all additional related disciplines; maintain an up-to-the-minute armamentarium of knowledge and skills for the selection and use of complex equipment, pharmacological agents, and procedures; manage self and colleagues to function toward common goals in providing consistent care in all settings in which emergency care is provided; serve as an expert in matters involving quality, safe and equitable health care delivery and support of other service providers, departments, institutions, and organizations dependent upon professional expertise.
Presentations are designed to facilitate the acquisition of cognitive and technical skills as defined through evidence-based data translated to best practice standards by the pertinent governmental and professional organizations including the American College of Emergency Physicians, American College of Surgeons and the Emergency Nurses Association and abilities in one or more of the disciplines vital to the practicing professional.
OBJECTIVES
At the conclusion of this activity, the participant will be able to:
Apply the pertinent physical and behavioral sciences as they impact and are affected by the planning, delivery, and monitoring of services inherent in the professions
Explain the selection, dosing considerations with methods of administration, safe use, contraindications and precautions of drugs based on their chemical and pharmacologic properties
Outline comprehensive patient management plans for the special patient population discussed
Apply the principles of safety and asepsis in the performance of all aspects of patient care regardless of the clinical environment in which the practice resides
Incorporate the published tenets of pertinent, recognized external organizations, institutions, and professional groups defining medical, legal, philosophical, ethical, and health care management standards.
Current Topics in Emergency Medicine
Sunriver, Oregon
July 3-7, 2023

Monday, July 3

0700
Registration - Mandatory Sign In - Continental Breakfast
0725
Welcome
NWS Staff
0730
Don't Let Mom Die! Life-Threatening Postpartum Emergencies
S.Scott
0830
The Febrile Young Infant: Where Do We Stand and What Do We Do?
M.Lu
0930
Break
0945
Ortho Pitfalls: Just Take Some Ibuprofen, You'll Be Fine
M.Abraham
1045
Antibiotics: End of an Era?
S.Scott
1145
My Head Is Going to Explode: BP in Neurologic Emergencies
M.Abraham
1245
Adjourn

Tuesday, July 4

0700
Registration - Mandatory Sign In - Continental Breakfast
0730
Neurology Literature Updates: Talk Neuro to Them
M.Abraham
0830
Trauma 101: Is ATLS All You Got?
M.Abraham
0930
Break
0945
Hypertensive Emergencies
M.Lu
1045
Things That Make You Go Hmmm: Real Life Cases With Interesting Learning Pearls for the Seasoned Clinician
S.Scott
1145
Pediatric Syncope With a Lethal Twist
M.Lu
1245
Adjourn

Wednesday, July 5 - Day Open

Thursday, July 6

0700
Registration - Mandatory Sign In - Continental Breakfast
0730
So You've Been Sued?
M.Abraham
0830
Cranial Neuropathies You Can't Miss in the ED
S.Scott
0930
Break
0945
Saving Every Last Neuron: TBI Management in the ED
M.Abraham
1045
Disrupting Dogma: Evidence-Based Medical Practice or Fake News?
S.Scott
1145
Use or Abuse? Can't Miss Pediatric Injuries
M.Lu
1245
Adjourn

Friday, July 7

0700
Registration - Mandatory Sign In - Continental Breakfast
0730
PEM Potpourri: Part 1
M.Lu
0830
PEM Potpourri: Part 2
M.Lu
0930
Break
0945
Shaken Not Stirred: Craft Cocktails or Seizure Care
M.Abraham
1045
Be an EM Supersleuth: Diagnosis and Management of Toxin-Induced Hemoglobinopathies
S.Scott
1145
Case Studies in EM: Stump the Experts
M.Abraham / M.Lu / S.Scott
1245
Adjourn

20 CME

20 Class A CE

20 CE

4.4 Pharmacology Hours†

Refreshments served at the meeting are for registered attendees only.
Rev. 9/16/22
FACULTY
Michael K. Abraham, MD, MS
Adjunct Assistant Professor
Department of Emergency Medicine
University of Maryland School of Medicine
Chair – Emergency Medicine
University of Maryland Upper Chesapeake Health System
Bel Air, Maryland
Program Coordinator
Mimi Lu, MD
Clinical Professor
Departments of Emergency Medicine and Pediatrics
University of California, San Francisco
San Francisco, California
Sara Scott, MD, FAAEM
Clinical Associate Professor
Elson S. Floyd College of Medicine
Washington State University
Spokane, Washington
ACCREDITATION
Northwest Anesthesia Seminars / Northwest Seminars is accredited by the Accreditation Council for Continuing Medical Education (ACCME) to provide continuing medical education for physicians.
Northwest Anesthesia Seminars / Northwest Seminars designates this live activity for a maximum of 20 AMA PRA Category 1 Credit(s)™. Physicians should claim only the credit commensurate with the extent of their participation in the activity.
Approved by the American College of Emergency Physicians for 20 hour(s) of ACEP Category I credit.
American Board of Anesthesiology: This activity contributes to the CME component of the American Board of Anesthesiology's redesigned Maintenance of Certification in Anesthesiology™ (MOCA®) program, known as MOCA 2.0®. Please consult the ABA website, www.theABA.org, for a list of all MOCA 2.0® requirements.
Canadian Physicians: This activity is eligible for Section 1 credits in the Royal College's Maintenance of Certification (MOC) Program. Participants must log into MAINPORT to claim this activity.
Certified Registered Nurse Anesthetists: This program has been prior approved by the American Association of Nurse Anesthesiology for 20 Class A CE credits; AANA approval number 1042682; Expiration Date 07/07/2023.
Nurse Practitioners: The American Academy of Nurse Practitioners Certification Program (AANPCP) and the American Nurses Credentialing Center (ANCC) accept CME from organizations accredited by the ACCME.
Osteopathic Physicians: This program is eligible for Category 2 credit with the American Osteopathic Association (AOA).
Physician Assistants: The American Academy of Physician Assistants (AAPA) accepts certificates of participation for educational activities certified for AMA PRA Category 1 Credit™ from organizations accredited by ACCME or a recognized state medical society. Physician assistants may receive a maximum of 20 hours of Category I credit for completing this program.
Registered Nurses: NWAS/NWS is an approved provider for the following state nursing boards: Arkansas State Board of Nursing (Provider Number 50-7480), District of Columbia Board of Nursing (Provider Number 50-7480), Florida Board of Nursing (Provider Number 50-7480), Georgia Board of Nursing (Provider Number 50-7480), and the South Carolina Board of Nursing (Provider Number 50-7480).
The AANA is an approved provider by the California Board of Registered Nursing, CEP #10862.
This program offers 20 contact hours.
†Pharmacology hours subject to change.
COURSE DIRECTOR
Mark T. Murphy, MD, MSN Education, LLC, Treasure Island, Florida, Medical Director, Northwest Seminars, Pasco, Washington
SCHEDULE AND FACULTY CHANGES
Factors beyond our control sometimes necessitate changes in the schedule and faculty. If time permits, we will inform all registrants of any changes prior to the program. Changes on site due to local conditions will be announced in class.
COURSE CANCELLATION BY PROVIDER
We reserve the right to cancel a course for any reason. In such case, a minimum of days notice will be given to those registered and 100% of tuition paid will be refunded. NWAS/NWS and NWWT will not be responsible for any non-refundable airfare, hotel, or other liabilities you may incur. We highly recommend purchase of travel insurance. Travel at your own risk.

COURSE CANCELLATION FEE
$100 May 4, 2023 to June 3, 2023. No refund after June 3, 2023; however, 50% of tuition paid may be applied toward tuition for another NWS/NWAS program within the next 12 months. Cancellation must be made in writing. No tuition credit or refund will be issued for attendees that are no-shows for the program.
FAP (Frequent Attendee Points)
We value your patronage and have a simple program to reward you. Our Frequent Attendee Points (FAP) program gives you an added bonus for money spent on our seminars, as well as cruise cabins booked through our in-house travel agency, Northwest Worldwide Travel.
You are automatically enrolled in this program with your paid registration. Click here for more information.
*Effective January 1, 2023, net hotel stays for 2023 and beyond will no longer be included in FAP calculations.
Lecture notes will be provided via download in PDF format.
You must sign-in every day you attend to receive credit.
While we strive for accuracy at all times with our published information, we cannot be responsible for typographical and other errors.
Please note that children and non-registered guests are not allowed to attend the lectures. The concierge can provide you with childcare information.
Travel at your own risk.
REGISTER EARLY
We recommend that you register early to assure your spot. We reserve the right to close registrations to a course at any time without notice. We may not be able to accommodate onsite registrations.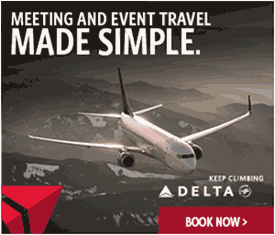 For flights in 2023:

Delta Air Lines is pleased to offer special discounts for Northwest Anesthesia Seminars / Northwest Seminars.
Please click here to book your flights.
You may also call Delta Meeting Network® at 1-800-328-1111* Monday-Friday, 8:00 a.m. - 6:30 p.m. (EST) and refer to Meeting Event Code NM2NH
*Please note there is not a service fee for reservations booked and ticketed via the Delta Meeting Network® reservation 800 number.