Tucson, Arizona
Tucson, nicknamed the Old Pueblo, is Arizona's oldest city with a unique cultural blend of Indian, Spanish, Mexican, and Anglo heritages. At an elevation of 2,584 feet, Tucson is cradled by the Santa Catalina Mountains rising 9,100 feet to the north, the Rincon Mountains to the east, the Tucson Mountains to the west, and the Santa Rita and Sierrita Mountains to the south. Green trees such as palo verde, mesquite, and cottonwood grow in abundance. Tucson is renowned for its superb weather. Warm and sunny throughout most of the year, the air is remarkably dry with a low relative humidity.
The city is surrounded by majestic desert, verdant canyons, and rugged mountains all beneath an endless expanse of some of the bluest sky you've ever seen, creating the perfect environment for all kinds of activities. Looking for luxury shopping, fine dining, or fine art? Tucson offers a wide range of contemporary shopping, cuisine, and art with historic influences of centuries-old civilizations. If hiking and biking are more your style, hit up Ventana Canyon Hiking Trail, Rillito River Park, or Finger Rock Trail.
Is golf your game? With more than 40 courses throughout the region players of all skill levels will find endless options in Tucson. To start, be sure to check out the exclusive Jack Nicklaus Signature Golf Course, located at The Westin La Paloma Resort & Spa, that balances the beauty of Tucson with plenty of memorable greens. Features include three 9-hole resort courses - Canyon, Ridge and Hill - a driving range, pro shop and more. Whatever you love, you'll love it even more amidst the hospitality and natural beauty of Tucson.
Westin La Paloma Resort & Spa
Discover the magical qualities of The Westin La Paloma Resort and Spa, a luxurious property nestled amidst the foothills of the Santa Catalina Mountains. From the La Paloma Spa & Salon to the Jack Nicklaus-designed signature golf course, you'll feel immersed in the endless possibilities.
The Westin La Paloma experience includes five year round spectacular pools, and features one of Tucson's longest resort water slides - the 177 foot long SlideWinder. The adult pool provides a serene and relaxing experience. Recline on a lounge chair, zip down the water-slide or enjoy a beverage and snack from Sabino's Swim Up Bar & Grill. The Westin Family Kid's Club is a destination for exploration created with kids' well-being in mind.
Guests at The Westin La Paloma Resort & Spa can enjoy access to The Westin Fitness Center at the adjoining La Paloma Country Club. Try out the ten championship tennis courts, including four superb Georgia clay courts and six hardcourt surface courts as well as pickleball. Visit the Fitness Center anytime for its full range of cardiovascular machines and strength-training equipment. Inside the health center you'll find a spin studio and class area to enjoy a variety of offerings such as yoga, pilates, and stength training.
At the end of your workout, you can unwind in the steam rooms and freshen up in the comfortable locker and dressing rooms. La Paloma Spa & Salon offers a thoughtfully curated menu of beauty and wellness services, that captures the tranquil essence of Arizona.
Close to the resort, you can ride horseback down mountain trails, or tour the territory by jeep amidst century-old Saguaro cactus and desert wildflowers. When it's time to eat, your palate is in for a treat with 6 distinctive dining options and 30 restraurants in the surrounding area, accessible throug the Resort's complimentary shuttle service. Traditional guestrooms feature 1 King or 2 Queen Heavenly Beds® (based on hotel availability), private patio or balcony, mini fridge, coffee/tea maker, safe, flat screen TV, safe, iron/board, separate shower and deep soaking tub, bathrobes, hairdryer, and more. The Westin La Paloma is located approximately 22 miles from the Tucson International Airport (TUS).
TARGET AUDIENCE
This course is designed for physicians, physician assistants, nurse practitioners, registered nurses, and all other medical care providers who must maintain state-of-the-art knowledge of the emergency medicine specialty or are impacted by it.

PROGRAM PURPOSE
The practitioner of emergency medicine must possess evidence-based scientific background for competent clinical practice; maintain state-of-the-art knowledge of the specialty and all additional related disciplines; maintain an up-to-the-minute armamentarium of knowledge and skills for the selection and use of complex equipment, pharmacological agents, and procedures; manage self and colleagues to function toward common goals in providing consistent care in all settings in which emergency care is provided; serve as an expert in matters involving quality, safe and equitable health care delivery and support of other service providers, departments, institutions, and organizations dependent upon professional expertise.
Presentations are designed to facilitate the acquisition of cognitive and technical skills as defined through evidence-based data translated to best practice standards by the pertinent governmental and professional organizations including the American College of Emergency Physicians, American College of Surgeons and the Emergency Nurses Association and abilities in one or more of the disciplines vital to the practicing professional.
OBJECTIVES
At the conclusion of this activity, the participant will be able to:
Apply the pertinent physical and behavioral sciences as they impact and are affected by the planning, delivery, and monitoring of services inherent in the professions
Explain the selection, dosing considerations with methods of administration, safe use, contraindications and precautions of drugs based on their chemical and pharmacologic properties
Outline comprehensive patient management plans for the special patient population discussed
Apply the principles of safety and asepsis in the performance of all aspects of patient care regardless of the clinical environment in which the practice resides
Incorporate the published tenets of pertinent, recognized external organizations, institutions, and professional groups defining medical, legal, philosophical, ethical, and health care management standards.
Topics in Emergency Medicine
Tucson, Arizona
October 3-6, 2024


Thursday, October 3

0700
Registration - Mandatory Sign In - Continental Breakfast
0725
Welcome
NWS Staff
0730
Hidden Killers: The Plain Film Findings You Can't Afford to Miss
S.Mehta
0830
Sleep on This: Procedural Sedation in the Emergency Department
S.Mehta
0930
Break
0945
Beyond ACLS: Epi, Airway and POCUS
S.Rezaie
1045
GI Bleed Management in the ED
S.Rezaie
1145
Back Pain: Spinal Infection - Can You Quantify the Risk Before Imaging?
S.Shroyer
1245
Adjourn

Friday, October 4

0700
Registration - Mandatory Sign In - Continental Breakfast
0730
DKA Myths
S.Rezaie
0830
Walking the Line From Research to Practice: Literature Updates From the Past Few Years
S.Rezaie
0930
Break
0945
Aortic Dissection: How Severe Is the Pain?
S.Shroyer
1045
Emergency Medicine at 29,035 Ft.: High Altitude Medicine
S.Mehta
1145
Two for the Price of One: Trauma in Pregnancy
S.Mehta
1245
Adjourn

Saturday, October 5

0700
Registration - Mandatory Sign In - Continental Breakfast
0730
Cath Lab Activation Accuracy and the Mimics
S.Shroyer
0830
Cath Lab Activation: 30 Seconds to Call It
S.Shroyer
0930
Break
0945
All Bleeding Stops Sometimes: Hemorrhage Control in Trauma
S.Mehta
1045
Update on Sexually Transmitted Diseases
S.Mehta
1145
Malpractice Liability in EM
S.Rezaie
1245
Adjourn

Sunday, October 6

0700
Registration - Mandatory Sign In - Continental Breakfast
0730
Resilience in Emergency Medicine: Hard-Won Wisdom for Life and Becoming a Better Physician
S.Mehta
0830
Pulmonary Embolus: An Evidence-Based Overview
S.Shroyer
0930
Break
0945
MRSA: More Than Just an Abscess
S.Shroyer
1045
Trauma Updates
S.Rezaie
1145
Endovascular Therapy for LVO Acute Ischemic Strokes
S.Rezaie
1245
Adjourn

20 CME

20 Class A CE

20 CE

3.6 Pharmacology Hours†

Refreshments served at the meeting are for registered attendees only.
Rev. 6/12/23
FACULTY
Sumeru Ghanshyam Mehta, MD
Staff Physician, Greater San Antonio Emergency Physicians
Board of Directors, Greater San Antonio Emergency Physicians
Clinical Assistant Professor, University of Texas Health Science Center at San Antonio
Department of Surgery, Division of Emergency Medicine
Assistant Professor, Uniformed Services University of The Health Sciences
Department. of Military and Emergency Medicine
San Antonio, Texas
Program Coordinator
Salim R. Rezaie, MD
Staff Physician, Greater San Antonio Emergency Physicians
Emergency Medicine / Internal Medicine
Creator / Founder of REBEL EM (www.rebelem.com)
Co-Creator / Founder of The Teaching Institute (www.flippingmeded.com)
San Antonio, Texas
Steven Shroyer, MD, FACEP
Private Practice in Clinical Emergency Medicine and Clinical Research
Southwest Texas Methodist Hospital
San Antonio, Texas
ACCREDITATION
Northwest Anesthesia Seminars / Northwest Seminars is accredited by the Accreditation Council for Continuing Medical Education (ACCME) to provide continuing medical education for physicians.
Northwest Anesthesia Seminars / Northwest Seminars designates this live activity for a maximum of 20 AMA PRA Category 1 Credit(s)™. Physicians should claim only the credit commensurate with the extent of their participation in the activity.
Approved by the American College of Emergency Physicians for 20 hour(s) of ACEP Category I credit.
American Board of Anesthesiology: This activity contributes to the CME component of the American Board of Anesthesiology's redesigned Maintenance of Certification in Anesthesiology™ (MOCA®) program, known as MOCA 2.0®. Please consult the ABA website, www.theABA.org, for a list of all MOCA 2.0® requirements.
Canadian Physicians: This activity is eligible for Section 1 credits in the Royal College's Maintenance of Certification (MOC) Program. Participants must log into MAINPORT to claim this activity.
Certified Registered Nurse Anesthetists: This program has been prior approved by the American Association of Nurse Anesthesiology for 20 Class A CE credits; AANA approval number 1043535; Expiration Date 10/06/2024.
Nurse Practitioners: The American Academy of Nurse Practitioners Certification Program (AANPCP) and the American Nurses Credentialing Center (ANCC) accept CME from organizations accredited by the ACCME.
Osteopathic Physicians: This program is eligible for Category 2 credit with the American Osteopathic Association (AOA).
Physician Assistants: The American Academy of Physician Assistants (AAPA) accepts certificates of participation for educational activities certified for AMA PRA Category 1 Credit™ from organizations accredited by ACCME or a recognized state medical society. Physician assistants may receive a maximum of 20 hours of Category I credit for completing this program.
Registered Nurses: NWAS/NWS is an approved provider for the following state nursing boards: Arkansas State Board of Nursing (Provider Number 50-7480), District of Columbia Board of Nursing (Provider Number 50-7480), Florida Board of Nursing (Provider Number 50-7480), Georgia Board of Nursing (Provider Number 50-7480), and the South Carolina Board of Nursing (Provider Number 50-7480).
The AANA is an approved provider by the California Board of Registered Nursing, CEP #10862.
This program offers 20 contact hours.
†Pharmacology hours subject to change.
COURSE DIRECTOR
Mark T. Murphy, MD, MSN Education, LLC, Treasure Island, Florida, Medical Director, Northwest Seminars, Pasco, Washington
SCHEDULE AND FACULTY CHANGES
Factors beyond our control sometimes necessitate changes in the schedule and faculty. If time permits, we will inform all registrants of any changes prior to the program. Changes on site due to local conditions will be announced in class.
COURSE CANCELLATION BY PROVIDER
We reserve the right to cancel a course for any reason. In such case, a minimum of days notice will be given to those registered and 100% of tuition paid will be refunded. NWAS/NWS and NWWT will not be responsible for any non-refundable airfare, hotel, or other liabilities you may incur. We highly recommend purchase of travel insurance. Travel at your own risk.

COURSE CANCELLATION FEE
$100 August 4, 2024 to September 3, 2024. No refund after September 3, 2024; however, 50% of tuition paid may be applied toward tuition for another NWS/NWAS program within the next 12 months. Cancellation must be made in writing. No tuition credit or refund will be issued for attendees that are no-shows for the program.
FAP (Frequent Attendee Points)
We value your patronage and have a simple program to reward you. Our Frequent Attendee Points (FAP) program gives you an added bonus for money spent on our seminars, as well as cruise cabins booked through our in-house travel agency, Northwest Worldwide Travel.
You are automatically enrolled in this program with your paid registration. Click here for more information.
*Effective January 1, 2023, net hotel stays for 2023 and beyond will no longer be included in FAP calculations.
Lecture notes will be provided via download in PDF format.
You must sign-in every day you attend to receive credit.
While we strive for accuracy at all times with our published information, we cannot be responsible for typographical and other errors.
Please note that children and non-registered guests are not allowed to attend the lectures. The concierge can provide you with childcare information.
Travel at your own risk.
REGISTER EARLY
We recommend that you register early to assure your spot. We reserve the right to close registrations to a course at any time without notice. We may not be able to accommodate onsite registrations.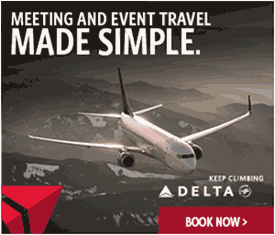 For flights in 2024:

Delta Air Lines is pleased to offer special discounts for Northwest Anesthesia Seminars / Northwest Seminars.
Please click here to book your flights.
You may also call Delta Meeting Network® at 1-800-328-1111* Monday-Friday, 8:00 a.m. - 6:30 p.m. (EST) and refer to Meeting Event Code NM36A
*Please note there is not a service fee for reservations booked and ticketed via the Delta Meeting Network® reservation 800 number.