Providenciales, Turks and Caicos Islands
Surrounded by beautiful white sand beaches, Provo has been ranked "Best Beach" by Conde' Nast magazine and by the World Travel Awards for several years running. Found on the western end of the island chain, Provo offers all modern conveniences, including numerous restaurants, spas, shopping facilities, and more. Although Provo is the most developed of the islands, it is still a destination for those who want to escape their busy schedules and relax.
With the most pristine, turquoise water and beach in the world, it's no surprise that most of the activities in Turks and Caicos, and things to do in Providenciales, revolve around the ocean and beach. Scuba diving, snorkeling tours, kayaking eco-tours and boat charters are great ways to make your stay memorable. Providenciales is also the center for excellent sport fishing found in Turks and Caicos.
On the north shore of the island, near Grace Bay, you will find the most beautiful beaches, as well as a long coral reef, which is rich in aquatic life. Voted the World's #1 Best Beach by TripAdvisor's Travelers' Choice awards, Grace Bay is 12 miles of sweeping white sand beach. Here you will find Beaches Turks & Caicos where you can feast in an assortment of delicious restaurants, pamper yourself with a soul-and body-renewing treatment at the heavenly Red Lane® Spa, or just surrender to the sunshine in your chaise lounge drawn right up to the Caribbean Sea.
Splash, swim, and sip the day away with new friends at a sparkling swim-up pool bar. Have the time of your life and experience your very own playground in the heart of the gorgeous tropics. If you want to venture out, Grace Bay beach is also the home to the Princess Alexandra Marine Park, which is the playground of "Jo Jo" the famous bottlenose dolphin. Visitors to the world's first Conch Farm discover how to grow conch from tiny veligers to four-year-old adults.
Beaches Resort and Spa
For everyone who has ever dreamed of getting away from it all and finding a tropical hideaway far removed from all the hustle, bustle, fuss and muss of modern life - Turks & Caicos is that rarest of discoveries, a true island escape.
Enjoy 10 freshwater pools, 4 whirlpools and 1 scuba diving pool, dedicated toddler pool with 45,000 square-foot waterpark with surf simulator, 21 specialty restaurants, 15 bars serving unlimited premium drinks, supervised kids camp for kids of all ages, Xbox Play Lounge, Liquid at Beaches nightly teen club, teens-only game room, scuba diving program, day and night tennis, Fitness center with state-of-the-art equipment and the Red Lane® Caribbean Spa.
If you're looking for the most comprehensive all-inclusive family vacation on a resort that offers every imaginable amenity and the Caribbean's largest water theme park, Beaches Turks & Caicos is for you. Beaches Turks & Caicos Resort was named "Winner of 2021 Top Resorts in the Atlantic" by Condé Nast Traveler's Annual Readers' Choice and "Best for Families: Readers' Choice" by Islands Magazine All Inclusive Awards 2020.
Book today as this location sells out months in advance every year!
Luxury All-Inclusive Package Includes: 7 nights accommodations, all hotel gratuities and taxes, hotel porterage, 21 gourmet restaurants, complimentary welcome beverage, basic Wi-Fi Internet, nightly entertainment, access to fitness center, unlimited premium brand alcohol, access to steam and sauna rooms (treatments are an additional cost), land and water sports including scuba diving included for certified divers, and roundtrip airport transfers in Turks & Caicos (transportation gratuities are an additional cost, suggested at $2/bag). Gratuities not included for those with Butler service.
Please be aware:
The Beaches Resort and Spa is an all-inclusive resort. If you choose to stay elsewhere, you will be charged per person per day for entry into the resort, even if you are only attending the seminar.
Please see the cost below for a day pass at Beaches Turks & Caicos:
DAY PASS: 10am to 6pm
Adult: $370, Child: $180
FULL DAY PASS: 10am to 12am
Adult: $700, Child: $180
This is a firm resort policy. This fee is subject to change without notice at the discretion of resort management.
For important information and COVID-19 requirements for travel to Turks & Caicos, visit:
https://www.visittci.com/travel-info/turks-and-caicos-coronavirus-covid-19
*Please note: Scuba diving at the resort is geared toward the novice and is offered in the mornings which conflicts with scheduled meeting times.
TARGET AUDIENCE
This course is designed for physicians, physician assistants, nurse practitioners, registered nurses, and all other medical care providers who must maintain state-of-the-art knowledge of the critical care specialty or are impacted by it.
PROGRAM PURPOSE
The practitioner of critical care medicine must possess the scientific background for clinical practice; maintain state-of-the-art knowledge of not only the specialty, but also of all additional related disciplines which may impact it; maintain an up-to-the-minute armamentarium of knowledge and skills for the selection and use of complex equipment, pharmacological agents, and procedures necessary for the provision of quality patient care; manage self and colleagues to function toward common goals in the clinical setting, clinical and educational institutions, and the community in which the practice resides; serve as an expert in matters involving health care delivery; serve as an informed manager of clinical and educational services provided, including the acquisition and distribution of resources necessary in meeting professional goals; and provide assistance with and support of other service providers, departments, institutions, and organizations dependent upon the professional expertise of the practitioner.
Presentations are designed to facilitate the healthcare provider maintaining skills of the same kind to review and update knowledge and abilities in one or more of these areas vital to the practicing professional.
OBJECTIVES
At the conclusion of this activity, the participant will be able to:
Apply the pertinent physical and behavioral sciences as they impact and are affected by the planning, delivery, and monitoring of critical care services.
Explain the selection, dosing considerations with methods of administration, safe use, and contraindications and precautions of drugs based on their chemical and pharmacologic properties.
Outline comprehensive management plans for the group of patients discussed, whether related in age, physical status, cultural background, invasive procedure, anesthetic or analgesic requirements, clinical setting, adverse reactions, and/or goals of care.
Apply the principles of safety and asepsis in the performance of all aspects of patient care regardless of the clinical environment in which the practice resides.
Incorporate
the appropriate recommendations and/or requirements of pertinent external organizations, institutions, and professional groups in the provision of critical care services, whether medical, legal, philosophical, ethical, or health care management standards.
Critical Care: The Team Approach
Providenciales, Turks and Caicos Islands
November 10-15, 2024

Sunday, November 10

0730
Registration - Mandatory Sign In
0755
Welcome
NWS Staff
0800
ARDS Management: Overview
M.Javed
0900
Ventilator Asynchrony: Using Ventilator Graphics to Improve Patient Care
M.Javed
1000
Break
1015
Bed Side Tools to Improve Ventilator Management: Driving Pressure, the Ultrasound, and Impedance
K.Enfield
1115
VV-ECMO
S.McCartney
1215
Adjourn

Monday, November 11

0745
Registration - Mandatory Sign In
0800
VA-ECMO
S.McCartney
0900
DKA Management
M.Javed
1000
Break
1015
VAP / VAT / VAC: What Is New, Old, and Different in Ventilator-Associated Pneumonia?
K.Enfield
1115
C. Diff in the ICU: Stewardship of Antibiotics, Testing, and the Environment
K.Enfield
1215
Adjourn

Tuesday, November 12

0745
Registration - Mandatory Sign In
0800
Right Ventricular Failure and Pulmonary Vasodilators
S.McCartney
0900
Management of LVADs
S.McCartney
1000
Break
1015
Sodium Changes and the Osmotic Demyelination Syndrome
M.Javed
1115
Sepsis 2024: What's Old Is New
K.Enfield
1215
Adjourn

Wednesday, November 13 – Day Open

Thursday, November 14

0745
Registration - Mandatory Sign In
0800
Burnout in the ICU
M.Javed
0900
Palliative Care and End-of-life Care in the ICU
M.Javed
1000
Break
1015
Who Benefits From the ICU?
K.Enfield
1115
Management of the Lung Transplant Recipient
S.McCartney
1215
Adjourn

Friday, November 15

0745
Registration - Mandatory Sign In
0800
Management of the Heart Transplant Recipient
S.McCartney
0900
PICS: How Can We Help the Primary Care Provider?
K.Enfield
1000
Break
1015
Newer Anticoagulants and Reversal Methodologies
M.Javed
1115
The Paradox of Choice in Medicine
M.Javed
1215
Adjourn

20 CME

20 Class A CE

20 CE

Pharmacology Hours TBD†

*Please plan to eat breakfast before the meeting.
Rev. 3/3/23
FACULTY
Kyle Enfield, MD
Associate Professor of Pulmonary Medicine
Director of the Medial ICU
University of Virginia Health System
Charlotteville, Virginia
Muhammad Ali Javed, MD, FCCP
Associate Professor of Medicine
Pulmonary and Neuro Critical Care
Mercy Hospital St. Louis
Department of Critical Care Medicine
St. Louis, Missouri
Sharon McCartney, MD, FASE
Associate Professor of Anesthesiology
Duke University Medical Center
Durham, North Carolina
PROGRAM COORDINATOR
(non-speaking role)
Stuart Lowson, BSc, MBBs, MRCP, FRCA
Associate Professor of Anesthesiology
Co-Director Surgical Trauma ICU
University of Virginia
Charlottesville, Virginia
ACCREDITATION
Northwest Anesthesia Seminars / Northwest Seminars is accredited by the Accreditation Council for Continuing Medical Education (ACCME) to provide continuing medical education for physicians.
Northwest Anesthesia Seminars / Northwest Seminars designates this live activity for a maximum of 20 AMA PRA Category 1 Credit(s)™. Physicians should claim only the credit commensurate with the extent of their participation in the activity.
American Board of Anesthesiology: This activity contributes to the CME component of the American Board of Anesthesiology's redesigned Maintenance of Certification in Anesthesiology™ (MOCA®) program, known as MOCA 2.0®. Please consult the ABA website, www.theABA.org, for a list of all MOCA 2.0® requirements.
Canadian Physicians: This activity is eligible for Section 1 credits in the Royal College's Maintenance of Certification (MOC) Program. Participants must log into MAINPORT to claim this activity.
Certified Registered Nurse Anesthetists: This program has been prior approved by the American Association of Nurse Anesthesiology for 20 Class A CE credits; AANA approval number 1043789; Expiration Date 11/15/2024.
Nurse Practitioners: The American Academy of Nurse Practitioners Certification Program (AANPCP) and the American Nurses Credentialing Center (ANCC) accept CME from organizations accredited by the ACCME.
Osteopathic Physicians: This program is eligible for Category 2 credit with the American Osteopathic Association (AOA).
Physician Assistants: The American Academy of Physician Assistants (AAPA) accepts certificates of participation for educational activities certified for AMA PRA Category 1 Credit™ from organizations accredited by ACCME or a recognized state medical society. Physician assistants may receive a maximum of 20 hours of Category I credit for completing this program.
Registered Nurses: NWAS/NWS is an approved provider for the following state nursing boards: Arkansas State Board of Nursing (Provider Number 50-7480), District of Columbia Board of Nursing (Provider Number 50-7480), Florida Board of Nursing (Provider Number 50-7480), Georgia Board of Nursing (Provider Number 50-7480), and the South Carolina Board of Nursing (Provider Number 50-7480).
The AANA is an approved provider by the California Board of Registered Nursing, CEP #10862.
This program offers 20 contact hours.
†Pharmacology hours subject to change.
COURSE DIRECTOR
Mark T. Murphy, MD, MSN Education, LLC, Treasure Island, Florida, Medical Director, Northwest Seminars, Pasco, Washington
SCHEDULE AND FACULTY CHANGES
Factors beyond our control sometimes necessitate changes in the schedule and faculty. If time permits, we will inform all registrants of any changes prior to the program. Changes on site due to local conditions will be announced in class.
COURSE CANCELLATION BY PROVIDER
We reserve the right to cancel a course for any reason. In such case, a minimum of days notice will be given to those registered and 100% of tuition paid will be refunded. NWAS/NWS and NWWT will not be responsible for any non-refundable airfare, hotel, or other liabilities you may incur. We highly recommend purchase of travel insurance. Travel at your own risk.

COURSE CANCELLATION FEE
$100 September 11, 2024 to October 11, 2024. No refund after October 11, 2024; however, 50% of tuition paid may be applied toward tuition for another NWS/NWAS program within the next 12 months. Cancellation must be made in writing. No tuition credit or refund will be issued for attendees that are no-shows for the program.
FAP (Frequent Attendee Points)
We value your patronage and have a simple program to reward you. Our Frequent Attendee Points (FAP) program gives you an added bonus for money spent on our seminars, as well as cruise cabins booked through our in-house travel agency, Northwest Worldwide Travel.
You are automatically enrolled in this program with your paid registration. Click here for more information.
*Effective January 1, 2023, net hotel stays for 2023 and beyond will no longer be included in FAP calculations.
Lecture notes will be provided via download in PDF format.
You must sign-in every day you attend to receive credit.
While we strive for accuracy at all times with our published information, we cannot be responsible for typographical and other errors.
Please note that children and non-registered guests are not allowed to attend the lectures. The concierge can provide you with childcare information.
Travel at your own risk.
REGISTER EARLY
We recommend that you register early to assure your spot. We reserve the right to close registrations to a course at any time without notice. We may not be able to accommodate onsite registrations.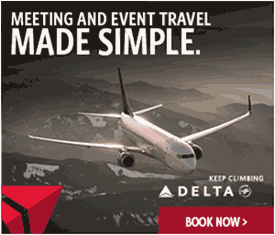 For flights in 2024:

Delta Air Lines is pleased to offer special discounts for Northwest Anesthesia Seminars / Northwest Seminars.
Please click here to book your flights.
You may also call Delta Meeting Network® at 1-800-328-1111* Monday-Friday, 8:00 a.m. - 6:30 p.m. (EST) and refer to Meeting Event Code NM36A
*Please note there is not a service fee for reservations booked and ticketed via the Delta Meeting Network® reservation 800 number.