LIVE Webinar Conference
Northwest Seminars presents Critical Care: The Team Approach, a live webinar.
This live web conference will be presented with the same quality speakers and topics as our on-site conferences.
This is a live online course and will not be available for viewing later.
See below for more details.
TARGET AUDIENCE
This course is designed for physicians, physician assistants, nurse practitioners, registered nurses, and all other medical care providers who must maintain state-of-the-art knowledge of the critical care specialty or are impacted by it.
PROGRAM PURPOSE
The practitioner of critical care medicine must possess the scientific background for clinical practice; maintain state-of-the-art knowledge of not only the specialty, but also of all additional related disciplines which may impact it; maintain an up-to-the-minute armamentarium of knowledge and skills for the selection and use of complex equipment, pharmacological agents, and procedures necessary for the provision of quality patient care; manage self and colleagues to function toward common goals in the clinical setting, clinical and educational institutions, and the community in which the practice resides; serve as an expert in matters involving health care delivery; serve as an informed manager of clinical and educational services provided, including the acquisition and distribution of resources necessary in meeting professional goals; and provide assistance with and support of other service providers, departments, institutions, and organizations dependent upon the professional expertise of the practitioner.
Presentations are designed to facilitate the healthcare provider maintaining skills of the same kind to review and update knowledge and abilities in one or more of these areas vital to the practicing professional.
OBJECTIVES
At the conclusion of this activity, the participant will be able to:
Apply the pertinent physical and behavioral sciences as they impact and are affected by the planning, delivery, and monitoring of critical care services.
Explain the selection, dosing considerations with methods of administration, safe use, and contraindications and precautions of drugs based on their chemical and pharmacologic properties.
Outline comprehensive management plans for the group of patients discussed, whether related in age, physical status, cultural background, invasive procedure, anesthetic or analgesic requirements, clinical setting, adverse reactions, and/or goals of care.
Apply the principles of safety and asepsis in the performance of all aspects of patient care regardless of the clinical environment in which the practice resides.
Incorporate
the appropriate recommendations and/or requirements of pertinent external organizations, institutions, and professional groups in the provision of critical care services, whether medical, legal, philosophical, ethical, or health care management standards.
Critical Care: The Team Approach
LIVE Webinar Conference
July 17-20, 2023

All times in Pacific Time

Monday, July 17

0655
Login to Zoom and Welcome
NWS Staff
0700
Guidelines, Bundles and Metrics in Sepsis: What's New?
H.Bailey
0800
Identifying Challenges and Overcoming Barriers to Implementing the Choosing Wisely Recommendations
H.Bailey
0900
Break
0910
Effective Strategies to Mitigate Burnout Syndrome in the ICU
H.Bailey
1010
COVID Respiratory Failure: ARDS or Not and Why It Matters
A.Vinayak
1110
Break
1120
Management of PE: When to Lyse?
A.Vinayak
1220
Adjourn

Tuesday, July 18

0655
Login to Zoom and Welcome
NWS Staff
0700
Infection in the ICU: Continuous Antibiotic Infusions - What Is the Evidence?
K.Pei
0800
Surgical Emergencies: Fulminant Clostridium (Clostridioides) Difficile Infection
K.Pei
0900
Break
0910
Traumatic Brain Injury and ICU Management
K.Pei
1010
Update on Sedation and Delirium
A.Vinayak
1110
Break
1120
Ventilator Waveforms
A.Vinayak
1220
Adjourn

Wednesday, July 19

0655
Login to Zoom and Welcome
NWS Staff
0700
Managing the A, B, Cs of the Morbidly Obese
T.Osborn
0800
Vasopressors: What to Use When?
T.Osborn
0900
Break
0910
The Harsh Reality of More Demand Than Systems Can Handle: Lessons From COVID
T.Osborn
1010
Anaphylaxis, Allergy, and Adverse Drug Reactions
J.Levy
1110
Break
1120
Bleeding Management With Oral Anticoagulants
J.Levy
1220
Adjourn

Thursday, July 20

0655
Login to Zoom and Welcome
NWS Staff
0700
Fibrinolysis and Antifibrinolytic Therapy
J.Levy
0800
Anticoagulation for ECMO
J.Levy
0900
Break
0910
DIC Diagnosis and Management
J.Levy
1010
Managing Difficult Conversations
T.Osborn
1110
Break
1120
Beyond the Stethoscope: When Physician Becomes Family
T.Osborn
1220
Adjourn

20 CME

20 Class A CE

20 CE

6 Pharmacology Hours†

Rev. 11/22/22
FACULTY
Heatherlee Bailey, MD, FAAEM, FCCM
Past President, Society of Critical Care Medicine
Faculty - Department of Emergency Medicine
Durham VA Medical Center
Durham, North Carolina
Jerrold H. Levy, MD, FAHA, FCCM
Professor of Anesthesiology, Critical Care, and Surgery (Cardiothoracic)
Duke University Health System
Durham, North Carolina
Chair, Committee on Perioperative and Critical Care Thrombosis and Hemostasis of the ISTH
Tiffany Osborn, MD, MPH, FCCM, FACEP
Professor of Surgery and Emergency Medicine
Surgical / Trauma Critical Care
Washington University / Barnes Jewish Hospital
St. Louis, Missouri
Kevin Y. Pei, MD, MHSEd, FACS
Program Director, General Surgery Residency
Associate Chief Academic Research Officer
Director, American College of Surgeons Accredited Education Institute
Mirro Center for Research and Innovation
Medical Director, Simulation Center
Parkview Health
Associate Clinical Professor of Surgery
Indiana University School of Medicine
Fort Wayne, Indiana
Ajeet G. Vinayak, MD
Director, Medical Intensive Care Unit
MedStar Georgetown University
Associate Professor of Medicine
Georgetown University
Department of Medicine
Section of Pulmonary and Critical Care
Washington, District of Columbia
ACCREDITATION
Northwest Anesthesia Seminars / Northwest Seminars is accredited by the Accreditation Council for Continuing Medical Education (ACCME) to provide continuing medical education for physicians.
Northwest Anesthesia Seminars / Northwest Seminars designates this live activity for a maximum of 20 AMA PRA Category 1 Credit(s)™. Physicians should claim only the credit commensurate with the extent of their participation in the activity.
American Board of Anesthesiology: CME credit will be sent directly to The American Board of Anesthesiology to fulfill the Part 2 requirement for the Maintenance of Certification in Anesthesiology Program (MOCA®).
Canadian Physicians: This activity is eligible for Section 1 credits in the Royal College's Maintenance of Certification (MOC) Program. Participants must log into MAINPORT to claim this activity.
Certified Registered Nurse Anesthetists: This program has been prior approved by the American Association of Nurse Anesthesiology for 20 Class A CE credits; AANA approval number 1042886; Expiration Date 07/20/2023.
Nurse Practitioners: The American Academy of Nurse Practitioners Certification Program (AANPCP) and the American Nurses Credentialing Center (ANCC) accept CME from organizations accredited by the ACCME.
Osteopathic Physicians: This program is eligible for Category 2 credit with the American Osteopathic Association (AOA).
Physician Assistants: The American Academy of Physician Assistants (AAPA) accepts certificates of participation for educational activities certified for AMA PRA Category 1 Credit™ from organizations accredited by ACCME or a recognized state medical society. Physician assistants may receive a maximum of 20 hours of Category I credit for completing this program.
Registered Nurses: NWAS/NWS is an approved provider for the following state nursing boards: Arkansas State Board of Nursing (Provider Number 50-7480), District of Columbia Board of Nursing (Provider Number 50-7480), Florida Board of Nursing (Provider Number 50-7480), Georgia Board of Nursing (Provider Number 50-7480), and the South Carolina Board of Nursing (Provider Number 50-7480).
The AANA is an approved provider by the California Board of Registered Nursing, CEP #10862.
This program offers 20 contact hours.
†Pharmacology hours subject to change.
COURSE DIRECTOR
Mark T. Murphy, MD, MSN Education, LLC, Treasure Island, Florida, Medical Director, Northwest Seminars, Pasco, Washington
SCHEDULE AND FACULTY CHANGES
Factors beyond our control sometimes necessitate changes in the schedule and faculty. If time permits, we will inform all registrants of any changes prior to the program. Changes will be announced in class.
COURSE CANCELLATION BY PROVIDER
We reserve the right to cancel a course for any reason. In such case, a minimum of 14 days notice will be given to those registered and 100% of tuition paid will be refunded. NWS/NWAS will not be responsible for any other liabilities you may incur.

COURSE CANCELLATION FEE
No penalty for webinar cancellation received by July 3, 2023. $50 penalty for webinar cancellations received after July 3, 2023. Cancellation must be made in writing. No tuition credit or refund will be issued for attendees that do not log in for the program.
FAP (Frequent Attendee Points)
We value your patronage and have a simple program to reward you. Our Frequent Attendee Points (FAP) program gives you an added bonus for money spent on our seminars, as well as cruise cabins booked through our in-house travel agency, Northwest Worldwide Travel.
You are automatically enrolled in this program with your paid registration. Click here for more information.
*Effective January 1, 2023, net hotel stays for 2023 and beyond will no longer be included in FAP calculations.
Lecture notes will be provided via download in PDF format.
You must sign-in every day you attend to receive credit.
While we strive for accuracy at all times with our published information, we cannot be responsible for typographical and other errors.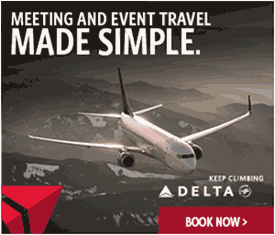 For flights in 2023:

Delta Air Lines is pleased to offer special discounts for Northwest Anesthesia Seminars / Northwest Seminars.
Please click here to book your flights.
You may also call Delta Meeting Network® at 1-800-328-1111* Monday-Friday, 8:00 a.m. - 6:30 p.m. (EST) and refer to Meeting Event Code NM2NH
*Please note there is not a service fee for reservations booked and ticketed via the Delta Meeting Network® reservation 800 number.