Glacier National Park (Whitefish), Montana
Whitefish is one of the most scenic and breathtaking areas in America. Surrounded on three sides by picturesque mountain peaks, this alpine village offers gondola rides, hiking, horseback riding, chuckwagon dinners, and music festivals in the outdoor amphitheater. Whitefish still retains the warm, friendly charm of its bygone railroading days.
With its covered sidewalk main street leading to the cultural arts center, historic depot museum, and public library, this quaint, picturesque western town offers visitors a change from the fast-paced hustle and bustle of urban life. Central Avenue is filled with a variety of quality restaurants, shopping, and night life.
Just a short drive away you'll find the real treasure of this area - Glacier National Park's pristine forests, alpine meadows, rugged mountains, and spectacular lakes. With over 700 miles of trails, Glacier is a hiker's paradise for adventurous visitors seeking wilderness and solitude. Drive the Going-to-the-Sun Road, participate in a ranger-led talk or walk, or investigate the Discovery Cabin in Apgar Village. Take a cruise to learn about geology and park history or take a guided horseback trip.
While a visit to Glacier can take days or weeks to see everything, there are many other places nearby that offer a host of different and interesting vacation options. One sight worth seeing is Glacier's sister park across the International Border, Waterton Lakes National Park. The other half of Waterton-Glacier International Peace Park, Waterton Lakes offers great hiking, scenic cruises, and scenic drives. If that is still not enough to keep you busy, there is also fly fishing, helicopter tours, golf, hot air ballooning, theater, museums, whitewater rafting, alpine slides, canopy tours, mountain biking, and more.
Glacier National Park Entry Fee: 7 day pass: $35 per vehicle (no per-person fee). Annual Pass: $70  Park entrance fees subject to change without notice.
https://www.nps.gov/glac/planyourvisit/fees.htm
In 2023, a vehicle reservation is required for four areas of the park: Going-to-the-Sun Road, the North Fork, Two Medicine, and Many Glacier. Each location has unique details and requires a separate reservation.
Please see the Vehicle Reservation page for details https://www.nps.gov/glac/planyourvisit/permitsandreservations.htm
The Lodge at Whitefish Lake
Inspired by the grand lodges of the past and surrounded by mountains with the pristine waters of Whitefish Lake at it's backdoor. The Lodge is only minutes from downtown galleries and shops of Whitefish and less than a 30-minute drive to the scenic wonders of Glacier National Park. The Lodge offers all the amenities of a full-service resort including complimentary valet parking and shuttle service to boat and personal watercraft rentals, a private beach, and relaxing spa treatments.
Both Viking Creek Rooms and Lodge Suites feature one king or two queen beds (based on availability), soaking tub and walk-in shower, complimentary high-speed Internet access, fireplace, safe, coffee maker, mini-fridge, hairdryer, and iron/board.
Viking Creek Rooms also include a microwave.
The Lodge's central location makes it easy to reach Glacier Park International Airport (FCA) (15 minutes) and is only minutes from the Whitefish Depot, served daily by Amtrak. Other gateway cities are Missoula, MT (MSO) 132 miles; Spokane, WA (GEG) 261 miles; Calgary, Alberta, Canada (YYC) 293 miles.
TARGET AUDIENCE
This course is designed for physicians, physician assistants, nurse practitioners, registered nurses, and all other medical care providers who must maintain state-of-the-art knowledge of the critical care specialty or are impacted by it.
PROGRAM PURPOSE
The practitioner of critical care medicine must possess the scientific background for clinical practice; maintain state-of-the-art knowledge of not only the specialty, but also of all additional related disciplines which may impact it; maintain an up-to-the-minute armamentarium of knowledge and skills for the selection and use of complex equipment, pharmacological agents, and procedures necessary for the provision of quality patient care; manage self and colleagues to function toward common goals in the clinical setting, clinical and educational institutions, and the community in which the practice resides; serve as an expert in matters involving health care delivery; serve as an informed manager of clinical and educational services provided, including the acquisition and distribution of resources necessary in meeting professional goals; and provide assistance with and support of other service providers, departments, institutions, and organizations dependent upon the professional expertise of the practitioner.
Presentations are designed to facilitate the healthcare provider maintaining skills of the same kind to review and update knowledge and abilities in one or more of these areas vital to the practicing professional.
OBJECTIVES
At the conclusion of this activity, the participant will be able to:
Apply the pertinent physical and behavioral sciences as they impact and are affected by the planning, delivery, and monitoring of critical care services.
Explain the selection, dosing considerations with methods of administration, safe use, and contraindications and precautions of drugs based on their chemical and pharmacologic properties.
Outline comprehensive management plans for the group of patients discussed, whether related in age, physical status, cultural background, invasive procedure, anesthetic or analgesic requirements, clinical setting, adverse reactions, and/or goals of care.
Apply the principles of safety and asepsis in the performance of all aspects of patient care regardless of the clinical environment in which the practice resides.
Incorporate
the appropriate recommendations and/or requirements of pertinent external organizations, institutions, and professional groups in the provision of critical care services, whether medical, legal, philosophical, ethical, or health care management standards.
Critical Care: The Team Approach
Glacier National Park (Whitefish), Montana
August 7-11, 2023

Monday, August 7

0700
Registration - Mandatory Sign In - Continental Breakfast
0725
Welcome
NWS Staff
0730
Mechanical Ventilation: Does the Mode Matter?
L.Morrow
0830
Ventilator Graphics
L.Morrow
0930
Break
0945
Airway Management in the ICU: What You See Is Not What You Get
R.Dudaryk
1045
Colloids vs. Crystalloids in the ICU: The Sterling Equation Does Not Hold Water
R.Dudaryk
1145
Applied Respiratory Physiology for Critical Care
S.Akhtar
1245
Adjourn

Tuesday, August 8

0700
Registration - Mandatory Sign In - Continental Breakfast
0730
Sedation (Propofol, Ketamine, Dexmedetomidine) in the ICU
S.Akhtar
0830
Pharmacological Management of Delirium
S.Akhtar
0930
Break
0945
The Surviving Sepsis Campaign: Perpetuating Myths Since 2001
L.Morrow
1045
Managing the Obese ICU Patient
L.Morrow
1145
Periprocedural Management of Anticoagulation in the ICU
R.Dudaryk
1245
Adjourn

Wednesday, August 9 - Day Open

Thursday, August 10

0700
Registration - Mandatory Sign In - Continental Breakfast
0730
Managing Organ Donors in Your ICU
L.Morrow
0830
The Dunning-Kruger Effect: Why That Loser You Work With Thinks He Is the Smartest Guy in the Room

L.Morrow
0930
Break
0945
Antimicrobial Stewardship
L.Morrow
1045
Glycemic Control in Critical Care
S.Akhtar
1145
Emergent Reversal of Direct Oral Anticoagulants
S.Akhtar
1245
Adjourn

Friday, August 11

0700
Registration - Mandatory Sign In - Continental Breakfast
0730
Postoperative Respiratory Failure or Discretional Postoperative Mechanical Ventilation: Why Surgical Patients Arrive Intubated to the ICU

R.Dudaryk
0830
Vasopressors in Hypovolemic Shock: Squeezing the Empty Tank
R.Dudaryk
0930
Break
0945
Goal-Directed Fluid Therapy in the ICU
R.Dudaryk
1045
Perioperative Myocardial Infarction
S.Akhtar
1145
Geriatric Critical Care: Focus on Cardiopulmonary Complications
S.Akhtar
1245
Adjourn

20 CME

20 Class A CE

20 CE

8.8 Pharmacology Hours†

Refreshments served at the meeting are for registered attendees only.
Rev. 1/30/23
FACULTY

Shamsuddin Akhtar, MD
Section Chief, Critical Care Anesthesiology Fellowship
Professor, Department of Anesthesiology and Pharmacology
Director Anesthesia Critical Care
Past-President Society for Advancement of Geriatric Anesthesia
Yale School of Medicine
New Haven, Connecticut
Roman Dudaryk, MD
Professor of Clinical Anesthesiology
Division of Trauma Anesthesia / Critical Care Medicine
Co-Director Trauma Intensive Care Unit
Director of Quality, Department of Anesthesiology
University of Miami / Jackson Memorial Hospital
Miami, Florida
Lee Morrow, MD, MSc, FCP, FCCP, ATSF, FCCM
Professor of Medicine and Pharmacology
Pulmonary and Critical Care Fellowship Director
Creighton University
Chief of Pulmonary and Critical Care
Nebraska-Western Iowa VA Medical Center
Omaha, Nebraska
PROGRAM COORDINATOR
(non-speaking role)
Stuart Lowson, BSc, MBBs, MRCP, FRCA
Associate Professor of Anesthesiology
Co-Director Surgical Trauma ICU
University of Virginia
Charlottesville, Virginia
ACCREDITATION
Northwest Anesthesia Seminars / Northwest Seminars is accredited by the Accreditation Council for Continuing Medical Education (ACCME) to provide continuing medical education for physicians.
Northwest Anesthesia Seminars / Northwest Seminars designates this live activity for a maximum of 20 AMA PRA Category 1 Credit(s)™. Physicians should claim only the credit commensurate with the extent of their participation in the activity.
American Board of Anesthesiology: This activity contributes to the CME component of the American Board of Anesthesiology's redesigned Maintenance of Certification in Anesthesiology™ (MOCA®) program, known as MOCA 2.0®. Please consult the ABA website, www.theABA.org, for a list of all MOCA 2.0® requirements.
Canadian Physicians: This activity is eligible for Section 1 credits in the Royal College's Maintenance of Certification (MOC) Program. Participants must log into MAINPORT to claim this activity.
Certified Registered Nurse Anesthetists: This program has been prior approved by the American Association of Nurse Anesthesiology for 20 Class A CE credits; AANA approval number 1042308; Expiration Date 08/11/2023.
Nurse Practitioners: The American Academy of Nurse Practitioners Certification Program (AANPCP) and the American Nurses Credentialing Center (ANCC) accept CME from organizations accredited by the ACCME.
Osteopathic Physicians: This program is eligible for Category 2 credit with the American Osteopathic Association (AOA).
Physician Assistants: The American Academy of Physician Assistants (AAPA) accepts certificates of participation for educational activities certified for AMA PRA Category 1 Credit™ from organizations accredited by ACCME or a recognized state medical society. Physician assistants may receive a maximum of 20 hours of Category I credit for completing this program.
Registered Nurses: NWAS/NWS is an approved provider for the following state nursing boards: Arkansas State Board of Nursing (Provider Number 50-7480), District of Columbia Board of Nursing (Provider Number 50-7480), Florida Board of Nursing (Provider Number 50-7480), Georgia Board of Nursing (Provider Number 50-7480), and the South Carolina Board of Nursing (Provider Number 50-7480).
The AANA is an approved provider by the California Board of Registered Nursing, CEP #10862.
This program offers 20 contact hours.
†Pharmacology hours subject to change.
COURSE DIRECTOR
Mark T. Murphy, MD, MSN Education, LLC, Treasure Island, Florida, Medical Director, Northwest Seminars, Pasco, Washington
SCHEDULE AND FACULTY CHANGES
Factors beyond our control sometimes necessitate changes in the schedule and faculty. If time permits, we will inform all registrants of any changes prior to the program. Changes on site due to local conditions will be announced in class.
COURSE CANCELLATION BY PROVIDER
We reserve the right to cancel a course for any reason. In such case, a minimum of days notice will be given to those registered and 100% of tuition paid will be refunded. NWAS/NWS and NWWT will not be responsible for any non-refundable airfare, hotel, or other liabilities you may incur. We highly recommend purchase of travel insurance. Travel at your own risk.

COURSE CANCELLATION FEE
$100 June 8, 2023 to July 8, 2023. No refund after July 8, 2023; however, 50% of tuition paid may be applied toward tuition for another NWS/NWAS program within the next 12 months. Cancellation must be made in writing. No tuition credit or refund will be issued for attendees that are no-shows for the program.
FAP (Frequent Attendee Points)
We value your patronage and have a simple program to reward you. Our Frequent Attendee Points (FAP) program gives you an added bonus for money spent on our seminars, as well as cruise cabins booked through our in-house travel agency, Northwest Worldwide Travel.
You are automatically enrolled in this program with your paid registration. Click here for more information.
*Effective January 1, 2023, net hotel stays for 2023 and beyond will no longer be included in FAP calculations.
Lecture notes will be provided via download in PDF format.
You must sign-in every day you attend to receive credit.
While we strive for accuracy at all times with our published information, we cannot be responsible for typographical and other errors.
Please note that children and non-registered guests are not allowed to attend the lectures. The concierge can provide you with childcare information.
Travel at your own risk.
REGISTER EARLY
We recommend that you register early to assure your spot. We reserve the right to close registrations to a course at any time without notice. We may not be able to accommodate onsite registrations.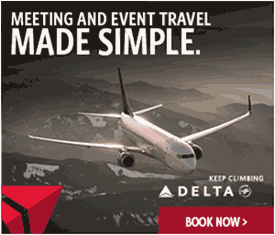 For flights in 2023:

Delta Air Lines is pleased to offer special discounts for Northwest Anesthesia Seminars / Northwest Seminars.
Please click here to book your flights.
You may also call Delta Meeting Network® at 1-800-328-1111* Monday-Friday, 8:00 a.m. - 6:30 p.m. (EST) and refer to Meeting Event Code NM2NH
*Please note there is not a service fee for reservations booked and ticketed via the Delta Meeting Network® reservation 800 number.