Yosemite National Park (Fish Camp), California
Yosemite embraces a spectacular tract of the Sierra Nevada, which was set aside as a national park in 1890. As the crown jewel of the National Park system, Yosemite has been an unforgettable scenic wonder and vacation destination for over one hundred years. Here you will find sheer walls of granite, numerous waterfalls, towering Sequoias, and a ceramic blue sky.
Yosemite Valley, about 3,000 feet deep and just a mile or two wide, is known for its landmark rock formations. Half Dome is perhaps the most recognized symbol of Yosemite, rising over 4,000 feet above the Valley floor. Most people agree that the vista views of the high country and Yosemite Valley, including Half Dome and three waterfalls, are the most spectacular in the park.
Yosemite is home to a variety of animals, though they're not always easy to find. Find a quiet spot during early morning or early evening and you may catch a glimpse of wildlife in action, including bear, raccoon, coyote, and deer. With museums, historic buildings, and cemeteries, Yosemite National Park is rich in cultural history. Far from city lights, the dark night sky is kept bright by the countless stars.
Take your pick of over 150 activities such as hiking, horseback riding, wagon safari, jeep tours, fishing, swimming, painting, photography, mountain climbing, wall climbing, logging train rides, white water rafting, bird watching, shopping, spa treatments, panning for gold, or cross country, trail, and downhill mountain biking.
The park is approximately 1-1/2 hours from Fresno Yosemite International Airport (FAT) and 3-1/2 to 4 hours from both Oakland International Airport (OAK) and San Francisco International Airport (SFO). Having a rental car is suggested to give you full access to all the park has to offer.
Tenaya Lodge at Yosemite
Just a few minutes from the south entrance to the park, Tenaya Lodge offers a scenic and tranquil setting with amenities you crave such as delightful restaurants, indoor and outdoor pools, a fitness center and a top notch spa. The Lodge's expert activities staff and Guest Experience Center can book you into a variety of alpine activities. Premium Guest Rooms are located inside the main lodge building and offer 350 square feet with 1 king or 2 queen beds with luxurious down bedding. You'll enjoy preferred views of Tenaya's mountainous surroundings, upgraded bathrooms and updated décor.
For those that prefer even more space, the Tenaya Lodge Explorer cabins offer the best of both worlds - space for the whole family plus access to all the resort amenities. Cabins are located on 27 forested acres where you'll be able to reconnect with nature and breathe in the fresh mountain air just outside your doorstep.The Explorer Clubhouse is only about a 10-minute walk along a quiet path from the main lodge if you want to eat out, get a massage, or play in the pool. If you don't want to walk, take the convenient shuttle service (operating 24 hours a day), or make the quick trip in your car.
All cabins are approximately 560 square feet with 2 bedrooms, living room, and a 90-square-foot covered porch, wetbar area with a compact fridge and freezer, microwave and a Keurig coffee maker. (Please note: cabins do not include an oven, range or cooking utensils). Deluxe cabins are toward the interior of the grounds and offer a large walk-in shower, King bed in the main bedroom and a Queen bed in second room. Premium Cabins feature all the amenities of the Deluxe Cabins, but are in premium locations facing the creek, meadow, or pond.
From the grand lobby to the graciously appointed guest rooms, you'll find the best national park experience during your stay at the Tenaya Lodge.
PARK ENTRY FEE: 7 day pass: $35 per vehicle (no per-person fee). Annual Pass: $70
http://www.nps.gov/yose/planyourvisit/fees.htm 
Reservations for entry to Yosemite National Park will no longer be necessary in 2023.
For more information, visit https://www.nps.gov/yose/index.htm
Park entrance fees subject to change without notice.
TARGET AUDIENCE
This course is designed for physicians, physician assistants, nurse practitioners, registered nurses, and all other medical care providers who must maintain state-of-the-art knowledge of the emergency medicine specialty or are impacted by it.

PROGRAM PURPOSE
The practitioner of emergency medicine must possess evidence-based scientific background for competent clinical practice; maintain state-of-the-art knowledge of the specialty and all additional related disciplines; maintain an up-to-the-minute armamentarium of knowledge and skills for the selection and use of complex equipment, pharmacological agents, and procedures; manage self and colleagues to function toward common goals in providing consistent care in all settings in which emergency care is provided; serve as an expert in matters involving quality, safe and equitable health care delivery and support of other service providers, departments, institutions, and organizations dependent upon professional expertise.
Presentations are designed to facilitate the acquisition of cognitive and technical skills as defined through evidence-based data translated to best practice standards by the pertinent governmental and professional organizations including the American College of Emergency Physicians, American College of Surgeons and the Emergency Nurses Association and abilities in one or more of the disciplines vital to the practicing professional.
OBJECTIVES
At the conclusion of this activity, the participant will be able to:
Apply the pertinent physical and behavioral sciences as they impact and are affected by the planning, delivery, and monitoring of services inherent in the professions
Explain the selection, dosing considerations with methods of administration, safe use, contraindications and precautions of drugs based on their chemical and pharmacologic properties
Outline comprehensive patient management plans for the special patient population discussed
Apply the principles of safety and asepsis in the performance of all aspects of patient care regardless of the clinical environment in which the practice resides
Incorporate the published tenets of pertinent, recognized external organizations, institutions, and professional groups defining medical, legal, philosophical, ethical, and health care management standards.
Topics in Emergency Medicine
Yosemite National Park (Fish Camp), California
September 16-20, 2024

Monday, September 16

0700
Registration - Mandatory Sign In - Continental Breakfast
0725
Welcome
NWS Staff
0730
Ortho Pitfalls: Just Take Some Ibuprofen, You'll Be Fine
M.Abraham
0830
The Other "MI": Intestinal Angina and Mesenteric Ischemia
D.Gatz
0930
Break
0945
Biggest ID Pitfalls in Evaluation and Management of Adult ED Patients
J.Perkins
1045
The Five Most Common and Serious Mistakes Made in the Care of the Septic Patient
J.Perkins
1145
Did I Pass Out?
D.Gatz
1245
Adjourn

Tuesday, September 17

0700
Registration - Mandatory Sign In - Continental Breakfast
0730
Rational Approach to Geriatric Abdominal Pain
J.Perkins
0830
Time-Sensitive Oncologic Emergencies
J.Perkins
0930
Break
0945
How NOT to Harm Your Geriatric Patient Who Is Altered
J.Perkins
1045
Neurology Literature Updates: Talk Neuro to Them
M.Abraham
1145
Trauma 101: Is ATLS All You Got?
M.Abraham
1245
Adjourn

Wednesday, September 18 - Day Open

Thursday, September 19

0700
Registration - Mandatory Sign In - Continental Breakfast
0730
Saving Every Last Neuron: TBI Management in the ED
M.Abraham
0830
Cardiac Procedure Bounce Backs
D.Gatz
0930
Break
0945
Tearing Me Up: Aortic Dissection
D.Gatz
1045
My Head Is Going to Explode: BP in Neurologic Emergencies
M.Abraham
1145
Afib in the ED
D.Gatz
1245
Adjourn

Friday, September 20

0700
Registration - Mandatory Sign In - Continental Breakfast
0730
Clots, Chaos, and Cardiovascular Collapse: Confronting PE in the ED
D.Gatz
0830
Shaken Not Stirred: Craft Cocktails or Seizure Care
M.Abraham
0930
Break
0945
Remember That Patient Last Night You Admitted to the Wrong Level of Care?
J.Perkins
1045
So You've Been Sued?
M.Abraham
1145
Clinical Questions for the Team: Challenging Cases and Awkward Pictures
M.Abraham / D.Gatz / J.Perkins
1245
Adjourn

20 CME

20 Class A CE

20 CE

4.3 Pharmacology Hours†

Refreshments served at the meeting are for registered attendees only.
Rev. 10/5/23
FACULTY
Michael Abrahams, MD, MS
Adjunct Assistant Professor
Department of Emergency Medicine
University of Maryland School of Medicine
Chair – Emergency Medicine
University of Maryland Upper Chesapeake Health System
Bel Air, Maryland
Program Coordinator
J. David Gatz, MD, FAAEM, FACEP
Assistant Professor
Department of Emergency Medicine
University of Maryland School of Medicine
Associate Medical Director – Adult Emergency Department
University of Maryland Medical Center
Baltimore, Maryland
Jack Perkins, MD, FAAEM, FACEP
Associate Professor of Emergency Medicine
Virginia Tech Carilion School of Medicine
Assistant Program Director
Virginia Tech Carilion Emergency Medicine Residency
Roanoke, Virginia
ACCREDITATION
Northwest Anesthesia Seminars / Northwest Seminars is accredited by the Accreditation Council for Continuing Medical Education (ACCME) to provide continuing medical education for physicians.
Northwest Anesthesia Seminars / Northwest Seminars designates this live activity for a maximum of 20 AMA PRA Category 1 Credit(s)™. Physicians should claim only the credit commensurate with the extent of their participation in the activity.
Approved by the American College of Emergency Physicians for 20 hour(s) of ACEP Category I credit.
American Board of Anesthesiology: This activity contributes to the CME component of the American Board of Anesthesiology's redesigned Maintenance of Certification in Anesthesiology™ (MOCA®) program, known as MOCA 2.0®. Please consult the ABA website, www.theABA.org, for a list of all MOCA 2.0® requirements.
Canadian Physicians: This activity is eligible for Section 1 credits in the Royal College's Maintenance of Certification (MOC) Program. Participants must log into MAINPORT to claim this activity.
Certified Registered Nurse Anesthetists: This program has been prior approved by the American Association of Nurse Anesthesiology for 20 Class A CE credits; AANA approval number 1043829; Expiration Date 09/20/2024.
Nurse Practitioners: The American Academy of Nurse Practitioners Certification Program (AANPCP) and the American Nurses Credentialing Center (ANCC) accept CME from organizations accredited by the ACCME.
Osteopathic Physicians: This program is eligible for Category 2 credit with the American Osteopathic Association (AOA).
Physician Assistants: The American Academy of Physician Assistants (AAPA) accepts certificates of participation for educational activities certified for AMA PRA Category 1 Credit™ from organizations accredited by ACCME or a recognized state medical society. Physician assistants may receive a maximum of 20 hours of Category I credit for completing this program.
Registered Nurses: NWAS/NWS is an approved provider for the following state nursing boards: Arkansas State Board of Nursing (Provider Number 50-7480), District of Columbia Board of Nursing (Provider Number 50-7480), Florida Board of Nursing (Provider Number 50-7480), Georgia Board of Nursing (Provider Number 50-7480), and the South Carolina Board of Nursing (Provider Number 50-7480).
The AANA is an approved provider by the California Board of Registered Nursing, CEP #10862.
This program offers 20 contact hours.
†Pharmacology hours subject to change.
COURSE DIRECTOR
Mark T. Murphy, MD, MSN Education, LLC, Treasure Island, Florida, Medical Director, Northwest Seminars, Pasco, Washington
SCHEDULE AND FACULTY CHANGES
Factors beyond our control sometimes necessitate changes in the schedule and faculty. If time permits, we will inform all registrants of any changes prior to the program. Changes on site due to local conditions will be announced in class.
COURSE CANCELLATION BY PROVIDER
We reserve the right to cancel a course for any reason. In such case, a minimum of days notice will be given to those registered and 100% of tuition paid will be refunded. NWAS/NWS and NWWT will not be responsible for any non-refundable airfare, hotel, or other liabilities you may incur. We highly recommend purchase of travel insurance. Travel at your own risk.

COURSE CANCELLATION FEE
$100 July 18, 2024 to August 17, 2024. No refund after August 17, 2024; however, 50% of tuition paid may be applied toward tuition for another NWS/NWAS program within the next 12 months. Cancellation must be made in writing. No tuition credit or refund will be issued for attendees that are no-shows for the program.
FAP (Frequent Attendee Points)
We value your patronage and have a simple program to reward you. Our Frequent Attendee Points (FAP) program gives you an added bonus for money spent on our seminars, as well as cruise cabins booked through our in-house travel agency, Northwest Worldwide Travel.
You are automatically enrolled in this program with your paid registration. Click here for more information.
*Effective January 1, 2023, net hotel stays for 2023 and beyond will no longer be included in FAP calculations.
Lecture notes will be provided via download in PDF format.
You must sign-in every day you attend to receive credit.
While we strive for accuracy at all times with our published information, we cannot be responsible for typographical and other errors.
Please note that children and non-registered guests are not allowed to attend the lectures. The concierge can provide you with childcare information.
Travel at your own risk.
REGISTER EARLY
We recommend that you register early to assure your spot. We reserve the right to close registrations to a course at any time without notice. We may not be able to accommodate onsite registrations.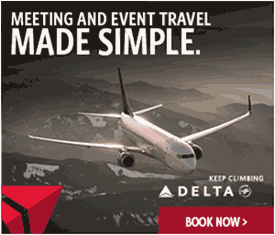 For flights in 2024:

Delta Air Lines is pleased to offer special discounts for Northwest Anesthesia Seminars / Northwest Seminars.
Please click here to book your flights.
You may also call Delta Meeting Network® at 1-800-328-1111* Monday-Friday, 8:00 a.m. - 6:30 p.m. (EST) and refer to Meeting Event Code NM36A
*Please note there is not a service fee for reservations booked and ticketed via the Delta Meeting Network® reservation 800 number.