7-Night Alaska Dawes Glacier Cruise



Itinerary

Day
Date
Port of Call
Arrival*
Departure*
Activity
Sun
Jun 23, 2024
Vancouver, British Columbia, Canada
-
4:30 PM
Embark
Mon
Jun 24, 2024
Scenic Cruising Inside Passage
-
-
Tue
Jun 25, 2024
Icy Strait Point, Alaska
1:30 PM
10:00 PM
Docked
Wed
Jun 26, 2024
Skagway, Alaska
7:00 AM
8:30 PM
Docked
Thu
Jun 27, 2024
Scenic Cruising Dawes Glacier - Endicott Arm
-
-
Thu
Jun 27, 2024
Juneau, Alaska
1:30 PM
8:30 PM
Docked
Fri
Jun 28, 2024
Ketchikan, Alaska
2:00 PM
8:30 PM
Docked
Sat
Jun 29, 2024
Scenic Cruising Inside Passage
-
-
Sun
Jun 30, 2024
Vancouver, British Columbia, Canada
6:00 AM
Disembark
*Embark/Departure/Disembark times subject to change.
Vancouver, British Columbia, Canada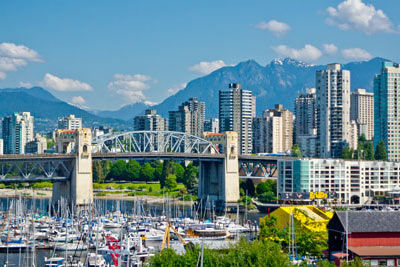 Among the world's most liveable cities - diverse, cultural, beautiful - this culinary capital treats you to fresh local seafood, farm-to-table produce, and authentic Asian flavors. West Coast architecture - modernism with a woodsy bent - emerged here. But while downtown shines with steel and glass, its epicenter is green Stanley Park, a 1,000-acre oasis of spectacular beaches, trails, and views. North of town, ride scenic Sea to Sky Highway along the coast and through the forest toward Whistler, 2,200 feet above sea level. On your way, behold lofty Shannon Falls and brave the heart-pounding Sky Pilot Suspension Bridge.

Scenic Cruising Inside Passage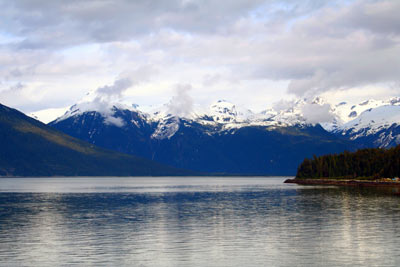 You'll sail beyond the Inside Passage into the more protected Alaska Inside Passage in southeastern Alaska. This complex labyrinth of fjords, bays, and lush green islands is home to an abundance of wildlife, including orca, mountain goats, bald eagles, bears, puffins, sea otters and much more. During the summer months, the long hours of daylight allow for ample opportunities for nature photos on your Inside Passage Cruise. You'll never forget the sight of 40-ton whales hurling themselves into the air, almost completely escaping the water. If you're especially lucky, you could see them swimming together to create a bubble net, trapping and eating fish by the giant mouthful.

Icy Strait Point, Alaska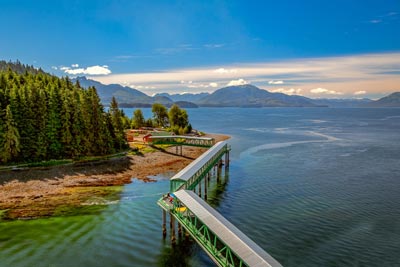 For thousands of years, the Tlingit Indians have called this place home. Located near the city of Hoonah, and home to a historic cannery, Icy Strait Point also offers travelers the chance to view wildlife like humpback whales, orcas, seals, eagles, and brown bears, or to explore monuments to the region's fishing heritage.
Skagway, Alaska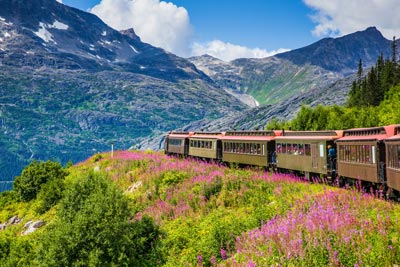 The great Klondike Gold Rush lives on in Skagway's charming downtown of restored 19th-century buildings and its historic railway. Located on the edge of the wilderness, this small town saw its fair share of gold rush, get rich dreamers pass through. Today, it's residents are more than welcome to share the stories of its untamed past. And there's so much fascinating history to uncover on a Skagway cruise. Head to Klondike Gold Rush National Park Museum for an in-depth look at Klondike and the two routes out of Skagway – Chilkoot Pass and White Pass. From the vintage train, admire the mountains and see the 1898 trail that fortune seekers traveled on foot. The White Pass & Yukon Route Railroad runs the vintage locomotives through the famously steep Chilkoot Trail and offers sweeping mountain views during its climb toward Canada.
Scenic Cruising Endicott Arm Fjord - Dawes Glacier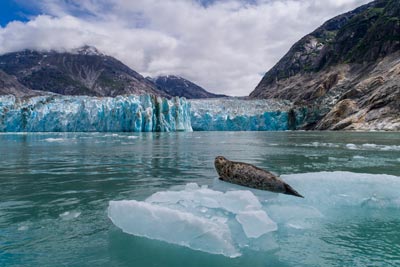 Alaska's Endicott Arm Fjord marks the southern edge of the 653,179-acre Tracy Arm-Fords Terror Wilderness area. As you sail through its 30-mile-long stretch, you can't help but be amazed by the untouched beauty of the surrounding granite mountains, verdant valleys and numerous waterfalls. Drifting icebergs, deep blue waters and a spectacular tidewater glacier only add to this natural spectacle's appeal. Endicott Arm is one of the largest breeding grounds for harbor seals on the planet. Keep your eyes open for these creatures splashing in icy waters near the ship or floating with their pups on giant chunks of ice. Along the shore you might also glimpse brown bears, bald eagles, sea ducks, deer, moose and wolves. Your journey through scenic Endicott Arm Fjord ends with a front-row view of the striking Dawes Glacier. Standing over 600 feet tall and a half-mile wide, this very active icecap is known for its spectacular calving displays which noisily produce huge, chunky icebergs that float in area waters. Remember to dress in wind-resistant layers for viewing scenery outside on deck.
Juneau, Alaska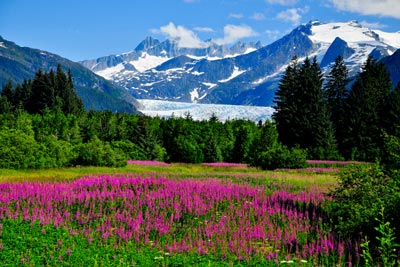 Cruise to Juneau, Alaska and visit the most remote, most beautiful and strangest state capital in the United States. Surrounded by water, forest and mountain sights, visitors seeking things to do in Juneau indoors and outdoors can hike a glacier, eat fresh-caught fish on a seaside patio and tour a grand capitol building all in one day.
Juneau is known for its outdoor recreation, fresh seafood and fine dining. The city itself is pleasant, but the real highlight of a visit to Juneau is tracking down some wildlife. You can hike up Mount Roberts to chance upon wild deer and bald eagles. Most sightseeing and whale-watching tours head north to Auke Bay - bring a good pair of binoculars to get the best view of these majestic and surprisingly graceful creatures. If you prefer land mammals, catch a floatplane to a nearby wildlife reserve such as Chichagof or Admiralty Island to spy some bears lolling around on Alaska cruise excursion. The sleepy, misty city of around 32,000 - mostly fishermen and small-business owners - has a frontier town vibe, but welcomes more than a million visitors each summer to its natural attractions, cementing Juneau as Alaska's number-one tourist destination. Experience this breathtaking city on an Alaska cruise.
Ketchikan, Alaska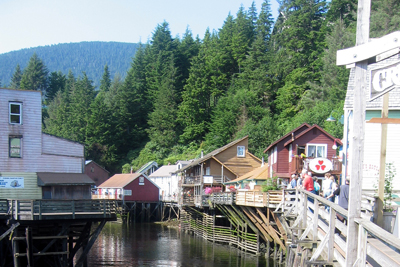 You've never tasted salmon so fresh. Known as the 'Salmon Capital of the World', Ketchikan is also the ancestral home of the Tlingit people, who have carved the world's largest collection of totem poles. If you're up for an adventure, take a canoe and nature trail excursion through the rain forest or a wilderness exploration followed by a sumptuous crab feast you'll long remember.
The Ship: Celebrity Solstice®

Celebrity Solstice® is one of Celebrity Cruises' most decorated ships, with elegant designs everywhere you turn. A passion for outstanding cuisine takes the onboard dining experience to a whole new level and our luxurious staterooms are sure to bring the comfort of your home, out to sea. Celebrity Cruises makes sure to make life on this vessel exceptional.
Experience a vacation like no other aboard Celebrity Solstice. Relax and enjoy unforgettable spaces, world-class amenities, and all of the distinct features that make Celebrity Cruises so extraordinary. Enjoy all of the award-winning onboard experiences as you make our way to incredible destinations. Enjoy dining options that include distinctive restaurants with menus crafted by Michelin-starred chef and the most awarded wine collection at sea. Play your favorite outdoor games, catch a concert, or just take in some sun at The Lawn Club. Invigorate your senses and discover an amazing level of soothing spa treatments at The Spa. Relax, rest, and recharge aboard Celebrity Solstice and we'll take care of every detail, so all you have to do is enjoy your vacation.
Celebrity Solstice is now equipped with Starlink internet service by SpaceX, bringing you high speed connectivity. Enjoy faster, more reliable internet onboard.
Signature features of Celebrity Solstice include:
Grand Épernay Restaurant: The airy Main Restaurant offers exquisite menu selections, which change nightly to give you a variety of classic and contemporary choices. And the service? Legendary.
The Martini Bar: Sit back and relax, listening to up-tempo tunes and enjoying a collection of rare vodkas and a portfolio of fine caviars.
Ensemble Lounge: Ensemble Lounge is the ideal setting for an aperitif en route to an extraordinary dining experience, or a digestif afterward.
Sky Observation Lounge: A unique music venue with spectacular ocean views. The perfect daytime spot to gaze over the sea with a cocktail in hand and dance the night away after the sun sets.
Fortunes Casino: Relax, recharge, and play the hottest slots and table games at Fortunes Casino. It offers a sophisticated ambiance and a captivating atmosphere that comes alive with plenty of action.
Camp at Sea: For our Camp at Sea program, we've designed more than 500 activities that make every sailing a brand new experience and an unforgettable memory for our junior cruisers.
Fitness Center: Bring your workout routine along on your modern luxury vacation and enjoy a variety of new fitness classes and seminars along with world class cruise fitness amenities.
Shops on Solstice: Celebrity's European-inspired piazza and elegant galleria hold riches of chic sophistication. Marble walkways lead you to modern boutiques and fine jewelry stores.
Art Gallery: When you visit the Art Gallery, you'll be surrounded with one of the world's largest permanent collections of contemporary art, accompanied by a complete art program.
The Lawn Club: Who said grass can't be on a ship? Enjoy a friendly pick-up game of leisure sports like Croquet, Bocce, golf putting, Blongo or Baggo.
Adults-only Solarium: A serenely beautiful adults-only pool and hot tub experience, The Solarium let's you relax and daydream of the next destination you'll be exploring.

Veranda Stateroom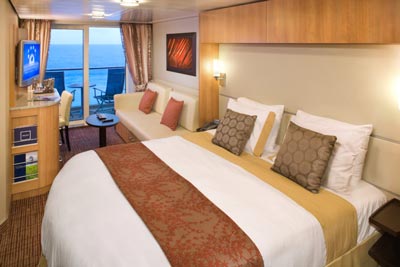 Ample indoor and outdoor space come together to create your private sanctuary at sea. Your personal veranda lets you greet the day, soak in breathtaking sunsets, and enjoy fresh sea breezes.
Ocean View Stateroom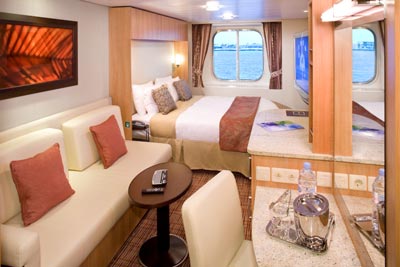 Expansive views make Ocean View Staterooms on the Celebrity Sostice the ideal place to unwind at sea. These perfectly indulgent spaces come furnished with Celebrity's eXhale bedding featuring a queen-size Cashmere™ Mattress and everything else a modern traveler needs.

Inside Stateroom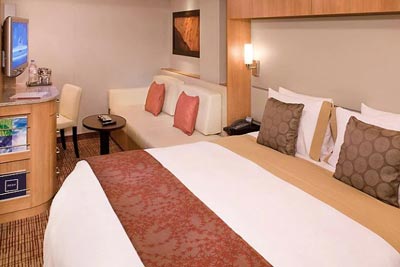 Your escape at sea, Inside Staterooms offer ample living space, including a sitting area and a flat screen TV. Each inside stateroom on board Celebrity Solstce includes world-class amenities.
Photos and renderings of guestrooms are representative of the general design and view of the rooms.
The exact layout and view in any of the guestroom photos are not guaranteed.

We have a block of cabins for seminar participants.
Once this block is sold, cabins are on availability only and may be at a higher rate.
Cruises sell out early
Travel Arrangements
To receive these discounted cruise fares you must book your cruise through us. We have all of the information regarding the cruise and seminar and can make your cruise reservations.

Reservations
Reservations will be secured and cabins assigned upon receipt of passenger deposit of $500 per cabin. Final payment as instructed by our travel agent. Due to the number of details needed to complete cruise cabin booking accurately, a cabin will not be booked for you until you have spoken with one of our cruise agents via phone or via direct email correspondence. Please contact our office at 1-800-222-6927 or 1-509-547-7065 to complete your cruise reservation.
Discounted Fares
We have been able to negotiate a GREAT DISCOUNT for you on this luxurious cruise! See reservation form for details. ALWAYS CALL US BEFORE BOOKING ANYWHERE ELSE: (800) 222-6927

TARGET AUDIENCE
This course is designed for physicians, physician assistants, nurse practitioners, registered nurses, and all other medical care providers who must maintain state-of-the-art knowledge of the emergency medicine specialty or are impacted by it.
PROGRAM PURPOSE
The practitioner of emergency medicine must possess evidence-based scientific background for competent clinical practice; maintain state-of-the-art knowledge of the specialty and all additional related disciplines; maintain an up-to-the-minute armamentarium of knowledge and skills for the selection and use of complex equipment, pharmacological agents, and procedures; manage self and colleagues to function toward common goals in providing consistent care in all settings in which emergency care is provided; serve as an expert in matters involving quality, safe and equitable health care delivery and support of other service providers, departments, institutions, and organizations dependent upon professional expertise. Presentations are designed to facilitate the acquisition of cognitive and technical skills as defined through evidence-based data translated to best practice standards by the pertinent governmental and professional organizations including the American College of Emergency Physicians, American College of Surgeons and the Emergency Nurses Association and abilities in one or more of the disciplines vital to the practicing professional.
OBJECTIVES
At the conclusion of this activity, the participant will be able to:
Apply the pertinent physical and behavioral sciences as they impact and are affected by the planning, delivery, and monitoring of services inherent in the professions
Explain the selection, dosing considerations with methods of administration, safe use, contraindications and precautions of drugs based on their chemical and pharmacologic properties
Outline comprehensive patient management plans for the special patient population
Apply the principles of safety and asepsis in the performance of all aspects of patient care regardless of the clinical environment in which the practice resides
Incorporate the published tenets of pertinent, recognized external organizations, institutions, and professional groups defining medical, legal, philosophical, ethical, and health care management standards.

Topics in Emergency Medicine
7-Night Alaska Dawes Glacier Cruise
June 23-30, 2024



Sunday, June 23 - Vancouver, British Columbia, Canada - Embark

1630
Ship Sails (subject to change)

Monday, June 24 - Scenic Cruising Inside Passage – Afternoon Open

0800
Registration - Mandatory Sign In
0825
Welcome
NWS Staff
0830
Interesting Emergency Medicine Cases
K.Bakes
0930
First Trimester Bleeding
K.Bakes
1030
OB Emergencies
M.Moreira
1130
OB Trauma: 2 vs. 1 Patient
M.Moreira
1230
Adjourn

Tuesday, June 25 – Icy Straight Point, Alaska – Afternoon Open

0800
Registration - Mandatory Sign In
0815
Tips for Common ED Procedures
M.Moreira
0915
Critical Procedures: When Time Is of the Essence
M.Moreira
1015
Break
1030
Vertigo
K.Bakes
1130
Acute Monocular Vision Loss
K.Bakes
1230
Adjourn

Wednesday, June 26 - Skagway, Alaska – Day Open

Thursday, June 27 – Endicott Arm Scenic Cruising / Juneau, Alaska - Afternoon Open

0800
Registration - Mandatory Sign In
0815
Pediatric Resuscitation
K.Bakes
0915
Neonatal Resuscitation
K.Bakes
1015
Break
1030
Radiographic Findings Not to Miss
M.Moreira
1130
The Art of Reducing Dislocations
M.Moreira
1230
Adjourn

Friday, June 28 - Ketchikan, Alaska - Afternoon Open

0800
Registration - Mandatory Sign In
0815
Airway Nightmares
M.Moreira
0915
Geriatric Trauma
M.Moreira
1015
Break
1030
Pediatric Trauma and Child Abuse
K.Bakes
1130
Youth Violence and Hospital-Based Violence
K.Bakes
1230
Adjourn

Saturday, June 29 – Scenic Cruising Inside Passage – Afternoon Open

0800
Registration - Mandatory Sign In
0815
Ten Articles You Should Know From the Last 5 Years
K.Bakes
0915
Management of Acute Heart Failure
K.Bakes
1015
Break
1030
The Silent Killer: Pulmonary HTN
M.Moreira
1130
Controversies in Trauma
M.Moreira
1230
Adjourn

Sunday, June 30 - Vancouver, British Columbia, Canada - Disembark

20 CME

20 Class A CE

2.5 Pharmacology Hours†

Refreshments served at the meeting are for registered attendees only.
Rev. 8/25/23
FACULTY
Katherine Bakes, MD
Emergency Medicine Physician
Rocky Mountain Regional VA Medical Center
VA Eastern Colorado Health Care Systems
U.S. Department of Veterans Affairs
Program Director, The Hummingbird Initiative
Diversity, Equity, Inclusion & Community Engagement Office
University of Colorado Anschutz Medical Campus
Aurora, Colorado
Maria E. Moreira, MD, FACEP
Medical Director of Continuing Education and Simulation
Denver Health and Hospital Authority Office of Education
Director of Professional Development and Wellbeing
Denver Health and Hospital Authority Department of Emergency Medicine
Associate Professor of Emergency Medicine
University of Colorado School of Medicine
Aurora, Colorado
Program Coordinator
ACCREDITATION
Northwest Anesthesia Seminars / Northwest Seminars is accredited by the Accreditation Council for Continuing Medical Education (ACCME) to provide continuing medical education for physicians.
Northwest Anesthesia Seminars / Northwest Seminars designates this live activity for a maximum of 20 AMA PRA Category 1 Credit(s)™. Physicians should claim only the credit commensurate with the extent of their participation in the activity.
Approved by the American College of Emergency Physicians for 20 hour(s) of ACEP Category I credit.
American Board of Anesthesiology: CME credit will be sent directly to The American Board of Anesthesiology to fulfill the Part 2 requirement for the Maintenance of Certification in Anesthesiology Program (MOCA®).
Canadian Physicians: This activity is eligible for Section 1 credits in the Royal College's Maintenance of Certification (MOC) Program. Participants must log into MAINPORT to claim this activity.
Certified Registered Nurse Anesthetists: This program has been prior approved by the American Association of Nurse Anesthesiology for 20 Class A CE credits; AANA approval number 1043709; Expiration Date 06/30/2024.
Nurse Practitioners: The American Academy of Nurse Practitioners Certification Program (AANPCP) and the American Nurses Credentialing Center (ANCC) accept CME from organizations accredited by the ACCME.
Osteopathic Physicians: This program is eligible for Category 2 credit with the American Osteopathic Association (AOA).
Physician Assistants: The American Academy of Physician Assistants (AAPA) accepts certificates of participation for educational activities certified for AMA PRA Category 1 Credit™ from organizations accredited by ACCME or a recognized state medical society. Physician assistants may receive a maximum of 20 hours of Category I credit for completing this program.
Registered Nurses: NWAS/NWS is an approved provider for the following state nursing boards: Arkansas State Board of Nursing (Provider Number 50-7480), District of Columbia Board of Nursing (Provider Number 50-7480), Florida Board of Nursing (Provider Number 50-7480), Georgia Board of Nursing (Provider Number 50-7480), and the South Carolina Board of Nursing (Provider Number 50-7480).
The AANA is an approved provider by the California Board of Registered Nursing, CEP #10862.
This program offers 20 contact hours.
†Pharmacology hours subject to change.
COURSE DIRECTOR
Mark T. Murphy, MD, MSN Education, LLC, Treasure Island, Florida, Medical Director, Northwest Seminars, Pasco, Washington
SCHEDULE AND FACULTY CHANGES
Factors beyond our control sometimes necessitate changes in the schedule and faculty. If time permits, we will inform all registrants of any changes prior to the program. Changes on site due to local conditions will be announced in class.
COURSE CANCELLATION BY PROVIDER
We reserve the right to cancel a course for any reason. In such case, a minimum of days notice will be given to those registered and 100% of tuition paid will be refunded. NWAS/NWS and NWWT will not be responsible for any non-refundable airfare, hotel, or other liabilities you may incur. We highly recommend purchase of travel insurance. Travel at your own risk.

COURSE CANCELLATION FEE
$100 April 24, 2024 to May 24, 2024. No refund after May 24, 2024; however, 50% of tuition paid may be applied toward tuition for another NWS/NWAS program within the next 12 months. Cancellation must be made in writing. No tuition credit or refund will be issued for attendees that are no-shows for the program.
FAP (Frequent Attendee Points)
We value your patronage and have a simple program to reward you. Our Frequent Attendee Points (FAP) program gives you an added bonus for money spent on our seminars, as well as cruise cabins booked through our in-house travel agency, Northwest Worldwide Travel.
You are automatically enrolled in this program with your paid registration. Click here for more information.
*Effective January 1, 2023, net hotel stays for 2023 and beyond will no longer be included in FAP calculations.
Lecture notes will be provided via download in PDF format.
You must sign-in every day you attend to receive credit.
While we strive for accuracy at all times with our published information, we cannot be responsible for typographical and other errors.
Please note that children and non-registered guests are not allowed to attend the lectures. The concierge can provide you with childcare information.
Travel at your own risk.
REGISTER EARLY
We recommend that you register early to assure your spot. We reserve the right to close registrations to a course at any time without notice. We may not be able to accommodate onsite registrations.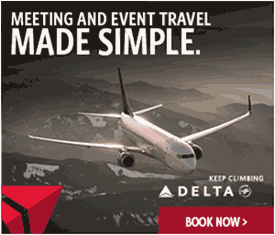 For flights in 2024:

Delta Air Lines is pleased to offer special discounts for Northwest Anesthesia Seminars / Northwest Seminars.
Please click here to book your flights.
You may also call Delta Meeting Network® at 1-800-328-1111* Monday-Friday, 8:00 a.m. - 6:30 p.m. (EST) and refer to Meeting Event Code NM2NP
*Please note there is not a service fee for reservations booked and ticketed via the Delta Meeting Network® reservation 800 number.