Snowmass, Colorado
At Snowmass, you could spend your entire trip skiing and riding its terrain without covering the same ground twice. From the choice expert terrain of Burnt Mountain Glades, High Alpine and the Cirque, to the long blue groomers and impressive beginner facilities for newcomers, it is an easy choice. With a constantly evolving mix of rails, jumps and transitions, over 100 features in total – including a 22 foot Zaugg-cut Superpipe – Snowmass has earned its reputation as one of the best snowboarding resorts on the planet.
For thrills off the slopes, look no further than the Breathtaker Alpine Coaster. Riders will wind their way through over a mile of forest on an elevated track at high speed. The all-new Snowmass Base Village boasts a five-story indoor climbing wall, a village plaza with ice-skating rink, new retail, and The Collective, a building that offers a collection of art, music, culture and activities. Taking a day off from the slopes? Explore the more than 60 miles of snowshoe trails around Aspen, Snowmass and Basalt. Snowshoeing is a great way to see the alpine forest lands.
Viewline Resort Snowmass - Autograph Collection
Viewline Resort Snowmass - Autograph Collection is an family-oriented multi-season vacation spot. This newly reimagined, up-mountain resort is in the heart of Snowmass Village near the mountain town of Aspen. Guests will enjoy the ease of unforgettable ski-in/ski-out experiences right here on the mountain as well as après ski around a glowing fireplace. The hotel offers a full array of elevated amenities, including luxurious, nature-inspired guestrooms, outdoor heated pool, full service spa and upscale fitness center.
You'll also find a variety of food and beverage selections like Stark's Alpine Grill, a casual sit-down restaurant, and grab-and-go options like Starbucks and a juice bar. Enjoy a cozy home away from home feel in freshly renovated guest rooms with amenities such as a private balcony, iPod docking station, minifridge, coffee maker, hairdryer, iron/board, safe and more.
Viewline Resort Snowmass - Autograph Collection is located approximately 8 miles from the Aspen-Pitkin County Airport (ASE), 70 miles from the Eagle County Regional Airport (EGE), and 220 miles from the Denver International Airport. Offsite parking is approximately $20 per day, Valet parking is approximately $40 per day. Parking subject to change without notice.

DISCOUNTED SKI RENTALS
Snowmass Sports is offering NWS attendees and their travel companions a 30% discount on ski rentals.*
Snowmass Sports is the only full-service ski shop located in the Viewline Snowmass Resort. Their slope-side location on the Snowmass Village mall adjacent to First Chair Coffee makes it convenient for all your rental / demo needs. They offer the latest equipment and apparel, outstanding customer service, competitive prices, and carefully maintained gear. Their knowledgeable staff strives to make sure customers are well fitted and confident in their equipment. They are also the closest shop to the mountain! Snowmass Sports has been at their current location for over 35 years and look forward to serving you in Snowmass again this ski season. Adjacent to First Chair Coffee – In the Viewline Resort. Click here to reserve.
Four Mountain Sports and Ski & Snowboard School is offering NWS attendees and their travel companions:* 
- 35% off in-resort rates when booking at least 24 hours prior to arrival.
- Ski & Snowboard School Max 5 Lessons – 15% off in-resort rates* (no booking window)
*Excludes ages 2.5-3 Program and First Time Lessons
1. Visit the group online store homepage https://groups.aspensnowmass.com/
2. Select your rentals and lessons and add to cart.
3. Once all products are added to your cart, enter your group code NWAS_2223 in the shopping cart to apply your group discount.
4. Proceed to checkout.
5. Complete all checkout steps, apply payment and complete.
Once in resort, group members must present their Aspen Card (lift ticket) to receive 25% off rentals at Four Mountain Sports and 15% off select Max 5 Lessons.
DISCOUNTED LIFT TICKETS*
Experience world-class skiing and snowboarding in Snowmass Village and Aspen. With the Aspen Snowmass Group Voucher program, guests do not have to decide in advance how many days you and your travel companions plan to ski/snowboard during your stay.
Northwest Seminar attendees and their travel companions will have access to  discount ski lift ticket vouchers which can be obtained at the hotel starting February 24, 2023 (full details will be sent to registered attendees via email prior to the meeting).  Vouchers are then redeemable at any lift ticket office to purchase your preferred number of days. Vouchers will be set-up under the Group Name and have no cash value. Discounted lift ticket rate information listed below.
Ticket Validity  Paid tickets are valid only for the dates the group has specified they will be in resort, February 25-March 5, 2023. Tickets will not work prior to the noted Group arrival date and will expire on departure of group.
Ticket Extensions  Individual guests with a group lift ticket may purchase one additional day of skiing at the discounted rate by bringing their fully-used group ticket to any Aspen Skiing Company ticket window. Guests may purchase extension days within the expiration period of the initial ticket only. Extensions may be purchased by individual group members only.
Mountain Advantage Savings (MAS) – Enjoy savings at Four Mountain Sports, D&E Retail, and participating on-mountain restaurants as well as select programs with Ski & Snowboard Schools of Aspen Snowmass with a valid group lift ticket. The group lift ticket must be presented at time of purchase to receive the discount.
Aspen Snowmass Guarantees that guests have nothing to lose, even if they do not use all their days by providing the opportunity to return partially-used lift tickets, within 14 days of expiration, and receive an in-resort credit toward future Aspen Skiing Company purchases. When unused days on lift tickets are put into an in-resort account, guests receive monetary credit of the per day price of the unused days. Guests have the current season plus the season immediately following to use their in-resort credit. This credit may be used toward purchases of lift tickets, season passes, ski and snowboard school tickets, and toward rentals at Four Mountain Sports. Credit is not valid on merchandise purchases or at restaurants. In-resort credit is transferable; guests simply need to inform Aspen Skiing Company who will use the credit and and put it in the guest's name.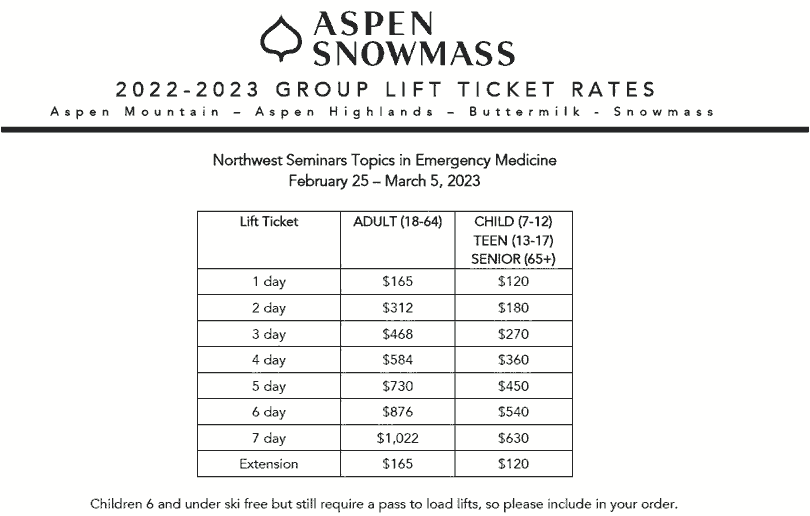 *terms and conditions apply.
TARGET AUDIENCE
This course is designed for physicians, physician assistants, nurse practitioners, registered nurses, and all other medical care providers who must maintain state-of-the-art knowledge of the emergency medicine specialty or are impacted by it.

PROGRAM PURPOSE
The practitioner of emergency medicine must possess evidence-based scientific background for competent clinical practice; maintain state-of-the-art knowledge of the specialty and all additional related disciplines; maintain an up-to-the-minute armamentarium of knowledge and skills for the selection and use of complex equipment, pharmacological agents, and procedures; manage self and colleagues to function toward common goals in providing consistent care in all settings in which emergency care is provided; serve as an expert in matters involving quality, safe and equitable health care delivery and support of other service providers, departments, institutions, and organizations dependent upon professional expertise.
Presentations are designed to facilitate the acquisition of cognitive and technical skills as defined through evidence-based data translated to best practice standards by the pertinent governmental and professional organizations including the American College of Emergency Physicians, American College of Surgeons and the Emergency Nurses Association and abilities in one or more of the disciplines vital to the practicing professional.
OBJECTIVES
At the conclusion of this activity, the participant will be able to:
Apply the pertinent physical and behavioral sciences as they impact and are affected by the planning, delivery, and monitoring of services inherent in the professions
Explain the selection, dosing considerations with methods of administration, safe use, contraindications and precautions of drugs based on their chemical and pharmacologic properties
Outline comprehensive patient management plans for the special patient population discussed
Apply the principles of safety and asepsis in the performance of all aspects of patient care regardless of the clinical environment in which the practice resides
Incorporate the published tenets of pertinent, recognized external organizations, institutions, and professional groups defining medical, legal, philosophical, ethical, and health care management standards.
Topics in Emergency Medicine
Snowmass, Colorado
February 27 - March 3, 2023

Monday, February 27

0630
Registration - Mandatory Sign In - Continental Breakfast
0655
Welcome
NWS Staff
0700
High-Risk EKGs: The Good, the Bad and the Ugly
J.Casaletto
0800
No Fibbing: AFib Management Update 2023
J.Casaletto
0900
Ski Break
1545
Registration - Mandatory Sign In
1600
Congestive Heart Failure: Saving Your Drowning Patient
M.Strehlow
1700
Crazy Cardiac Cases: Lessons From the QA Files
M.Strehlow
1800
Adjourn

Tuesday, February 28

0630
Registration - Mandatory Sign In - Continental Breakfast
0700
A Stroke of Insight: CVA Management Updates
A.Norse
0800
Double Trouble: Diplopia in the ED
A.Norse
0900
Ski Break
1545
Registration - Mandatory Sign In
1600
Syncope: Should They Stay or Should They Go?
M.Strehlow
1700
Rad! Reading Head CTs in the ED
J.Casaletto
1800
Adjourn

Wednesday, March 1

0630
Registration - Mandatory Sign In - Continental Breakfast
0700
Pediatric Shock: Managing Little Ones and Low Numbers
M.Strehlow
0800
Pediatric Fever: Updates for 2023
M.Strehlow
0900
Ski Break
1545
Registration - Mandatory Sign In
1600
Visual Diagnosis in a Young Child
A.Norse
1700
Bump or Brain Injury: Pediatric Head Injury 2023
J.Casaletto
1800
Adjourn

Thursday, March 2

0630
Registration - Mandatory Sign In - Continental Breakfast
0700
Head, Shoulders, Knees and Toes: Dislocations in the ED
A.Norse
0800
The Difficult Airway: Trauma Case Reviews
A.Norse
0900
Ski Break
1545
Registration - Mandatory Sign In
1600
What Not to Miss: Intimate Partner Violence
J.Casaletto
1700
Trauma Update 2023
J.Casaletto
1800
Adjourn

Friday, March 3

0630
Registration - Mandatory Sign In - Continental Breakfast
0700
Undifferentiated Shock: Making a Difference
M.Strehlow
0800
What's New With Sepsis?
A.Norse
0900
Break
0915
Cardiac Hardware Made Easy: LVADs to AICDs
M.Strehlow
1015
EM ENT and Dental Updates: We Can Handle the Tooth
J.Casaletto
1115
Adjourn

20 CME

20 CE

4 Pharmacology Hours†

Refreshments served at the meeting are for registered attendees only.
Rev. 1/10/23
FACULTY
Jennifer J. Casaletto, MD, FACEP
Associate Professor of Emergency Medicine
Virginia Tech-Carilion School of Medicine
Adjunct Faculty Physician
Department of Emergency Medicine
Atrium Health Carolinas Medical Center
Charlotte, North Carolina
Program Coordinator
Ashley Booth Norse, MD, FACEP
Associate Professor of Emergency Medicine
Associate Chair of Emergency Medicine
University of Florida College of Medicine Jacksonville
Jacksonville, Florida
Matthew Strehlow, MD
Associate Professor
Vice Chair of Strategy
Director, Stanford EM International
Department of Emergency Medicine
Stanford University School of Medicine
Palo Alto, California
ACCREDITATION
This activity has been planned and implemented in accordance with the accreditation requirements and policies of the Accreditation Council for Continuing Medical Education (ACCME) through the joint providership of The A. Webb Roberts Center for Continuing Medical Education of Baylor Scott & White Health and Northwest Seminars. The A. Webb Roberts Center for Continuing Medical Education of Baylor Scott & White Health is accredited by the ACCME to provide continuing medical education for physicians.
The A. Webb Roberts Center for Continuing Medical Education of Baylor Scott & White Health designates this live activity for a maximum of 20 AMA PRA Category 1 Credit(s)™. Physicians should claim only the credit commensurate with the extent of their participation in the activity.
Approved by the American College of Emergency Physicians for 20 hour(s) of ACEP Category I credit.
American Board of Anesthesiology: CME credit will be sent directly to The American Board of Anesthesiology to fulfill the Part 2 requirement for the Maintenance of Certification in Anesthesiology Program (MOCA®).
Canadian Physicians: This activity is eligible for Section 1 credits in the Royal College's Maintenance of Certification (MOC) Program. Participants must log into MAINPORT to claim this activity.
Certified Registered Nurse Anesthetists: This program has been prior approved by the American Association of Nurse Anesthesiology for 20 Class A CE credits; AANA approval number 1041904; Expiration Date 03/03/2023.
Nurse Practitioners: The American Academy of Nurse Practitioners Certification Program (AANPCP) and the American Nurses Credentialing Center (ANCC) accept CME from organizations accredited by the ACCME.
Osteopathic Physicians: This program is eligible for Category 2 credit with the American Osteopathic Association (AOA).
Physician Assistants: The American Academy of Physician Assistants (AAPA) accepts certificates of participation for educational activities certified for AMA PRA Category 1 Credit™ from organizations accredited by ACCME or a recognized state medical society. Physician assistants may receive a maximum of 20 hours of Category I credit for completing this program.
Registered Nurses: NWAS/NWS is an approved provider for the following state nursing boards: Arkansas State Board of Nursing (Provider Number 50-7480), District of Columbia Board of Nursing (Provider Number 50-7480), Florida Board of Nursing (Provider Number 50-7480), Georgia Board of Nursing (Provider Number 50-7480), and the South Carolina Board of Nursing (Provider Number 50-7480).
The AANA is an approved provider by the California Board of Registered Nursing, CEP #10862.
This program offers 20 contact hours.
†Pharmacology hours subject to change.
COURSE DIRECTOR
Mark T. Murphy, MD, MSN Education, LLC, Treasure Island, Florida, Medical Director, Northwest Seminars, Pasco, Washington
SCHEDULE AND FACULTY CHANGES
Factors beyond our control sometimes necessitate changes in the schedule and faculty. If time permits, we will inform all registrants of any changes prior to the program. Changes on site due to local conditions will be announced in class.
COURSE CANCELLATION BY PROVIDER
We reserve the right to cancel a course for any reason. In such case, a minimum of days notice will be given to those registered and 100% of tuition paid will be refunded. NWAS/NWS and NWWT will not be responsible for any non-refundable airfare, hotel, or other liabilities you may incur. We highly recommend purchase of travel insurance. Travel at your own risk.

COURSE CANCELLATION FEE
$100 December 29, 2022 to January 28, 2023. No refund after January 28, 2023; however, 50% of tuition paid may be applied toward tuition for another NWS/NWAS program within the next 12 months. Cancellation must be made in writing. No tuition credit or refund will be issued for attendees that are no-shows for the program.
FAP (Frequent Attendee Points)
We value your patronage and have a simple program to reward you. Our Frequent Attendee Points (FAP) program gives you an added bonus for money spent on our seminars, as well as cruise cabins booked through our in-house travel agency, Northwest Worldwide Travel.
You are automatically enrolled in this program with your paid registration. Click here for more information.
*Effective January 1, 2023, net hotel stays for 2023 and beyond will no longer be included in FAP calculations.
Lecture notes will be provided via download in PDF format.
You must sign-in every day you attend to receive credit.
While we strive for accuracy at all times with our published information, we cannot be responsible for typographical and other errors.
Please note that children and non-registered guests are not allowed to attend the lectures. The concierge can provide you with childcare information.
Travel at your own risk.
REGISTER EARLY
We recommend that you register early to assure your spot. We reserve the right to close registrations to a course at any time without notice. We may not be able to accommodate onsite registrations.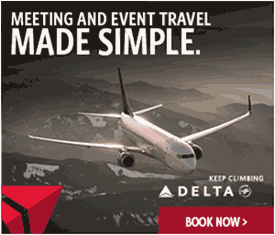 For flights in 2023:

Delta Air Lines is pleased to offer special discounts for Northwest Anesthesia Seminars / Northwest Seminars.
Please click here to book your flights.
You may also call Delta Meeting Network® at 1-800-328-1111* Monday-Friday, 8:00 a.m. - 6:30 p.m. (EST) and refer to Meeting Event Code NM2NH
*Please note there is not a service fee for reservations booked and ticketed via the Delta Meeting Network® reservation 800 number.